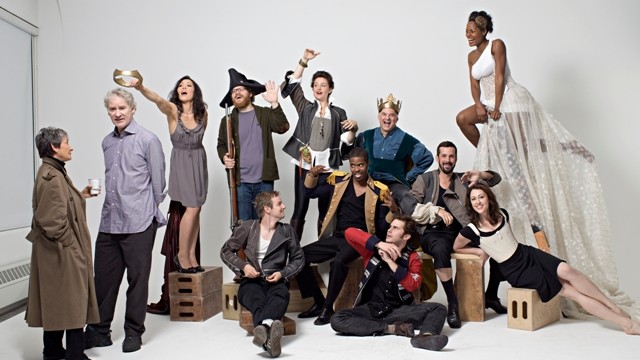 By Montague Gammon III
The greatest English writer's bloody tragedy of ancient Scottish royalty, in company with the greatest American humorist's fanciful tale of an ancient English court, comes to Christopher Newport's Ferguson Center a few days after the Ides of April in new productions by The Acting Company in association with The Guthrie Theater.
Shakespeare's Macbeth joins a fresh theatrical adaptation of Mark Twain's A Connecticut Yankee in King Arthur's Court, by Jeffrey Hatcher. He co-wrote the stage adaptation of Tuesdays with Morrie, and has written scripts for the TV show Columbo and for a host of other stage plays, films and TV shows.
Connecticut Yankee is making its world premiere tour; TAC first performed it last February at the Guthrie Theater in Minneapolis.
First and foremost, "Shakespeare was an entertainer," Macbeth director Devin Brain points out. "The play is entertainment, filled with sex and violence and ghosts," even as "It looks at something important to look at: we all have darkness inside."
Ian Belknap, TAC Artistic Director, and stage director of the Twain/Hatcher piece, calls Yankee "swift" (Running time 1 hour, 40 minutes, including a 15 minute intermission), and "accessible, a really good time…a good family show."
This is not to say Macbeth isn't OK for all ages: it certainly is. Yet it can hardly be called "a satirical romp," which is how Belknap characterizes Yankee.
"The Cursed Scottish Play" – as Macbeth is called by many theatre folk because of various theatrical traditions that associate bad luck, misfortune and accidents with the play – follows the title character and his wife from when he is a minor noble who commanded King Duncan's victory over rebel forces, through his rise to Scotland's kingship via their murder of Duncan, his escalatingly murderous attempts to hold onto the throne and to his eventual defeat.
Twain's tale of a late 19th Century engineer who awakens from a concussion to find himself in King Arthur's Olde England – or who dreams that he's been transported to the days of the Round Table – is commonly seen as an early precursor of sci-fi and time travel fantasy.
The Acting Company, since its founding in 1972 with a parcel of stars-to-be from Juilliard's then new theater department – including Patti LuPone, Kevin Kline and David Ogden Stiers – has become the foremost (and a Tony winning) touring company in the country. They have passed through Hampton Roads several times to the delight of many audiences, doing shows that included an adaptation of another Twain novel, Pudd'nhead Wilson, and numerous Shakespeare plays.
They're a repertory company. That means the same troupe of actors will do both shows. Not only are the same actors playing very different roles as they transition between Twain/Hatcher and Shakespeare, but many will play multiple characters in each show.
In Connecticut Yankee audiences will even see them change wigs, costume pieces and characters on stage as part of the comedy, Belknap mentions.
Macbeth's stage director Devin Brain has pared the running time of Shakespeare's shortest tragedy to 95 minutes, and uses a cast of just 10 actors.
While Twain's novel is filled with commentary, and often cynical commentary at that, about industrialization and its effects on humans, and on systems of social classes, the play emphasises Twain's wit, Belknap says. "He uses humor to tell truths." Unlike much contemporary humor, Belknap says, Twin's wit "goes beyond frivolity."
Brain has some truly interesting insights into Macbeth, beginning with the underlying premise that "The horror of the story is a good man who makes a terrible choice and then damns himself further and further."
"It's a tragedy, not [about] a terrible person who does terrible things."
Lady Macbeth, often seen as the ambitious villain of the piece, or as a malevolent force behind her husband, is neither. "She loves him; she wants something for him. Her ambition is for him, [she is] worried that he's too good to achieve what he wants."
"Lady Macbeth is not evil. She is just ruthless enough to do what she believes is necessary to make him what she believes he should be."
This is not a radical insight, but Brain makes some especially noteworthy comments on her famous speech calling for the "spirits that tend on mortal thoughts" to remove her femininity so she can be more cruel.
He points out that not only does "she offer to give up her identity," but that "she calls for spirits and no one comes." In Shakespeare's plays, he points out, "if Shakespeare wanted a spirit to appear, one did."
Brain calls the three "weird sisters" who famously incant and prophesy Macbeth's rise to power "not witches but spirits." With unconventional but well supported logic, he says, "The character in the play who is a witch is Macbeth."
His idea is that only Macbeth's "language has power." Macbeth alone can call down spirits or ghosts, even unwittingly and unwillingly. "Macbeth can say let it be dark and there will be darkness."
Perhaps most interesting is Brian's analysis of the partnership of Lord (Thane in Scottish terms) and Lady.
"While they are working in tandem, together, they almost make one good murder." (Of King Duncan, that is.) "At least it's practical and functional."
Eventually, "they lose both practicality and morality."
"We see them stop talking to each other, and that's when things go really bad." His "increasingly bad decisions cause more problems, [because] he does not run them past her."
As a result, "She feels increasingly isolated," entering "a hell of separation."
But like Belknap, who says most directly of Connecticut Yankee, "It's a lot of fun!" Brain wants potential audiences to know that "they can come [to Macbeth] and have fun!"
After all, as he says, "It's fun to watch people try to hit each other with axes!"
The Acting Company
Macbeth
April 16, 7:30 p.m.
A Connecticut Yankee in King Arthur's Court
April 17, 7:30 p.m.
Christopher Newport University's Ferguson Center for the Arts
Newport News
http://fergusoncenter.org
1-855-FERGTIX or 757-594-8752