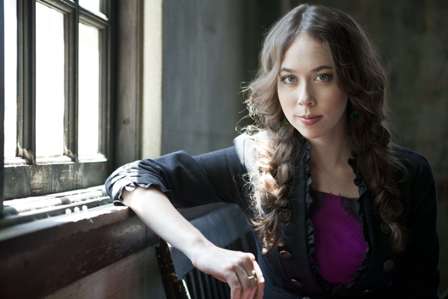 By Jim Morrison
For Sarah Jarosz, heading off to the New England Conservatory of Music after signing a recording contract as a high school senior gave her a chance to expand her horizons.
She studied improvisation, played in a world music ensemble and a Jewish music ensemble. That was the point. Then she decided to come back home to the bluegrass and folk of Americana that's she's played since childhood.
"When I settled on the New England Conservatory, the smaller aspect of the school was very appealing to me," she says. "It was also an environment where I could focus on my music and try a lot of different things. I had never really listened to much jazz or improvisation before I went to Boston. So it was cool to have my ears opened to something different. But in the end, it made me feel even closer to my own thing."
"I think my whole purpose of wanting to go to music school was to get out of my comfort zone," she adds. "OK, I tried all these things, now what is my comfort zone? What am I good at doing. What do I love doing. What is the kind of music I love to play? What do I like to write? I think you will always be pushing yourself to discover new things, but I also think it's important to recognize your strengths, too. That's what going there did for me in the end. It made me realize what I love to do.
Her own thing is a stunning blend of bluegrass, folk, and other Americana elements played with a verve that has gotten her noticed since she was a teen.
Jarosz is just 24, yet she's released three albums featuring a host of Americana stars eager to play with the prodigy, including Jerry Douglas, Bela Fleck, Darrell Scott, Shawn Colvin, and Chris Thile. But then she started rubbing picks with many of them at  music camps and festivals at 11, getting to know players like Pete Wernick of Hot Rize, David Grisman, and Thile.
"By the time I was 17 and going into the studio to record my first record, it didn't seem far fetched to ask," she says. "I think, too, with the help of Gary Paczosa. He knew a lot of those guys well. He encouraged me to think in your dream world, who do you want to play on these song. He encouraged me not to be afraid and just ask. So that's what I did. "
While she grew up with bluegrass, Jarosz, who plays mandolin, banjo and guitar, listens widely and has covered songs by Radiohead, Bob Dylan, The Decemberists, and Tom Waits on her albums. She lists Tim O'Brien, Gillian Welch, newcomer Blake Mills, Darrell Scott, Joni Mitchell, and Paul Simon in her heavy rotation these days.
Her third album, ":Build Me Up from Bones," was nominated for Best Folk Album at the 56th Annual Grammy Awards, and its title track was nominated for Best American Roots Song
Now, with school behind her, she feels like she can concentrate on writing and getting into her musical comfort zone. After moving from Wimberley, Texas to Boston for school she has settled in Manhattan.
"This year has been a turning point for me in my process," she says. "I feel like this is the first time I've had a generous chunk of time off the road since finishing college. I recognized it was time for me to take a break from touring and focus on some writing."
An album is not imminent, but Jarosz plans to go into the studio in 2016. For now, there's more writing and more touring and settling into her craft.
Is songwriting art or craft for her?
"I think it's definitely a combination of both," she says. "The older I get the mroe I think of it as a craft. I never early on starting trying to write a song when I was 12 or 13. Back then, it seemed more like musical magic that came out of thin air. It felt that way up until honestly a couple of years ago."
"I guess graduating from college made me think, Oh, this is my job. This is what I do for life. It made me think I should approach it as a craft and I think that really helps. But it's important also to preserve some of that element that it's just magical. I feel that way about any good music. You can only get so technical. You can't lose the soul and the spirit of it. "
The small town girl loves the Big Apple. "It's a really exciting, buzzing place to live, " she says.
Jarosz grew up an only child in the small town outside Austin. Her dad taught government and economics in high school. Her mother, also a teacher, works with young children. They had summers off, perfect to take her to one festival after another. "I feel really lucky to have grown up in the hill country of Texas," she says. "Especially a small town like Wimberley, which is unique and had a cool artistic community. "
There was a weekly jam at a local catfish restaurant, but also the proximity to Austin to go see shows with her parents. "They loved seeing live music their whole life," she says. "They always took me to see shows as long as I can remember. It just seemed normal."
Sarah Jarosz at The Sea Level Singer/Songwriter Festival, April 2 at the TCC Roper Performing Arts Center. Tickets are $32.50. VIP packages are $100. www.tidewaterartsoutreach.org