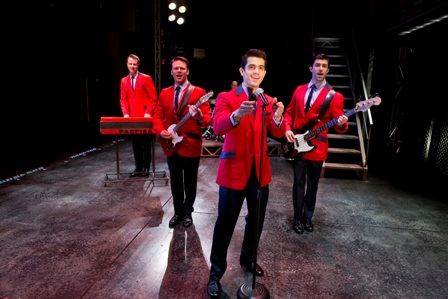 By Jeff Maisey
Tony award winning Broadway musical Jersey Boys featuring the captivating story of a working class New Jersey quartet going from rags to riches will be staged February 17-22 at the Ferguson Center. Frankie Valli & the Four Seasons are, of course, the musical group. Their numerous hits include "Sherry," "Big Girls Don't Cry,"  "Walk Like a Man,"  "Can't Take My Eyes Off You" and "December, 1963 (Oh What A Night)."
I recently talked with director Des McAnuff to learn more about what it took to create "Jersey Boys." McAnuff is a two-time Tony Award-winning director and the immediate past artistic director of the Stratford Festival. He is artistic director emeritus of La Jolla Playhouse, where during his tenure he directed more than 35 productions of classics, new plays and musicals. Broadway: Jesus Christ Superstar, Guys and Dolls, Aaron Sorkin's The Farnsworth Invention, Jersey Boys (Tony and Olivier Awards, Best Musical), Billy Crystal's 700 Sundays (Tony Award, Best Special Theatrical Event), Dracula the Musical, How to Succeed…, The Who's Tommy (Tony and Olivier Awards, Best Director), A Walk in the Woods, Big River (Tony Awards, Best Director, Best Musical). Stratford highlights: A Word or Two, The Tempest, Caesar and Cleopatra (all with Christopher Plummer), Tommy and Twelfth Night. Opera: Faust at the Met and ENO, Wozzeck at San Diego Opera. Film: Cousin Bette, The Adventures of Rocky and Bullwinkle (director), Iron Giant (producer), Quills (executive producer). Upcoming projects: Yoshimi Battles the Pink Robots, Dr. Zhivago, 700 Sundays revival.
Here's an excerpt of our conversation.
What is your creative process in taking a book and developing it into a theatrical work?
Right now I'm in the middle of "Zhivago." We're rehearsing. I'm working with the writers this very morning. We're on lunch break from the actor's rehearsal on Broadway.
I have to say all productions are different. Musical theater is part of what I do. One of the enjoyable things about musicals is they seem to come from so many different sources. With "Dr. Zhivago" we started with it being a huge novel. It took ten years to write. We had a good deal of work to do just to collapse it so that it would fit into less than three hours on stage. That requires a certain amount of craft and artfulness. We also had the movie to look at when we started.
With "Dr. Zhivago" we spent a couple of years just talking to the four authors before a word was written or a note composed.
With "Jersey Boys" we had, of course, the songs of the Four Seasons and we had the life of the four characters. "Jersey Boys" is a biography and that required a different kind of approach. We worked very quickly. I was designing the show and was casting the show before the script was completed. I worked off the outline with the authors, and then they expanded.
Tommy started as a concept album. The Flaming Lips' "Yoshimi Battles the Pink Robots" started with one album and then we expanded it by adding songs that were on the two albums right around it. We also took some songs that hadn't yet been recorded by the Flaming Lips. I co-wrote that with Wayne Coyne. That was a story that emerged with very little dialogue. Compare that to a great deal of dialogue in Jersey Boys.
I guess to give you a non-answer, they're all different. As soon as you think you understand, you fall on your face. You have to come up with a fresh approach every time.
What is it about "Jersey Boys" that captivates the audience? Is it the storyline, the music?
I think first and foremost it is the story. While I think people are often shocked at the number of songs they know – and that is a great benefit – but ultimately it is the story.  I really give Marshall Brickman and Rick Elice, the two writers, a lot of credit because they did a fantastic job telling a story that takes place over 30 years and making it vivid and emotional. I think the audience gets heavily invested in the characters.
In the first act we spend a lot of time with them as a cover band and then finally we get to their material. By that point the audience has come to accept these four guys as the real Four Seasons. When they finally break on American Bandstand and have a number one hit, the audience is in on it.
What impact did last year's movie version have on the attendance of the theatrical production? Or is a successful Broadway show hard for Hollywood to follow?
You know I was concerned. We were all concerned about the film. As it turns out, while the film didn't perform the way Warner Brothers would have liked – they did put a lot of capital into promotion and advertising – that had to do with their relation with the director (Clint Eastwood). I think it helped the play tremendously. It made people aware of the play. Those who didn't like the film tended to rally around the stage production. It has been an ironic experience. The play is as popular as ever. People come back to see the play. It's probably something I'll never experience again.
The play has a warning label about strong language and adult situations. Was there any concern early on as to the level of success it might have?
I think parents always have to use discretion when taking kids to anything. Unless it's G-rated. Everybody in Hollywood wants a PG-13 rating because it actually attracts kids.
There is some strong language but that how they talk in New Jersey. There's authenticity to it. We would have hurt the project if we had sanitized it too much. On the other hand, there's nothing that happens that can't be explained to a 12-year-old.
Younger people have really embraced it. While this band was around in the 1960s and '70s, they are a boy band. And this is a boy band played by young actors. They did sing great songs. I think a teenager or young adult will gravitate towards this.
In terms of stage sets and scenes, what was the most challenging to create for the production?
There is a sequence that is quite simple that really just involves lighting, but we did manage to create an entire stadium. That's a very exciting moment in the show. It is a moment audiences remember and talk about.
The real challenge – and it is an interesting question – was to keep the aesthetic somewhat blue collar. They were the band that the kids going overseas to fight the war related to. They often wrote about being on the wrong side of the tracks. "Rag Doll" and these songs were about the American class system. They weren't The Beatles or Cream, but they had something that really spoke to people. I didn't want to violate that.
Jersey Boys
February 17-22
Ferguson Center