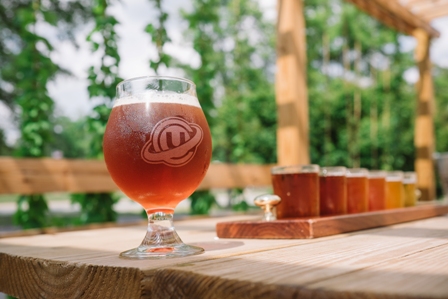 By Jeff Maisey
During the early 2000s, Chris Ray had a demanding, seasonal day-job, but in his free-time he and brother Phillip Ray often spent time homebrewing.
A graduate of William & Mary, Chris Ray was drafted in 2003 by the Baltimore Orioles as a relief pitcher. From 2005-06, he impressed coaches. In 2006, he recorded 33 saves with a 2.73 ERA and 51 strikeouts.
Following surgery in 2007, he became a Major League Baseball journeyman, signing with the Texas Rangers, San Francisco Giants, Seattle Mariners, Cleveland Indians and Oakland Athletics before retiring in the 2012-13 offseason.
While in Seattle (2011), the Ray brothers discovered a newfound passion for brewing when they developed the charitable Homefront IPA with Fremont Brewing Company.
In November 2012, Chris and Phillip Ray recruited brewer Mike Killelea from Richmond's Legend Brewing Company and together established Center of the Universe Brewing Company (COTU) just north of RVA in Ashland.
COTU's starting lineup of flagship craft beers include Ray Ray's Pale Ale, Main Street Virginia Ale, Chin Music Amber Lager, Slingshot Kolsch and Pocahoptas IPA. Among their seasonal are Scotchtown Scottish Ale and Shut Up Imperial Stout.
In late February, COTU will embark upon its first expansion beyond the RVA market by entering Hampton Roads. I recently caught-up with Chris to learn more about his plans.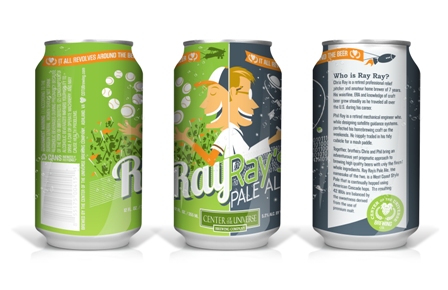 What has been the successful formula thus far for COTU?
When Phil and I first started this venture, we had a clear picture of what we wanted to accomplish; make great, consistent beer while remaining aware and supportive of those individuals around us that support and sustain our passion for brewing beer.
What was the original plan for the brewery and how has it changed (if at all)?
I think the only thing that didn't change was our ideals mentioned above and our starting lineup.  We wanted to offer a variety of beers across all spectrums of the beer drinking pallet, focusing on sessionable year round beers and more adventurous and stronger offerings for seasonals and one-offs.  That all went as planned.  The biggest change occurred back in the summer of 2013 when we completely rebranded.  We changed our original (budget) logo, and are still transforming our brands today.  We also didn't anticipate expanding capacity twice before the end of year 1.  These all happened to be good things, but it didn't keep my youthful complexion around for too long.
What markets other than Richmond have you opened?
None.  The Tidewater area is our first market outside of Richmond.  We are really excited and extremely nervous.  Our strategy is slow and steady.  We wanted to get our roots as deep as possible in our "home" territory before heading out somewhere else.  It also allowed, as I mentioned before, the ability to get our branding straight, our beers shored up, and our feet on the ground.  We didn't exactly know what we were doing when we started up, but we are comfortable with the business now.  We also started in the industry as the co-founders of Hops for Heroes (www.hopsforheroes.com).  This group of brewers, which grows every year, produces a beer called Homefront IPA each year around Memorial Day.  100% of the proceeds from the sale of this beer are donated to military veterans and their families.  We love our veterans and active military heroes, and there is no shortage of them in the Tidewater area.  We have been anxious for a while to share not only Homefront IPA with them, but our other offerings as well.
What do you anticipate to be the challenges in opening new markets in terms of retail shelf space, taps positions at restaurants and brand awareness?
I wish I already knew all of those answers… I see the biggest issue being name recognition, or brand awareness as you put it.  We are the new guys.  We aren't from Norfolk or Virginia Beach, nor are we aiming to claim to be.  But, we are still local, we make great beer, and we take care of our neighbors, which now includes the Hampton Roads residents.  Shelf space and tap placements are a challenge no matter if you are in your home market or venturing out.  It's all about pull through in those accounts, which comes back to brand awareness and quality and consistency of the product.  We excel at the later 2 and will put every effort imaginable into getting our beers into the hands of every Hampton Roads resident.  We are confident that once they try our beers, they will come back for more.
How important is the Hampton Roads market?
If we didn't feel that the Hampton Roads market was extremely important, we wouldn't have chosen it to be our first market expansion.  Is it going to be the highest volume region we will eventually have?  Who knows.  But, the area is packed with extremely enthusiastic craft beer fans and an amazing population of active and retired military residents, which made the choice a no brainer.
Which specific beers will be distributed here?
We are a bit of a hop forward brewery, to an extent.  So, I see Ray Ray's Extra Pale Ale and Pocahoptas IPA being our 2 biggest movers in the area.  Ray Ray's has a definite hop forward flavor and aroma, but with a lighter and dryer finish.  Pocahoptas (my favorite) is a big West Coast style IPA that has an unbelievable fruit and pine aroma that can be picked up from across the room.  We use a high quality malt backbone in order to balance it out.  It is truly and experience.  But, you never really know until you begin.  Our other year-round products that will be offered are Main St. Virginia ale, which is a German Alt, and Slingshot Kölsch, which is our lightest offering.  Both are very sessionable and are general crowd pleasers.  If you don't enjoy hops smacking you in the face, those two beers will be just right for you.  Along with the year-round beers, we will be offering seasonals and one-offs, including "El Duderino," our white Russian milk stout and our collaboration with O'Connor Brewing, Orange is the New Stout.
How were these chosen?
Like I mentioned before, we like to have beers for every pallet.  This initial line-up of beers includes an amber, lighter-style beer, low ABV hoppy beer, and an IPA monster.
Which brand is your overall best seller outside of your taproom?
Ray Ray's Extra Pale Ale and Pocahoptas IPA are our 2 best year-round beers.
Can you share with readers your transition from professional baseball player to craft brewery owner?
Well, my first career was playing baseball.  I was drafted out of William and Mary in 2003 and made my big league debut with the Orioles in 2005.  I played 5 seasons in Baltimore before being traded to Texas, then San Francisco, and played my last year of big league ball in 2011.  I had been an avid homebrewer since 2005.  I think I can confidently say I was the only homebrewer in the MLB at that time.  I loved it.
I took it to the next level in 2010 and brought my equipment to Texas to brew for the team.  This is when my passion for brewing also turned into a passion for sharing craft beer.  Every off day I would brew.  I would stock the clubhouse fridge full of beer and enjoyed the fact that on the road, I would see guys asking for a beer menu instead of ordering their usual domestic light lager.
I was traded half way through the season in 2010 to the Giants, and this is the point where I became fascinated with the industry.  San Francisco is home to a lot of great breweries, something I wasn't exposed to at the time in Richmond.  Phil and I began to work on our business plan.
In 2011 I found myself in another great beer city, Seattle.  As we drew closer to a completed business plan, we felt we should work inside the industry for a while.  My best friend growing up, Tim Thomas, was deployed in Afghanistan with the Army I and felt that my life of baseball leisure was out of proportion with the "work" I was doing.  I wanted to do something for those folks who risk their lives so I can make too much money playing a game.  We teamed up with Fremont Brewing Co. and created Homefront IPA.  We got to work with some amazing industry people and we were officially convinced that this was the line of work we wanted to be in.  After that, the pieces started falling in place, and I retired from baseball in the summer of 2012 after a failed attempt at a comeback from a tear in my lat.  I wasn't sad though, I felt liberated.  I've been happy with my decision and am glad I went through with it.  A feeling of pride is washed over me every day I walk through our brewery doors.
What are your future expansion plans?
We are in uncharted territory right now.  Slow and steady.  We are going to put in whatever time we need to get our feet firmly planted in the Hampton Roads area, before we venture somewhere else.  We will continue focusing on improving our beers, branding, and relationships with everyone including the wholesalers, retailers, and consumers.  We don't exist if one of those pieces is missing.  Everything we do, every day, starts and stops with our slogan, "It all revolves around the beer."
Center of the Universe Week
Monday, February 23 – Lager Heads – Virginia Beach – Pint Night/Meet The
Brewer/Special Keg Tapping – 5PM
Tuesday, February 24 – Whiskey Kitchen – Virginia Beach – O'Connor/COTU Pint
Night/Collab Night/Meet The Brewer – 5PM
Wednesday, February 25 – The Public House – Norfolk – Pint Night/Meet The
Brewer/Special Keg Tapping – 6PM
Thursday, February 26 – Whole Foods – Virginia Beach – COTU Beer Education Night –
5:30PM
Friday, February 27 – Wild Wing Café – Chesapeake – Pint Night/Meet The
Brewer/Special Keg Tapping – 4PM
Saturday, February 28 – Ghent Bar Tour Beer Sponsor – http://www.ghentbartours.org/