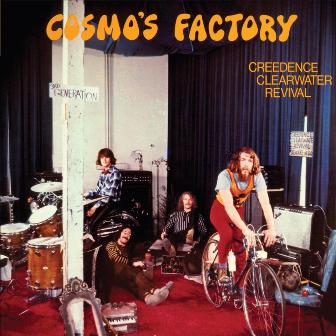 By Jeff Maisey
From 1968 to 1970, no band was as prolific as American rock 'n' roll act Creedence Clearwater Revival. In 1969 alone, the quartet released three full-length studio albums – "Bayou Country," "Green River" and "Willy and the Poor Boys."
But all was not blissful peace, love and understanding in the utopian hippie haven of San Francisco.
John Fogerty, Stu Cook and Doug "Cosmo" Clifford began playing music together at age 13. John's older brother, Tom, who was 17 at the time, joined the group. They would eventually become the band we all know today as Creedence Clearwater Revival.
CCR got its big break in 1968 soon after the guys had graduated school, releasing a self-titled debut album that included a cover of "Susie Q," which peaked at #11 on the Billboard singles chart.
After the initial success, however, tensions arose when John Fogerty challenged his sibling for dominance.
"When we had success, the younger brother, who was an introvert, became a raging egomaniac and told Tom he wouldn't be singing any songs," recalled drum Doug "Cosmo" Clifford in a phone interview.
"We were in the middle of this strange, dysfunctional family but we tried to keep our focus on making records."
Creedence cranked out hit songs like nobody's businesses. These classic rock staples include "Down on the Corner," "Travelin' Band," "Who'll Stop the Rain," "Up Around the Bend," "Fortunate Son," and "Run Through the Jungle."
Unlike most bands of the time, CCR was not distracted by the sex and drugs aspect of a rock 'm' roll lifestyle.
"Early on we went to the Filmore to see some of our competition," said Clifford. "They stunk. They were so stoned they weren't in tune. We made a pact right there on the floor of the Filmore that we will not use any drugs or alcohol at rehearsal or gigs. If we can't get high on the music we shouldn't be doing something else. We were straight and sober, and got high playing music."
The problem within CCR was ego.
"John was also our business manager," Clifford said. "This is a guy who barely got out of high school and grew up in a poor family. We were getting killed on the business side."
While many of their contemporaries were out on the road touring, John Fogerty insisted the band rehearse and record – hence the trio of albums released in '68.
"The reason why we did it was John Fogerty said if we were ever off the charts we would be forgotten," said Clifford. "We were the only band that wasn't off the charts. None of our peers did that. They were smart. They were out touring. I called us the Roman Candle of rock and roll. Boom – the hits just keep on coming. We had double-sided hit records. It was a blessing and a curse."
In 1970, CCR released "Cosmo's Factory." The band was at its peak, as it turned out, spawning six hit singles and holding the #1 position on the Album chart for 12 consecutive weeks.
Creedence would release another album that year, "Pendulum," which featured the radio-played "Have You Ever Seen the Rain?" and "Hey Tonight." It was also the first recording with Tom Fogerty, marking the beginning of the end for the group.
1971 came and went without a CCR album. Then, in '72, the group set out to record "Mardi Gras," only there was a hitch. John Fogerty insisted Stu Cook and Doug Clifford had to write their share of material, and sing on the tracks they composed.
"Fogerty said, 'I won't sing on your songs because I have unique voice,'" Clifford recalled. "I'm sitting there stunned. We said that's not what the fans want. He said, 'That's the way it'll be or we'll breakup right now.' In hindsight I wish we had broken up then. We should have seen it coming. We were only 27 years of age at that time, and we didn't want to lose the band. We were being punished for sticking up for Tom (Fogerty). That was a vintage (John) Fogerty move."
The band split officially in October of 1972.
Nearly 25 years after the breakup, Cook and Clifford put together Creedence Clearwater Revisited after repeatedly being approached by promoters.
"The initial intent was to do private dates," Clifford said. "We hadn't played the songs in 25 years. John Fogerty wasn't playing them; he refused to play them. We were getting requests from people that they wanted to hear the music live. We thought we could do three or four gigs per month and have a few beers and a couple laughs, and life will be great."
John Fogerty, in 1997, attempted to prevent Cook and Clifford from performing as Credence Clearwater Revival. They temporarily had to play as Cosmo's Factory, but Fogerty lost the lawsuit and CCR continues today with its dynamic lineup that includes John Tristao (vocals), Steve Gunner (guitar) and Kurt Griffey (lead guitar). The band sounds like vintage 1970 Creedence.
"We present the music and it has the same feel. It's as close as you're going to get to the real thing. People are pleasantly surprised with what they're hearing. These are hard-driving, ass-kicking rock 'n' roll songs."
According to Clifford, there'll never be a reunion of the original members of CCR.
"It was a dream we had as kids. It's unfortunate it morphed into a nightmare. I still love the guy, but I don't like him."
Creedence Clearwater Revisted
March 1
Ferguson Center