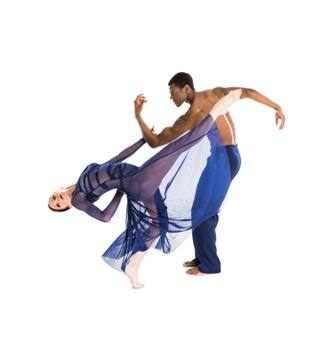 By Sheena Jeffers
River North Dance Chicago is coming to Newport News for their first visit to Virginia, and they have a lot to say.
A company of six men and six women, known nationally and internationally as an emotive dance company, River North is thrilled to be adding Newport News as one of their touring cities.
"This is a new venue for us," Artistic Director Frank Chaves said. "We don't know much of what's happening there [in dance], but we're excited because we love to get to new places."
Listening to Chaves discuss the performance, it's clear the company didn't give themselves an easy task: they are bringing physically challenging dances that tackle tough emotions, circumstances and relationships.
"We mix art with entertainment and art with accessibility," Chaves said. "There is so much energy and emotion coming from the dancers, so you truly have a beautiful exchange of energy from the dancers to the audience and in turn from the audience back to the dancers."
Chaves danced with Hubbard Street Dance Chicago from 1987 to 1993. He became River North's Artistic Director in 2001, twelve years after it was founded by Julie Burman Kaplan, Karen Frankel Jone, Mark Dow and Ronna Kaye. The company is known for expressive and athletic movement.
River North is bringing a number of challenging dances, but Chaves' piece In the End is his first piece choreographed from a wheelchair.
"I've been in the process of losing my legs over several years and by the time we got to this fall, I was definitely in a wheelchair," Chaves said, "This [In the End] was the first thing I've ever created fully from sitting down."
A fluid-filled cyst in his spinal cord pressing on his nerves led to the atrophy of his legs. That didn't stop Chaves from taking on a hefty challenge to create a piece with all of the male dancers in the company. Chaves' In the End explores affection between men of a non-romantic nature.
"As we get older, it's okay for women to stay affectionate, but not really for men," Chaves explained, noting that politics, society, religion and family teach what's appropriate for affection between men and that affection deteriorates as men grow older.
Other works include a contemporary piece from New York choreographer, Adam Barruch, titled I Close My Eyes Until the End and Chaves' Mourning, set to a Russian folk song; both pieces explore complicated human emotions. The performance will include Chaves' Habaneras, the Music of Cuba, created in 2005, celebrating Cuban musician Ernesto Lecuona, the music Chaves grew up with.
The company will also bring a piece titled Flesh by a Spanish choreographer Iván Pérez, most notably known from his time with Nederlands Dance Theater. With a Euro-contemporary flavor, Pérez choreographed the piece about memory, love and loss shortly after both of his parents were killed.
The 12 dancers of River North attend 4 ballet classes and 1 contemporary class a week, training and rehearsing from 9:30 to 4:30, Monday through Friday. They recently traveled to Israel, Germany and Luxembourg to perform these pieces.
"The dancers worked very hard and we sweat a lot," Chaves said, regarding their preparation for their Virginia debut. "Everybody dances quite a lot in the company and none of these pieces are all too restful. The audience will recognize that these dancers are spilling their guts on stage. You can't not acknowledge it. It's something you feel."
Chaves, who enjoys influencing and developing dance audiences is excited to bring River North to Virginia and leave everybody with an experience.
"It's important to recognize that people take the time to get ready, come to the theater and to spend the money for the ticket. I want them to go away having had a really wonderful experience: connecting yourself to your own emotions."
Chaves wants the audience for 2 hours to be a moment – away from reality – and to focus on connecting memory and emotions to something forgotten.
"I don't want you to see River North, I want you to feel River North," Chaves said.
Sheena Jeffers is a dancer and writer living in Norfolk, VA. She is currently the School Director for Todd Rosenlieb Dance, the Dance Expert Writer for answers.com, and the Dance Reviewer for Richmond Times-Dispatch.
River North Dance Chicago
Wednesday, February 11, 2015 at 7:30 PM
Tickets starting at $32
Ferguson Center for the Arts
www.fergusoncenter.org