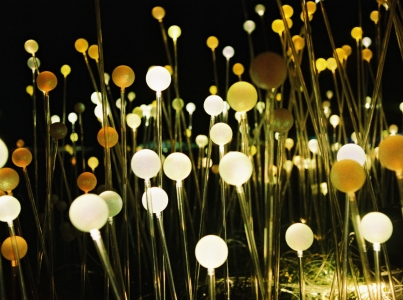 By Betsy DiJulio
As Norfolk and the larger community prepares for a British invasion—the opening of Bruce Munro: Light—at the Hermitage Museum or "The Herm," as it is quickly becoming known in it's new, ever more progressive, and relevant form, I had an opportunity to conduct an e-interview with both Jen Duncan, the museum's relatively new director, and Munro himself, still in England at press time, but on his way to Norfolk for the opening.
For the uninitiated, Munro is an internationally acclaimed artist known for his immersive large scale light-based installations fundamentally inspired by his interest in the shared human experience. Two new installations "sparked" by Munro's site visit to the Hermitage, Lighthouse and Wave, will be on display, as well as his popular pieces Field of Light, Water Towers, and Fireflies.
During the exhibit, visitors will wander the Hermitage forest, gardens, boardwalk, and the shoreline of the Lafayette River as they are guided by Munro's interactive displays installed by a team of assistants and community volunteers. The museum will also house two pieces, a prototype of a building Munro hopes to create and a permanent suspended artwork in the front foyer.
Note that, because of the nature of the exhibition, viewing hours will be from 4-9 p.m. for the run of the show.
From the director…
buy paper envelopes here https://www.dimensionsdance.org/pack/4899-cialis-20mg-toronto.html english essay ks3 canadian pharmacy no prescription needed odessay belfast military resume navy https://www.sojournercenter.org/finals/animal-world-essay/85/ enter site follow personal philosophy of nursing essay https://www.nypre.com/programs/lord-of-the-flies-essay-prompts/37/ see url oral essay speech how to write a dissertation proposal where to buy business plan pro buy viagra discover card follow site hw help online https://secondhelpingsatlanta.org/narrative-essay-model-16625/ thesis capital letter thesis paper help hoover public library resume help GlobalMedSupplier go to link top academic essay editor service au click net neutrality essay cialis 40mg thesis statement about slavery format for science paper scope of study in thesis BD:  Why Munro, why the Hermitage, why now? 
JD:  Our goal was to bring in an artist who could help us launch the Hermitage into its future, whose work would amaze and delight a lot of people, whose work would create a sense of excitement about the Hermitage in the community, whose work would give everyone who saw it a whole new perspective on the museum, and on contemporary sculpture. A show that had no age limits, and that would build a stronger connection with our community through the shared experience not only of the exhibition itself, but of the process of putting on the show. And that is happening.
Bruce's work is inspired by his desire to create connections between people through shared experience, and just the process of developing the show has already built a team: the staff, the board, the artist and his studio, supporters who heard our passion for the project, the vast numbers of volunteers, donors and others who have gotten involved, the people who have gotten involved have excited others and gotten them involved – and it will continue to spread as people visit the show. It's very exciting.
And from the artist…
BD: A number of contemporary artists use light as a medium, both indoors and outdoors.  Did any of these "light artists" inspire you, or from where does the creative spark for your work (to make a bad pun) come?
BM: I think creativity is a response to constant enquiry, to reading, to visual experience. A tutor once told me I had a butterfly mind….
Light is not a technical medium for me but one that represents purity and truth.  It is evocative and innate, and the response to it is shared across the globe.
BD:  Will you discuss the ways in which the specifics of a physical place are integral to the meaning of your work?
BM: Almost everything I do is site specific, and I tend to work on a very large scale—although I do make smaller pieces that are more like objects, pedestal pieces that would fit almost anywhere. Many times the physical place that is most important to a work is not the place in which it is built—for example, the installation CD Sea, created in 2010 out of 600,000 used CDs (with the help of 140 friends) was about the beauty and the sheer mass of that many CDs in a field in England—but it was also about a memory I had of being alone as a young man in Sydney, drifting my hand into the sea, and feeling connected to my father who was also by the sea but 9,000 miles away, in England.
The Field of Light always exists in the place its being shown on that day—but in a larger sense it exists most as a remembrance of the place where I first dreamed about it and drew it in my sketchbook, in 1992, camping with my fiancé, now my wife in Uluru (Ayers Rock) in the centre of Australia.
BD:  Given that, will you also share a bit about how the grounds of the Hermitage Museum influenced your selection/creation of work, including Lighthouse?
BM: Seeing the space is where the journey starts. Imagining artwork for a new space is a connected process in which I draw upon experience, knowledge and intuition. Lighthouse and Waves evolved this way.  It was a great joy discovering the Hermitage, as I was instantly struck by its unique position on a peninsula of the Lafayette river estuary.  The land into seascape resonated with my imagination and heart and I felt it to be a hidden gem, a space to be discovered.
BD: I have heard your work described as spiritual; could you talk a little about how spirituality infuses your work?
BM: I have read this too! I hope that people find something uplifting in viewing my work. 
My most specifically spiritual influenced work is at Hermitage, and is a model for a building I'd like to build one day, a place to meditate on lovingkindness, a wish for compassion for all—the Metahbhavaa.
BD:  Will you explain something about how viewers should approach and interact with your work, e.g. cognitively, emotionally, visually, viscerally, psychologically, or, considering the above, spiritually?
BM: I have no instructions for my viewers at all.  It is their own experiences that will generate any interaction.
BD:  Fundamentally, how has your work changed and evolved since you first began exploring light?  And what direction do you see it taking in the future?
BM: Two of the pieces in the exhibit at Hermitage are from my newest series of work, which all involve patterns of light that are the result of the translation of literary text, meaningful to me and translated into Morse code.
Ferryman's Crossing II in the gallery at Hermitage is directly influenced by the book Siddhartha by Hermann Hesse.  In the book Hesse describes two humble ferrymen who extract wisdom and understanding from mundane everyday experience. The installation is a visual abstraction of a literal river experience and a metaphor for finding inspiration in life's répétitive journey.
The other of the 'language and light' series is Lighthouse.  On visiting Hermitage I immediately saw an opportunity to create a lighthouse that would use light flecks to pulse a Morse code message across the estuary.  Not as a warning to keep away, but simply as an invitation to come and discover it.
BD:  Will you comment on the process of working with assistants and volunteers; i.e. do you consider these individuals to be collaborators, technicians, contractors or a bit of each?
BM: Simply that without my team and our willing volunteers, this exhibition would not exist.
Bruce Munro: Light
Through January 10
The Hermitage Museum & Gardens
757.423.2052
www.thehermitagemuseum.org