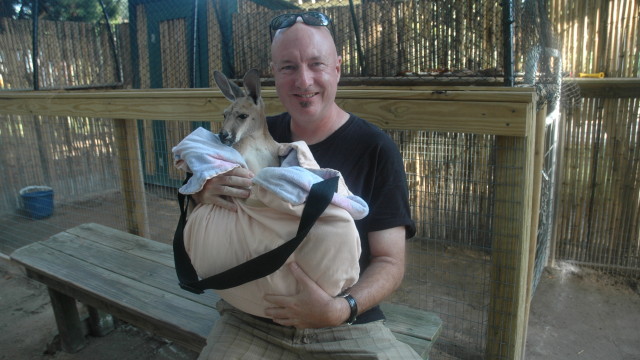 By Jeff Maisey
Doctors say owning a pet can lower your blood pressure. I would second that notion and add a visit to the Alabama Gulf Coast Zoo for a delightful dose of happiness that is guaranteed to leave you and your family smiling for weeks.
"We wanted to create the kind of zoo we all wanted to visit as kids, but never existed," Patti Hall, the zoo's director, told me.
Mission accomplished.
Dubbed "The Little Zoo That Could" by Animal Planet, the Alabama Gulf Coast Zoo provides a unique, up-close experience where big cats like Bengal and Siberian tigers, black panthers and a Barbary lion inhabit an environment separated merely by a chain-link and wood-post fence. The Barbary lion is particularly pleasing to view as it has been extinct in the wilds of northern Africa since the early 1940s. It was the largest lion of the subspecies and sports a large black mane; an impressive animal to essentially come face to face with while examining its teeth as it yawns. These are the fearsome creatures the Romans used to battle gladiators in the great coliseums.
The zoo is also home to a rare snowy white Bengal tiger.
The Alabama Gulf Coast Zoo opened in 1989 and is home to more than 500 animals including pelicans, monkeys, bears and reptiles. Some of the animals are provided by breeders. The zoo made international news when Chuckie the Alligator floated out of his cage when Hurricane Ivan flooded the region.
Perhaps the most enticing aspect of the zoo is its interactive animal encounters program that allows visitors to enter the caged area and hold young kangaroos, lemurs and snakes. Just recently two male Bengal tiger cubs – Romeo (golden tabby) and Hamlet (royal white) – arrived from the Marcan Tiger Preserve, and parents are lining up, as you might imagine, to photograph their children snuggling with a these adorable animals.
The kangaroo pin provides an opportunity to pet the young Australian natives as the hop around, but a zookeeper will also place an animal in a cloth, pouch-like device while you sit and hold it like a baby. Simply irresistible.
I especially enjoyed my lemur encounter. Lemurs are unusual primates from Madagascar and often are characterized by having long, fluffy ringed tails. They are highly curious creatures. When I entered the cage and sat on a wooden bench several lemurs approached, climbing up my arm, examining my camera. One brown and black lemur perched itself atop of my head.
Had I left Alabama with just this experience I certainly would have been satisfied, but there was so much more to explore and adore about this region.
Alabama's Gulf Coast is a picturesque sliver of pristine white sandy beach on a barrier island comprised of two primary sections: Orange Beach and Gulf Shores. The region is easily reached by car for those flying into Pensacola, Florida.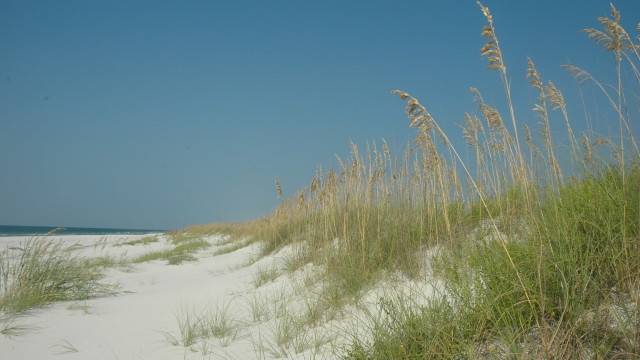 Gulf Shore and Orange Beach are perfect destinations for families visiting for a weeklong vacation because much of the beachfront accommodations are high-rise rentals with spectacular views of the Gulf of Mexico.
There are numerous ways to enjoy the warm waters of the Gulf ranging from swimming and fishing from the sugar-white beach to setting sail aboard the Sail Wild Hearts catamaran, a highly exhilarating experience that ventures out it the open waters and before dropping anchor at the shore of an inland island to explore. Masks, fins and snorkels are provided as are tandem kayaks and standup paddleboards for a relaxing recreational side-trip.
If animal life on the inland waters is of interest Captain Bill Mitchell provides an entertaining and informative tour with Cetscean Dolphin Cruises, where dolphins are plentiful. The cruise also ventures in the narrow swampy areas perfect for viewing various waterfowl.
A nice walk can be found on the two-mile Pine Beach Trail within the Bon Secours National Wildlife Refuge. It was established in 1980 to protect hatching sea turtles and migratory birds.
The trail is flat and begins as a wide, gravel road, winds through a wooded wetlands area and ends at the dunes of the Gulf of Mexico. It's perfect for hiking and nature photography. Among the wildlife you may encounter: coyotes, red fox, otters, birds, and snakes.
No trip to Alabama's Gulf Coast would be complete without dining on fresh seafood. And, yes, it's absolutely safe to eat.
While there are many fine restaurants serving regional cuisine, I can recommend a few unique choices. For contemporary coastal cuisine make Cobalt in Orange Beach a must-dine destination for dinner. It's spacious and artsy. The Grilled Gulf Shrimp, Paneed Gulf Grouper and Blackened Red Fish are exceptional.
A fun, small plates approach can be had at Lucy B Goode Coastal Café in Gulf Shores. The casual yet upscale restaurant is owned and operated by the lively Lucy Buffett, the sister of musician Jimmy Buffett. Lucy says her sibling often dines at the restaurant, especially during the fall on his return trip from New Orleans. Seems he's a big Saints fan.
Lucy B Goode features fresh, local and seasonal ingredients – a highly delicious taste of the Gulf region. I particularly enjoyed a sampling of LuLu's Gumbo, Pan Seared Snapper and the Lucy B Goode Crab Cake.
For sports fans a visit to Baumhower's Restaurant in The Warf development in Orange Beach is essential. Owned by former All-Pro Miami Dolphins nose guard Bob Baumhower, the restaurant features a tremendous array of photographs, jerseys and other memorabilia from Baumhower pro football days. Turns out the towering giant is quite the foodie.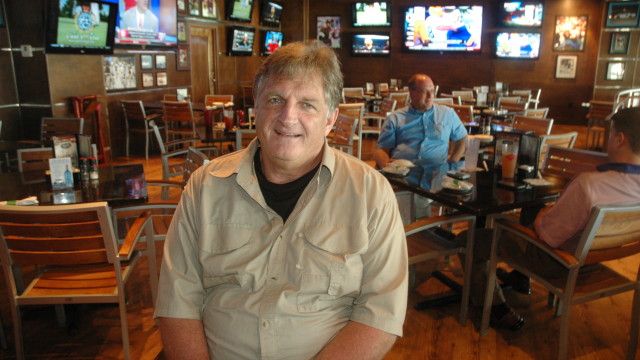 Some of the signature dishes at Baumhower's include Shrimp and Grits, a Southern Fried Catfish Platter, Redneck Caviar (a mixture of black-eyed peas, shoepeg corn, black beans and other ingredients), Almost Friend Turkey, and a variety of jumbo chicken wings. According to Baumhower – and he's quite the storyteller – every time the Miami Dolphins travel to Buffalo to play the Bills he just had to feast on Buffalo Wings.  I'm guessing the hot, zesty wings served as an appetizer before he devoured the Bills' quarterback the next day.
Right next door to Baumhower's is the football player's more upscale restaurant, The Compleat Angler. Baumhower's true culinary expertise is evident in dishes such as the Sauteed Crab Claws, Coconut Cay Fish in a Tin, encrusted tuna and Gator Tail.
If you have children it is hard to beat dinner at The Hangout. Large windows allow the breeze off the Gulf to relax and dine on gulf oysters and shrimp. There's an outdoor playground area and an outdoor stage for live music. The place lives up to its motto "celebrating life on the beach."
In fact, the whole Alabama Gulf Coast is a unique, fun-filled experience worth exploring.
Want to Go?
Gulf Shores Tourism: www.gulfshores.com
Orange Beach Tourism: www.orangebeach.com
Alabama Gulf Coast Zoo: www.alabamagulfcoastzoo.org
Sail Wild Hearts: www.sailwildhearts.com
Cetscean Dolphin Cruises: www.cetaceancruises.com