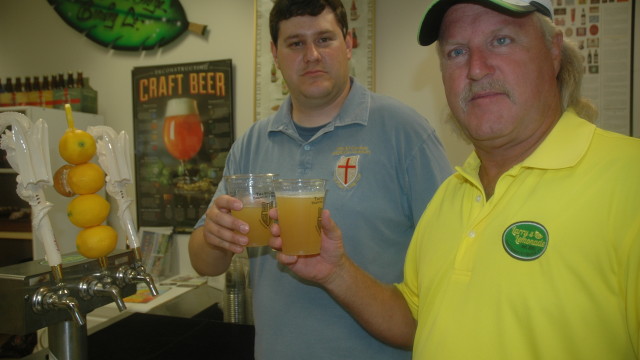 By Jeff Maisey
What's new at St. George Brewing Company in Hampton?
The short answer is pumpkin, honey and lemonade.
Confused?
Doesn't sound like beer?
Let me explain.
In the craft beer world pumpkin brews have become the most popular seasonal product. While we think of October being the prime month of fall and the obvious connection of Halloween and jack-o'- lanterns, pumpkin beers now hit the retail and restaurant market in mid-July.
St. George's PumpkinFest is a pumpkin lager, an Oktoberfest style beer with pumpkin puree and spices. The traditional German Oktoberfest beer is technically a Marzen brewed at the end of March and stored until late summer or fall. Lager is a German word for storage or stored beer.
St. George considers its PumpkinFest a limited release as they produce 50 barrels available in bottled 6-packs and on draft. They expect the pumpkin lager to sell out by early September due to the fanatic demand of craft beer enthusiasts.
"People just clamor for the fall season," said St. George Brewing's William Spence Jr. "By August they are tired of the hot summer and thinking of the fall season. To have a pint and think of the cooler days of fall."
As a fun experiment, St. George will have a few casks of the pumpkin lager and then re-ferment it in a hollowed-out pumpkin. This unique, one-off beer will be exclusively available for one or two days at the brewery's tasting room.
In addition to the PumpkinFest, St. George also produces an Oktoberfest as a fall seasonal.
The brewery began in 1998 when William Spence Sr. retired from the US Air Force.
"My dad could find anything he liked doing so drinking beer was a good option," said Spence Jr. "He eventually turned it into a family business."
Today, St. George is one of the longest running craft breweries in Virginia. Recently the brewery has been growing and harvesting ingredients on its grounds, including honey. St. George has five bee hives positioned in its back lot and contracts with professional apiarist Andy Westrich and his apprentice George Cameron to harvest the honey and maintain the hives. Westrich also uses the hives as an educational tool for the Colonial Beekeepers organization. The hives will produce anywhere from 100 to 400 pounds of honey in the spring and fall. Head brewer Andy Rathman will be developing a recipe for a honey beer. Currently the brewery does not have the available fermenting tank time to brew a honey beer due to maxed-out production of its primary lineup of beers, seasonal and specially contracted obligations with Tupper's Hot Pocket, Back Bay Brewing and Larry's Lemonade.
Spence Jr. believes they can produce 1,600 gallons of honey beer in the fall. While no final decision has been made a honey brown ale or honey porter are being strongly considered.
"It's nice using local ingredients," said Spence Jr, "and what's more local than your own backyard?"
Also in St. George's "backyard" are Virginia Beach-based Back Bay Brewing Company and Larry's Lemonade of Hampton. St. George, based on Back Bay's recipes, brews and packages the beers you find in restaurants and retail shelves for the Virginia Beach brewery. They also ferment and send to market a specialty item that has become a major success – Larry's Lemonade.
"It was about a three year project in my backyard," explained founder/owner Larry Wilson. "We did a lot of taste testing. From there we got hooked up with the brewery and here it is."
Larry's Lemonade is technically a malt beverage that tastes and looks like lemonade. It's amazingly refreshing, and has an ABV of 5%. Its base is the same as beer, starting out as malted barley, water, hops and yeast. The rest of the recipe is a secret.
"It is different flavors of stuff and bring it all together," said Wilson.
Wilson also manufactures the eye-catching tap handles for his product – three bright yellow, realistic looking lemons stacked high.
"When everybody goes to bars they want to squeeze them because they look like real lemons," said Wilson.
Currently, St. George has two 30 barrel tanks of Larry's Lemonade fermenting. Bartenders are not only serving the alcoholic lemonade in pint glasses, but also using it as a mixer in vodka drinks, ice tea and whiskey sours.
Larry's Lemonade is available throughout Hampton Roads as well as the Outer Banks of North Carolina.
Beyond the day to day operations, St. George has entered a few competitions including the Great British Beer Festival, a real ale festival in London on August 12-16. St George sent a cask of its English Nut Brown Ale with honey.
At home, August is designated Virginia Craft Beer Month and is highlighted by the Virginia Craft Brewers Fest on August 23 at Devils Backbone Brewing Company near Wintergreen. It's a festival and competition exclusively featuring Virginia beer.
"It's nice that Devils Backbone has the facilities for it," said Spence Jr. "A lot of the breweries popping up never really imagined – especially the ones operating before SB604 – having a field next door to put on a festival. Most of these breweries are in industrial parks or strip malls that don't have the facilities to do a craft beer festival. So they are landlocked where they are at. So it is nice for us to have a festival at Devils Backbone."