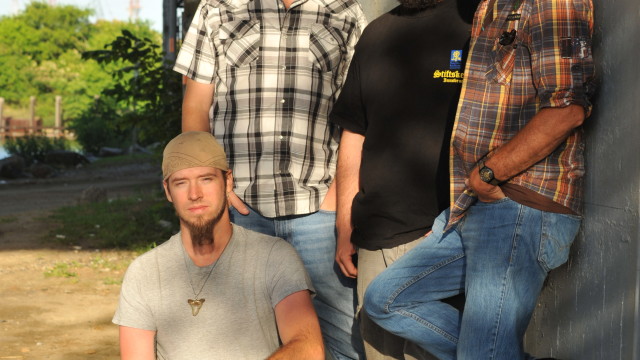 By Jim Morrison
When Seth Stainback and Roosterfoot made the 18-hour drive to Dockside Studios in the Louisiana bayou to work with New Orleans blues legend Anders Osborne as the producer for their record, they wanted to not only get out of Virginia, but get out of their comfort zone and find a sound for the band.
"I went down there to get us out of our comfort zone and make us stretch ourselves," Stainback says.
He typed the lyrics to each of the possible songs for the album, made four copies for the studio crew, and sat down with Osborne to go through each one. Osborne, Stainback quickly learned, expects the story to marry closely with the music.
When Osborne read the lyrics to "Fire & Steel" then heard the red dirt arrangement, he balked. It was the somber story of victims to the Industrial Age, of people losing their farms, having to sell off and move out, and the upbeat twang didn't fit. So the band cut the tempo in half and changed the tune to a minor key.
"It wasn't like anything we'd done before," says Jason Bruner, the group's drummer, agent, and utility player. "It took some getting used to."
Stainback warmed to the new arrangement, featuring a slow-strummed spaghetti western opening over his soulful vocal and Bruner's slow groove. "At first, I was fighting it in my head," he admits, "then I went back in there (the studio) and thought, 'Oh, shit, it sounds pretty good.' "
"Fire & Steel" is the title track of the band's disc, out this month with a celebratory show July 19 at The NorVa. "That's going to be one of the ones that's really going to surprise people," Stainback said a few days after returning from Louisiana this winter. "They're either going to be 'What did they do?' or they're going to love it."
Stainback's legion of fans will find the familiar, but also some unexpected and mature pleasures among its ten cuts. While in the past, the band's gumbo of southern rock, blues, and old-fashioned country showed clear through the songs, this time it's a headier, more subtle mix.
Part of the reason is location, location, location – and that star producer. Stainback journeyed to the swamps of Louisiana to cut and mix an album. In the years leading up to it, he'd played solo and in a variety of configurations before settling in with Roosterfoot.
But during those nine days in the studio/bunkhouse on the banks of the Vermilion Bayou, the group found its footing, blending their influences like never before.
Just listen. It's the sound of a secure unit confident to try new things from the opening wail of "White Walls" to the tender closing finger-picking of "Set the World on Fire." It's an ambitious album that bears repeated listening, made possible by Stainback's woodshedding in his metaphorical writing room before the trip and the hands-on, detail-oriented production of Osborne.
"This album gives the band a sound, an identity," Bruner says.
That identity centers around Stainback's powerfully soulful vocals that evoke the best of Gregg Allman and Bad Company's Paul Rodgers. Listen to him howl halfway through the driving opener, "White Walls," drawing out the last note of the line "We're trapped inside these white walls. Well, come on let me out…."
There's a confidence in his singing, whether he's belting it out on heavy-metalish pounding of "Creekside," the country folk of "Nothing to Lose," the blue-eyed funk of "Burn" or the tender emotion of "Set the World on Fire."
As Stainback says, he likes the old blues — but "turned way the hell up" — and he grew up with music in the '90s so he likes Pearl Jam. On "Fire & Steel," he's forged his own path between them.
Stainback is a transplant by way of Texas and South Carolina who works a day job as a welder in the shipyard. He started singing at open microphone events and eventually earned a finalist slot at the 2010 Sea Level Singer/Songwriter Festival, which opened a few doors, including a slot before Grammy winner Shelby Lynne's show a couple of years ago. Stainback's father Keith came East to play with him at the festival and stayed to become part of what was originally a duo. But, not for too long. Soon, Bruner joined on drums, fellow shipyard worker Steven Yewcic added his bass, and former Wet Willie member Larry Berwald supplied his considerable guitar talents. (Wet Willie a sort of soul/funk southern rock amalgam scored a few hits with "Keep On Smilin' ," "Grits Ain't Groceries" and "Red Hot Chicken."
Stainback and Roosterfoot hooked up with Osborne after playing a few gigs with him. "A closed mouth never gets fed," Stainback said. Dockside Studio in the bayou along the banks of the river was a place Osborne had used often and seemed a perfect fit. The studio has hosted a line of stars as long as the Mississippi River including B.B. King, Taj Mahal, Dr. John, Cowboy Mouth, The Subdudes, Keb Mo, Leon Russell, Derek Trucks, and dozens of others.
"When I asked Seth to send me some acoustic stuff, I truly fell in love with what he does," Osborne says. "His voice is just a rate talent. He has interesting storytelling based on emotions and character, almost like poets did. His voice is so authentic and heart-moving."
The band could stay in the bedrooms upstairs and work in the studio downstairs. With a kitchen, the place was self-contained so they did nothing but eat, sleep, and record. "It's going to be really nice being completely away from everything, focused 100 percent on what we're doing," Stainback said in January before the trip.
He couldn't remember the last time he had ten days off, probably in high school. "I got two speeds, "he said, "all or nothing. I won't pay attention to nothing else. This will be good."
It was. The playing was just what he expected. The production and collaboration with Osborne probably more than he expected. And he found himself open to those new ideas.
For four days, the band ate breakfast then got started about 10 a.m., playing together in a room like they were practicing in a garage. Except the recording was running. The first day they knocked out the basic tracks to seven or eight tunes. A piece of cardboard with symbols — "our storyboard," Stainback says — tracked their progress. A black dot meant the tune was ready to go to press. Eventually, they'd record 14, leaving four off the album.
"Anders is really into the moment and the intensity and the passion," Stainback adds. "He thinks capturing a moment like that is more important than stopping to correct things."
After they finished, he went over to Anders' house on a Saturday night for some gumbo and a long conversation about the band's future.
"It turned out amazing," Stainback said from the studio in January. "It's exceeded my expectations. I've learned a whole lot. This is the only way to make a record. This is the only way to make a record. We've lived here. We've eaten here. We walk downstairs and so it. That's all we've done. We've been locked-in together."
"The place has good juju," he added. "We got the swamp and the river and all that."
Stainback regards the album as a moment frozen in time — or pixels or Polaroid or bytes. "We had ten days to do it, living in that place. It was grinding it out," he adds. "I think it made us put up or shut up. We didn't get to hide behind weeks and months of edits. An album is nothing more than a snapshot of where you are at the time. You can over think it. It is an example of where you are. You have to accept it or dive yourself mad with it. I'm proud of what we did down there."
Bruner said the band was nervous going into the project, but a week in the bayou wiped that away. "By the end they could have been on the road with us for the rest of our lives," he adds. "We built a bond that strong. We're all friends now."
Osborne continues to be encouraging. In June, he had the band down to New Orleans to open for him before thousands at a "Wednesday at the Square" show.
"He said that we have something strong," Stainback adds. "We just have to work hard."
Here is Stainback's take on the tunes on "Fire & Steel:"
White Walls — "I was riding down the road when I thought of it, came up with that first verse. It's just about your head driving you crazy. There are certain things you can escape from, but you can't escape from yourself. You have to learn how to deal with it."
Creekside – "Creekside was one of two songs that has a heavy Anders touch. We had done it before, but totally differently. Anders had all the lyrics  out. He wanted to see the words. He said why you don't try it this way. The story was dark, but the way we were playing it was like a funky major chord. He said this story is dark. There's somebody doing evil. Let's try it this way. It didn't take me three seconds to figure out where he was going with it. I love it."
Torture – "That's just pretty raw. It needed to just be. Sometime you just leave stuff alone. We put the cello in there to give a nice dynamic."
Nothing to Lose – "That's one we started doing and the whole first verse I was like don't screw it up. That was in one take. It just came out nice the first time, so smooth."
Fire & Steel – "Another one that was totally different. We completely stripped it down and redid it. We took it and made it a bit more haunting. It's definitely from experiences at work and people I met, just a bunch of gypsies, guys riding around from job to job, some down on their luck, some about to lose their house. "
On the Vermilion – "That was a melody I toyed around with in the morning, coffee getting made. That became my little morning prayer. Come down and fiddle around with that, getting the mojo going in the room. Steven pulled out a cello, fooling around with it. Larry came down. After the second or third day we stuck a mike over it. Bruner came in with percussion. It was just us in a circle with a mike hanging over us."
Leather Strap – "That's based on something that happened in the small East Texas town where my mom grew up. I wrote that song two years ago. I heard my mom tell that story all my life. It's one of those stories you've heard for 30 years."
Foolish Pride – "I wanted another acoustic song on there. I was listening to David Allan Coe and it came out one day."
Burn – "Such a fun song. Just rock and roll about women and guns. Pretty simple. Not everything has to be so deep. Sometimes it's just about ass and pistols."
The World on Fire – "I'm proud of that one. I get tired of the way I write. That was an attempt at trying to do a narrative not from the 'I' perspective.  It was trying to break-out-of-me type of deal."