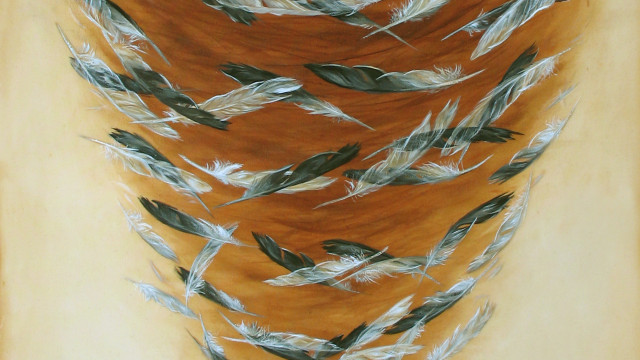 By Betsy DiJulio
Appalachian hillbillies?  Not so much.
Charged with debunking stereotypes of the people of Appalachia as backwards, poor, unsophisticated, and worse, Portsmouth Art and Cultural Center (PACC) curator Gayle Paul traveled 1,800 miles in just six days to gather, pack and transport objects that would make the case.
Guest curators, Dr. Jean Haskell and Dr. Katie Hoffman, both with blue chip resumes in Appalachian studies, together with Paul set out to suggest that "reality" shows like "Appalachian Outlaws," "Buck Wild," and "Hillbilly Blood"—or even Diane Sawyer's special report, "Hidden America" (2009)—scarcely present a balanced view of this expansive and diverse region that includes portions of 12 states and all of West Virginia.
Let's face it, Appalachia has hardly cornered the market on violence, ignorance, and social dysfunction, but that's a story for a different day.  The story these three women set out to tell is about how "primitive" mountain culture—as embodied in the arts and crafts traditions of the region–is far from "vanishing," as sepia-toned photos of falling down buildings would have us believe.  Rather, today's Appalachian "makers" honor custom and tradition while giving rise to innovative new art forms along a continuum of then and now.
In their words:  "We want people, especially outside the region, to take a new look, quite literally, at the wealth of excellent art and craft in the southern mountains and its threads of continuity from the old to the new."
To tell this sweeping story in the space of one, albeit large, gallery was surely a daunting prospect.  Add to that three professionals who brought vastly different perspectives to the table, and Paul acknowledges that the process, at least initially, was a bit "unwieldy."  In the simplest terms, the biggest and most basic challenge was "where and what to gather."  In the end, it came down to what nearby states Paul could realistically get to.
Organized in a clearly marked, well-labeled, counter-clockwise circuit by types of objects—quilts, baskets, ceramics, glass, tools, furniture, instruments, and outsider art with paintings, documentary photos, and wall copy interspersed throughout, and "cutting edge" pieces grouped at the end—the exhibition accomplishes its goal.  Visually, though logically and thoughtfully installed, it felt a bit crowded.
Granted, some of this is by design, as cross-fertilization is the point.  However, having just written about the newly renovated Chrysler Museum where each object has been afforded ample room to breathe without other objects and ideas intruding on its space (VEER, May 2014), I found the contrast marked, underscoring my bias toward a more minimalist approach to exhibition design.
Still, given the same charge and the same space in which to work, I might have made similar decisions.  And the same goes for clustering the pieces identified as "cutting edge" together.  Though the curatorial trio responsible for this exhibition is highly experienced and influenced by layers of factors to which we aren't privy—and likely had very good reasons for not doing this—not knowing any better, I would have liked to experience these pieces in a closer contiguous relationship to their artistic antecedents rather than set apart.
That said, I am just glad to have experienced them at all.  Suzanne Stryk, of Bristol, VA, is represented by three large striking paintings, two that feature "bird's eye" views of closely cropped nests and another related piece that depicts a feathered vortex.  All speak metaphorically and ambiguously to something elemental, yet mysterious:  something about making, i.e. "weaving," about the notion of home and protection, and about universal forces.
The artist who may well have been responsible for my choosing this exhibition to review is Millicent Young, of Ruckersville, VA.  Her three pieces—"Lure," "Un Furl," and "Vessel"—constructed from wood and horse hair, are captivating in, as the label copy suggests, their repetitive and meditative qualities, as well as their connection to the land, for she gathers the materials from the rural area where she lives.  Individually and together, the work has a Native American feel about them which prompted one of the other exhibiting artists from Cherokee, NC, to ask if Young is Cherokee, which she isn't.  Deceptively simple, these graceful large-scale sculptures which, together, function as an installation, are, again, ambiguous in meaning, yet archetypal in the "inherited memory" sense of the word.
And there are more, helping to insure that this exhibition will appeal to those with an interest in the past, as well as to those who are equally or more enamored with the past re-imagined.
Changing Appalachia: Custom to Cutting Edge
Through  October 5
Portsmouth Art and Cultural Center (formerly, Courthouse Galleries)
400 High Street, Portsmouth, VA, 757. 393.8543
www.portsmouthartcenter.com