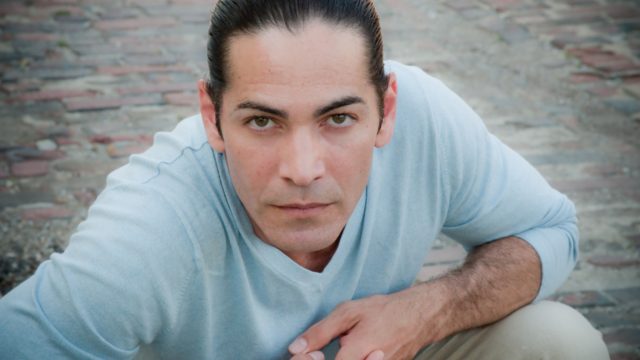 By Ricardo Melendez
"Shakespeare in Motion" is a combination of two of my greatest passions: the power and wit of Shakespeare's stories and my dedication to the awe- inspiring beauty and physicality of the language of Dance.
When art inspires art there is both a responsibility and a pleasure; a pleasure of immersing oneself into a master's work to share an impressionistic experience with the audience and the responsibility (and fear) of measuring up to the muse.
I have dared delve into the works of Shakespeare for this Virginia Ballet Theater's Winter Concert we have titled "Shakespeare In Motion," which includes dance pieces inspired by well-known classical works like "Hamlet" and "A Midsummer Night's Dream."
The program will open with "Sonnets and Rhythms." Different from the other two offerings in this concert, for "Sonnets" I had the storyline yet needed a score. The cadence of Shakespeare's sonnets gave me that. This piece is based on life experiences. Not long ago a friend was dealing with the loss of his wife to whom he had been married for more than half his life. I witness his sorrow and was touched by the power of his memories. His recounts of their experiences would transform him. It was as if She was still alive by the sheer power of his memories. These memories made her present in his mind and he was transformed by them. The words in the sonnets became alive by the experience. Sonnet #18 reads:
"So long as men can breath, or eyes can see,
So long lives this, and this gives Life to Thee."
"Sonnets And Rhythms" uses sonnets by Shakespeare and Christopher Marlowe with interludes of Renaissance music to tell a story of Love and Loss. The power of the Elizabethan language serves as the driving force to the choreographed steps with classical and contemporary influences weaved with early renaissance dance patterns to create a narrative that is both universal and contemporary.
"Sonnets And Rhythms" includes unforgettable classics of the English language like Shakespeare's Sonnet 29: "When in disgrace with Fortune and Men's eyes…", #18: "Shall I Compare thee to a Summer's Day", # 71: "No longer mourn for me when I am dead…", # 116: "Let me not to the marriage of true minds…" and Marlowe's The Passionate Shepherd to his Love: "Come Live with me and be my Love…", alongside Elizabethan Consort music by Hesperion XX an international early music ensemble winner of various international awards like the Cannes Classical award and  Grand Prix de l'académie du Disque Français.
Second in the program is "Hamlet," premiered by Ballets de San Juan, Puerto Rico's oldest Ballet Company. A tour de force contemporary ballet piece to the music of Nigel Kennedy in his tribute album to the music of Jimmy Hendrix, The Kennedy Experience. The piece explores this Shakespearean classic in a minimalistic contemporary dance choreography with expressionistic strokes that offers an alternative examination of this quintessential character of the English literature. Nigel Kennedy's music combines the virtuoso attack of the violin with experimentations on the tunes made famous by Jimmy Hendrix. Titles like "Third Stone from the Sun" and "Fire" are transformed by Nigel Kennedy into ominous renditions that parallel Shakespeare's tale of vengeance and despair.
I have been fortunate to play "Hamlet" twice in my acting career, the power of this story have given me some incredible experiences. I wanted to create a dance piece that emulated my impression of the experience of loosing myself inside this character's mind. I came across this work by Nigel Kennedy, a classical violinist, sharing his impression of Jimmy Hendrix work; and I was hooked.
For "Hamlet," we have invited Omar Nieves, former principal with Ballets de San Juan and Principal dancer with Coda21 in Puerto Rico to dance the role of Hamlet. Omar is a great dancer full of passion and a flare for the dramatic. He is perfect for the role. Also the 'teacher' in me is full of joy; I met Omar when he was a young teenager during my tenure as Artistic Director for Ballets de San Juan. Even then I was impressed by Omar's commitment and energy. I have witness his career flourished and wanted to share his accomplishments with our audiences. I confess, I feel a little bit like a proud father; I guess that is the joy all teachers experience as we see our students succeed. It makes it all worth it.
The third offering of the evening is the world premiere of "Bottom's Dream" inspired on Shakespeare ultimate comedy of love and fantasy: "Midsummer Night's Dream."  This new dance piece examines the character of Nick Bottom who, after been transformed into a donkey by the mischievous Puck, has the most memorable experience when the Queen of the Fairies who, under the influence of magic, falls in love with him. Lulled by the fairies and enchanted by the beauty of the magical woods, Nick Bottom experiences love and pleasures in unimaginable ways. Once the magic veil is removed, Nick Bottom returns to the real world exalted by the experience and disillusioned by his reality.
I had the pleasure of playing Puck for the Virginia Arts Festival production of "A Midsummer Night's Dream" conducted by Joann Falleta. That was my official introduction to the music by Felix Mendelssohn created for an 1800s version of the Shakespeare play. The score is so full of magic, with whimsical themes, and joyous narrative; I knew this was our score.
I must admit that necessity and desire merge and I dare put on my dancing shoes and come out of 'dancer's retirement' for this piece. I could not resist creating a character role that would allow me to go back on stage and share the magic with the Virginia Ballet Theater Dancers. It has been a joy, (and a pain, ask my muscles) to play Bottom next to our beautiful Louisa Meijer as Titania. We have been having a great time. It is both a humbling and an exhilarating experience. Shakespeare's Nick Bottom is a study of the common man struggling to succeed and finding joy in the world of dreams.  This tale of the 'artist' experiencing bliss in the tales of his imagination and later confronted with the rough reality of human life is a story that is certain to enthrall Dance lovers and Shakespeare's fans alike.
"Shakespeare in Motion" will transport the audience to the magical and powerful world of Shakespeare. An unforgettable evening of art inspired by art. The genius of Shakespeare heightened by the language of dance in a live performance like any other. Open your senses to the motion of Shakespeare language and indulge in the visual grace of Virginia Ballet Theater.
Ricardo Melendez is Artistic Director of Virginia Ballet Theater and Associate Director at Todd Rosenlieb Dance Center .
WANT TO GO?
Shakespeare in Motion
Virginia Ballet Theater
February 17-18
TCC Roper Performing Arts Center
www.tccropercenter.org, 626-3262