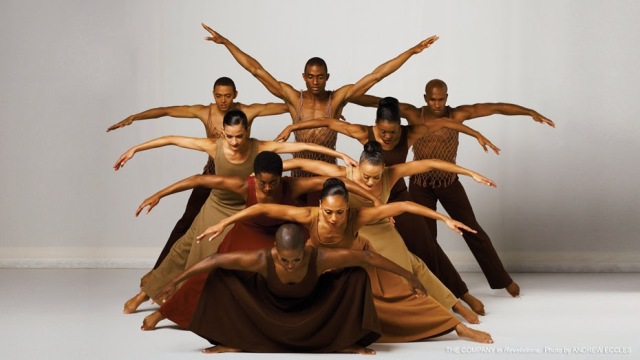 By Jerome Langston
Dance is for everybody. I believe that the dance came from the people and that it should always be delivered back to the people.
~Alvin Ailey
"I take probably even more risks," remarks Robert Battle, artistic director of Alvin Ailey American Dance Theater, with a slight chuckle. He's currently in DC, preparing for his company's tour opening at The Kennedy Center's Opera House. This is a special year for Battle, a Florida native, who was handpicked by the iconic dancer/choreographer Judith Jamison, to succeed her as artistic director of the legendary modern dance company.
That was in 2011, and Battle continues on as such, now remarkably in his fifth year as artistic director. We both agree that it's hard to believe it's been five years. "In the beginning, I mean I definitely had my own fears about taking the helm of such an amazing company and institution from a legend, an icon," he readily admits. Regardless of those fears, or perhaps in part because of them, Battle has clearly succeeded in continuing the immense success that the company enjoys both critically and commercially, year after year, season after season.
"She's (Judith Jamison) happy. The dancers are happy. The audiences are thrilled with what they are seeing," he says. "It's just been a really wonderful five years." Battle grew up in Miami, and was raised by a family member who exposed him to the expansiveness of the arts at an early age. He would go on to graduate from Julliard in the early nineties, before launching an impressive career as a dancer/choreographer, eventually founding his own dance company and often serving as an artist-in-residence with Ailey.
Named for the legendary African-American dancer/choreographer whose contributions to both American dance and social change, earned him the posthumous honor of receiving the Presidential Medal of Freedom just two years ago, Alvin Ailey American Dance Theater, humbly founded in 1958, is easily one of the world's most successful modern dance companies. They've performed before tens of millions of fans around the world, and have been acclaimed by critics and major celebrities alike. Ailey selected Judith Jamison to run the company, prior to his death in 1989. The Jamison era is now, arguably, the most visible era for the company, due to its growth and popularity during her two decades at the helm.
What Battle does well, is to inject the main company's repertoire with pieces that are outside of the perceived Ailey aesthetic. Not that Alvin Ailey didn't do that himself, at times, a point that Battle makes during our conversation. "He had a sense of being expansive, even back when the company was still new ─ he was making bold choices and risk taking."
Battle mentions being excited by English choreographer, Wayne McGregor's piece, Chroma, a ballet that he created for the Royal Ballet. "Choosing a work like that is a little outside of the box," he notes. However, he says "the company, excuse my language, danced the hell out of it and the people were convinced."
When Ailey plays Chrysler Hall later this month, as part of the Virginia Arts Festival, they won't require any "out of the box" piece, in order to dazzle us as an audience. Their performances always perform well here. I first saw the iconic Revelations, their staple which was choreographed by the great Ailey himself, at Chrysler Hall quite a few years back. Even though I hadn't covered their performance for the paper, my editor at the time, Leona Baker, insisted that I experience them in concert. She was a former dancer, and the first person that I'd heard describe the main company dancers as "superhuman."
Now, one of those superhuman dancers in the current main company is actually from the 757. Talking to Collin Heyward, whose family moved to Newport News in 1997, when he was eight, feels familiar, in spite of the fact that we've never met. Heyward graduated from Woodside High School, and studied dance here locally with Linda Haas and Denise Wall. He joined the main company back in 2014. "I'm very excited to come back to where I started," he says, early on in our phone conversation.
Heyward only makes it back to Hampton Roads twice a year, he tells me. When the company is not on tour, as it so often is during the year, they (the dancers) rehearse five days a week, when in New York City. "The days are so long and taxing on your body…you really have to know how to pace yourself."
For Norfolk, the company's program will include Odetta, choreographed by Matthew Rushing, which is a piece based upon the life of singer/activist Odetta Holmes, regarded as the "voice" of the Civil Rights movement and an American folk music icon. Heyward will perform as part of a duet within that piece. And then there's Ronald K. Brown's new Open Door, along with the finale classic, Revelations.
Battle laughs when I tell him that no matter what, some patrons will get upset if Revelations isn't part of the program. We'd discussed the challenges of being an artist of color, earlier, balancing the expected with our thirst for the unexpected. He later frames that added responsibility, in a remarkably clear way.
"We continue to push the envelope, but honor past, present, and future, with equal amounts of passion."
WANT TO GO?
Alvin Ailey American Dance Theater
Presented by Virginia Arts Festival
February 26-28
Chrysler Hall
Sevenvenues.com