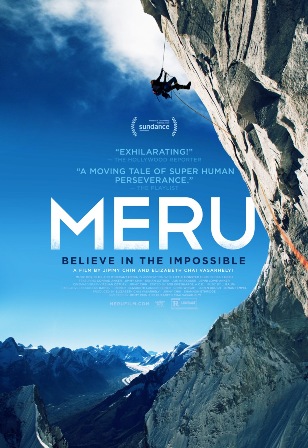 By Tench Phillips, Naro Cinema
The total number of documentaries that passed the criteria for submission to the M.P.A.A. for Oscar consideration this year was 124 titles. A number way too large for any one person to view. It has been whittled down by Academy members who sit on the selection committee to 15 films known as the Oscar shortlist. The title names can be viewed at the website  www.oscar.org. The shortlist will be reduced to a final five nominees for Best Documentary and will be announced along with all the other category nominations on Jan. 14.
Most of the docs shortlisted for an Oscar have received their local premiere at the Naro. A few have yet to open here but will be dated soon.  Many of the films played in our ongoing "New Non-Fiction Film" series on Wednesday nights and includes a post-film audience discussion led by informed facilitators, scholars, and speakers. These public forums allow for a lively conversation about the issues raised in the films and how they relate to our own community.
Many of the issues addressed in these docs receive scant attention in the mainstream media. They are ignored for numerous reasons. Some are deemed too critical of American foreign policy. Other issues not receiving in-depth coverage in the corporate press include the inner workings of predatory capitalism, Wall Street, big banks, corporate malfeasance, trade agreements, and Congressional complicity. Independent documentaries have grown to fill the vacuum created by media inattention.
Below is a list of some of the deserving docs that showed at the Naro Cinema over the past year. My film choices are grouped into three categories and are listed in no particular order of preference.
Filmgoers who missed seeing these films on the big screen have a second chance to view them on DVD when they show up next door on the shelves of Naro Video. These important films have the potential to enlighten our society. If only they could reach a wider audience.
Best Docs of 2015: Arts and Sciences
MERU
Filmmaker and mountain climber Jimmy Chin and his friends tackle the 'unreachable' summit of Meru in the Indian Himalayans – not once but twice. Selected for Oscar shortlist.
AMY
Six-time Grammy winner Amy Winehouse died from alcohol poisoning in July 2011 at the age of 27. Director and long-time friend Asif Kapadia reveals Amy in her own words. Selected for Oscar shortlist.
SEYMOUR: AN INTRODUCTION
This is a loving tribute from Ethan Hawke of Seymour Bernstein – virtuoso pianist, veteran New Yorker, and wisdom teacher.
THE WRECKING CREW
The unheralded musicians of Los Angeles created the beats and melodies of the great pop hits of the '60s.
MONK WITH A CAMERA
Nicholas (Nicky) Vreeland walked away from his rich and famous life and for the past twenty-eight years has lived in India as a Tibetan Buddhist monk.
MEET THE PATELS
This romantic-comedy documentary is directed by first-generation Indian-American siblings Geeta and Ravi Patel. Selected for Oscar shortlist.
Best Docs of 2015: Environmental Justice
BLOOD ON THE MOUNTAIN
A searing indictment of the injustices by the coal industry from decades of exploitation in Appalachia.
MERCHANTS OF DOUBT
A journey into the dark  heart of the American propaganda machine that spins corporate exploitation and climate change.
PLANETARY
The film illuminates the statement "We have not only an ecological crisis… but also a kind of story crisis. That is to say there's something very wrong about the way that we understand who we are, and our relationship with the Earth."
ANTARCTIC EDGE
A thrilling journey to the world's most perilous environment, we join a team of world-class scientists as they explore the fastest warming place on earth: the West Antarctic Peninsula.
THIS CHANGES EVERYTHING: Capitalism vs The Climate 
Activist and author Naomi Kline asks "What if confronting the climate crisis is the best chance we'll ever get to build a better world?"
THE CREEPING GARDEN
A real life science fiction movie explores the work of fringe scientists, mycologists, philosophers, and artists – and their relationship with the extraordinary plasmodial slime mold.
BIKES VS CARS
Urban biking offers a sustainable option for the gridlock caused by over one billion cars in the world – but it will require grassroots organizing to transform the institutionalized power structure of car transportation.
PLANT PURE NATION
When nutritional scientist and author T. Colin Campbell inspires a Kentucky politician to propose a pilot program documenting the health benefits of a plant-based diet, they expose powerful forces within government and industry threatened by the economics of a healthy diet.
PELICAN DREAMS
Why do we need wildness in our lives, and how can we protect it? Sometimes referred to as "flying dinosaurs," pelicans have an ancient magic about them.
THE GREAT INVISIBLE
The true story of the Deepwater Horizon oil rig explosion in the Gulf of Mexico is both a fascinating corporate thriller and a heartbreaking human drama.
Best Docs of 2015: Social Justice
WE COME AS FRIENDS
At the moment when the Sudan, the continent's biggest country, is being divided into two nations, an old pathology of Western colonialism re-emerges. Selected for Oscar shortlist.
THE BLACK PANTHERS: VANGUARD OF THE REVOLUTION
The resurgent demands by "Black Lives Matter" for justice and racial equality were birthed in the 1960s by a cast of larger-than-life personalities including: Huey Newton, Bobby Seale, Eldridge and Kathleen Cleaver, and Fred Hampton.
THE LOOK OF SILENCE
In filmmaker Joshua Oppenheimer's powerful companion piece to the Oscar-nominated The Act of Killing, he returns to Indonesia at great risk to expose the legacy of the country's unacknowledged genocide. Selected for Oscar shortlist.
DO I SOUND GAY?
The social and personal ramifications of "the gay voice"are examined in this far-reaching film.
3 & 1/2 MINUTES, TEN BULLETS
The shooting death of a young Florida teenager in a car parked in a Florida gas station by a white middle-aged man who used the state "Stand Your Ground" law for his criminal defense. Selected for Oscar shortlist.
FOOD CHAINS
There is more interest in food these days than ever, yet there is little concern for the poor farmworkers who pick and ship it to us. The Fair Food Program partners with growers and retailers to improve working conditions for farm laborers.
CARTEL LAND
Intrepid filmmaker Matthew Heineman embeds himself in the drug wars to make this dangerous film about two growing vigilante movements in Mexico and Arizona. Selected for Oscar shortlist.
OUR MAN IN TEHRAN
This is the true story behind the Oscar-winning drama Argo, as told by the participants in the daring rescue of the American diplomats who were hidden by the Canadian government in their Embassy in Tehran in 1980.
BURDEN OF PEACE
The recent arrest on corruption charges of Guatemala's sitting president Molina is unprecedented and was the result of the courageous work of Claudia Paz y Paz, the country's first woman Public Prosecutor.
BEST OF ENEMIES
In the summer of 1968, ABC ratings soared when they pitted partisan intellectuals William F. Buckley Jr and Gore Vidal against each other during the Democratic and Republican national conventions. Selected for Oscar shortlist.
THE YES MEN ARE REVOLTING
For two decades, the Yes Men have pulled off elaborate media hoaxes to draw international attention to environmental and social crimes perpetrated by Shell Oil, the U.S. Chamber of Commerce, and Congress.
THE WOLFPACK
Locked away from society in an apartment on the Lower East Side of Manhattan, the Angulo brothers learn about the outside world through the films that they watch and act out.
THE SALT OF THE EARTH
Brazilian photographer Sebastião Salgado has been travelling through the continents, documenting an ever-changing humanity for over forty years.
THE HUNTING GROUND
A startling expose of rape crimes on US campuses, their institutional cover-ups, and the devastating toll that they take on students and their families. Selected for Oscar shortlist.
SHE'S BEAUTIFUL WHEN SHE' ANGRY
All but forgotten, the fiery woman's movement of the sixties has been rekindled through archival footage that traces the development of the National Organization for Women (NOW).
REMOTE AREA MEDICINE
The non-profit RAM produces health and dental clinics throughout the Appalachia for rural people desperate for healthcare. The urgent call for Medicaid expansion in Virginia has never been better illustrated.
Upcoming Film Events at Naro Cinema
ROSENWALD
Chicago philanthropist Julius Rosenwald, the son of an immigrant peddler, rose to head the Sears retailing chain. He partnered in the early 1900s with Booker T. Washington to eventually build 5,400 Southern schools in African American communities during the Jim Crow era. The Rosenwald Fund supported great artists like Marian Anderson, Woody Guthrie, Langston Hughes, and Gordon Parks. Among those interviewed are civil rights leaders Julian Bond, Congressman John Lewis, columnists Eugene Robinson and Clarence Page, and Rosenwald school alumni writer Maya Angelou. Shows Wed, Dec 16 with filmmaker Aviva Kempner in attendance.
HITCHCOCK/TRUFFAUT
In 1962 Hitchcock and Truffaut locked themselves away in Hollywood for a week to excavate the secrets behind the mise-en-scène in cinema. Based on the original recordings of this meeting, this film illustrates the greatest cinema lesson of all time and plummets us into the world of the creator of Psycho, The Birds, and Vertigo. Shows Wed, Jan 6 with speakers and discussion.
FIRSTLOOK FILM FORUM – WINTER SEASON
Join a discriminating group of cinephiles on designated Sunday mornings to share brunch and conversation, and then to preview and discuss an advance screening of a critically praised independent or foreign film before it opens locally for its regular engagement. Winter season starts Sunday, Jan 10. Get details at www.narocinema.com.
PEGGY GUGGENHEIM: ART ADDICT
Peggy Guggenheim was an heiress to a huge family fortune that she used to became a central figure in the modern art movement. As she moved through the cultural upheaval of the 20th century, she collected not only art, but artists. Her colorful personal history included such figures as Samuel Beckett, Max Ernst, Jackson Pollock, Alexander Calder, Marcel Duchamp as well as countless others. While fighting through personal tragedy, she maintained her vision to build one of the most important collections of modern art, now enshrined in her Venetian palazzo. Shows Tues, Jan 12 and presented with Chrysler Museum.
THE WINDING STREAM
The source of American root music is in the Appalachian foothills of Virginia where the Carter Family made their mark as early stars of recorded country music. Their legacy continues to this day with the music of Rosanne Cash, daughter of June Carter and Johnny Cash. Shows Wed, January 13 with an evening of film and a live musical tribute by Jim Newsom of Mountaintide and friends.