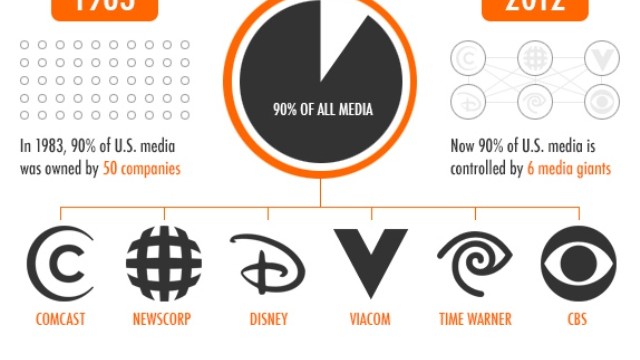 By Tench Phillips
"Freedom of the press is guaranteed only to those who own one."
– A. J. Liebling
We've come to take for granted the mergers by media companies in this country over the years. It's supposed to foster greater efficiency and higher Wall Street prices, right? But this consolidation of media power into the hands of only a few large corporations has allowed for unprecedented commercial and state control of the public dialogue and of the flow of information. In fact political philosopher Naom Chomsky asserts "Any dictator would admire the uniformity and obedience of the U.S. media."
Consolidation has also allowed for large, distant companies to control much of the information that comes into our communities. Here in Hampton Roads, most of the home television and radio stations are owned by large broadcast conglomerates with multiple stations in numerous other cities. There is little allegiance to our community from these companies other than as another market to be exploited for company profits. Our area's citizens are perceived as consumers whose statistics can be compiled and offered up to advertisers for the marketing of their commercial messages. A comprehensive listing of our area's radio and TV stations showing detailed information about ownership can be found at http://hamptonroads.vartv.com.
Other area media monopolies include the cable and telecommunications companies providing pipelines to our homes and businesses. With so little competition and choice, Cox and Verizon have been able to charge premium prices for internet service and cable channels.
Local newspapers have maintained monopoly presences here for years. The Daily Press operates on the Peninsula and is owned by the Chicago-based multi-media company, Tribune Media. In contrast, The Virginian Pilot is still managed by the locally owned media company Landmark Communications. But this could change at any time since the owners readily acknowledge that they have tried unsuccessfully for years to divest their holdings and find a media conglomerate to buy the paper for the right price.
It wasn't always like this. In the early part of the last century, the government strictly regulated the public airwaves and limited the number of news sources that a company could own. The role of a local independent press was considered by the founders to be vital for the democratic process. They believed that the press served as a guarantee for the free flow of trusted information and as a watchdog for the abuses of government and corporate power.
But the potential for ever greater corporate profits began to erode the principal of media "localism." The deregulation championed under Ronald Reagan's administration accelerated under Clinton. It was sealed with The Telecommunications Act of 1996 that allowed for multiple media outlets to be owned by the same company. Over the last few decades anti-monopoly legislation has systematically been dismantled in this country within all industrial and financial sectors. But the media is not just another industry and the role of a free and independent press is imperative for a democratic society.
A feeding frenzy of big media consolidation has continued unabated even though the politicized FCC has offered some resistance. Today there are just six behemoths that own and control 90% of what we read, what we watch, and what we listen to. These giant content providers also own much of the cable infrastructure. They include Comcast and Warner Brothers (whose recent cable mega-merger was finally abandoned after mounting opposition), along with Murdock's News Corp, Disney, Viacom, and CBS. These companies own the television networks, publishing houses, and most of the cable stations. They also own the six major Hollywood studios – Paramount, Sony Pictures, Disney, Warner Brothers, Universal, and 20th Century Fox. With such corporate control, there's little wonder that there are so many sequels and so little narrative diversity to be found in movie theaters today.
These companies decide which news events will receive coverage and which ones will be ignored. Try to find independent progressive voices who are allowed to challenge the corporate narrative presented on any of those news shows. The corporate media is the tail that wags the dog. It's a top-down, hierarchal view of the world delivered from an ideological corporate perch. Only occasionally is big media forced to cover issues in the interests of the country's poor and minority communities. As when the coverage of recent violence in urban ghettoes of Ferguson and Baltimore has exposed decades of economic inequality and racism by the police.
Reportage on U.S. foreign policy is even worse. The bias of American empire is the media lens through which international events are perceived and interpreted. Whether it's coverage of the fighting in the Ukraine, the war on ISIS, the numerous civil wars fueled by American interventionism which are raging throughout the Middle East, the coverage of democratic movements in South America, or negotiations of trade agreements like the Trans Pacific Pact – egregious examples of media spin and disinformation occur daily in the corporate press as well as NPR and public media.
That's why the recent ruling by the FCC in favor of "Net Neutrality" was so important. It means that regardless of corporate control of other media platforms, we can – for the time being – depend on a free and open internet. Even though many of the most popular websites are owned by the large media and web companies, we are offered countless sources for obtaining independent and citizen news reporting. The best example being the subscriber based, non-profit Democracy Now! which is tuned into daily on various platforms by 20 million viewers and listeners in the U.S. and other countries. It's striking just how different the show is from mainstream news. The reporting on domestic and world events comes from activists and independent journalists who aren't embedded in the military, the state dept, conservative think tanks, or corporate culture.
Continued vigilance is needed. Congress is now considering a bill to invalidate the FCC ruling on net neutrality. More media mergers are being planned; AT&T and Direct TV have now petitioned the FCC in an effort to consolidate. Legislation to continue the surveillance of American phone calls and emails by the NSA is once again before Congress in an attempt to reauthorize The Patriot Act. The Obama administration is pressing Congress to fast-track the approval of the Trans Pacific Pact trade agreement that undermines decades of environmental and labor legislation as well as net neutrality. These issues remain obscure and misunderstood by most Americans due to the lack of clear coverage given to them by big media.
There are some important media watchdogs that expose the biases and disinformation perpetrated by the establishment press. A web search will connect you with Free Press, FAIR, Global Trade Watch, AdBusters, Democracy Now! and Media Matters.
The ongoing Naro documentary series "New Non-Fiction Film" on Wednesday nights offers alternative programming that covers important issues explored by independent filmmakers and journalists. Many of the informed voices not invited to speak on all those broadcast news programs will receive an airing in the upcoming short documentary 'Shadows of Liberty' to be shown on Wed, May 20 as part of The Media Reform Action Tour as a free public showing arranged by the film producers.
Upcoming Film Events at Naro Cinema
SHADOWS OF LIBERTY
Canadian filmmaker Jean-Philippe Tremblay takes an intrepid journey through the darker corridors of the American media landscape, where global conglomerates call the shots. Renowned independent journalists, activists and academics give insider accounts of a broken media system. Featuring Danny Glover, Julian Assange, Dan Rather, Amy Goodman, Daniel Ellsberg, Norman Solomon, Jeff Cohen, Robert McChesney, John Nichols, Chris Hedges, and many more. Free and open to the public. (60 mins) Wed, May 20 at 5:30pm
GETT: The Trial Of Viviane Amsalem
In the modern state of Israel there is neither civil marriage nor civil divorce – and a court of judges composed of only orthodox rabbis can legitimate a marriage or its dissolution. Furthermore a divorce or 'gett' is only possible with full consent from the husband, who in the end has more power than the judges. In this acclaimed Israeli film Viviane Amsalem (Ronit Elkabetz) has been applying for divorce for three years but her husband Elisha (Simon Abkarian) will not agree. It's a procedure in which tragedy vies with absurdity, and everything is brought out for judgment, apart from the initial request. In Hebrew and French with subtitles.  Showing Wed, May 20 at 7:15pm
THE SEARCH FOR FREEDOM
Although filmmaker Jon Long's new movie is a celebration of the world of action sport, it is much more than a sports movie. It is a compelling story about human spirit and self-expression told by those who created a cultural phenomenon. Featuring top pioneers across all the major action and outdoor sports like Tony Hawk, Kelly Slater, Gerry Lopez, Nyjah Houston, Danny Way, Jeremy Jones, Shane McConkey, Robbie Maddison, Robby Naish, Kai Lenny, Quiksilver founder Bob McKnight, Patagonia founder Yvon Chouinard, surf filmmaking legend Bruce Brown (Endless Summer), and mountain biking pioneer Gary Fisher. Showing Wed, June 10
SEYMOUR: AN INTRODUCTION
Meet Seymour Bernstein: a virtuoso pianist, veteran New Yorker, and true original who gave up a successful concert career to teach music. In this wonderfully warm, witty, and intimate tribute from his friend, Ethan Hawke, Seymour shares unforgettable stories from his remarkable life and eye-opening words of wisdom, as well as insightful reflections on art, creativity, and the search for fulfillment. Date to be announced.
LAMBERT AND STAMP
Way back in the early sixties, aspiring young filmmakers Chris Stamp and Kit Lambert were searching for the right subject for a film about disaffected youth and the music culture. They finally found in a rock band called the High Numbers a rebelliousness that was just what they were looking for. Eventually abandoning their plans to make the film, they began to mentor and manage the group, which evolved into the iconic band known as The Who. The result was rock 'n' roll history. Date to be announced.
SALAD DAYS: A Decade of Punk in Washington, DC (1980-90)
This film examines the early punk scene in the Nation's Capital. It was a decade when seminal bands like Bad Brains, Minor Threat, Government Issue, Scream, Void, Faith, Rites of Spring, Marginal Man, Fugazi, and others released their own records and booked their own shows—without major record label constraints or mainstream media scrutiny. Date to be announced.