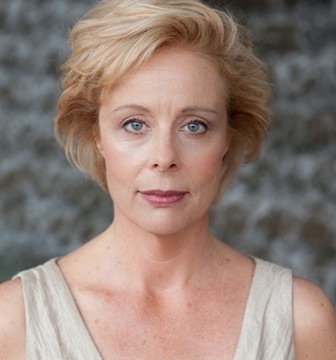 By Montague Gammon III
Call The Other Place, the upcoming Virginia Stage Company production, a "thriller" or a "psychological thriller" or a "Hitchcock style psychological thrill ride" or the term director Chris Hanna likes best, "a puzzle play," the script arrives bearing a host of good reviews, and the cast is earning high praise from Hanna.
Juliana Smithson is pretty much the smartest person in any room, even when that room is filled with high achieving medical researchers. She is, in the succinct description of the New York Times, a "biophysicist turned pharmaceutical pitchwoman."
Playwright Sharr White's script, in which Smithson is both narrator and central character, begins in just such an environment, as Smithson presents a paper about some ground-breaking research.
Yet inexplicable events seem to occur at the conference where she is first seen, and throughout the play.
"The pieces don't all add up," Hanna says, using the puzzle metaphor. "Whom to believe, and when to believe them," he says, becomes the crucial question.
He calls it a "brilliant play." Watching the New York production left him "stunned," and "completely tricked" in his attempts to decode the puzzle. Remember, this is a director, playwright, administrator and professor of theater who is about at aware of theatrical practice and conventional plot structure as anyone one can imagine.
Certainly there is more than enough going on in 52-year-old Dr. Smithson's life to explain a bit of disorientation. She's a controlling person in her own right, though the question of who is controlling whom obviously is one part of the play's puzzle. Other questions involve her apparently estranged daughter who eloped with a much older man at the age of 15, her perhaps about-to-divorce-her oncologist husband, her health which might be subject to hereditary problems, and the possibly unresolved current ownership of the Cape Cod cottage to which the title refers.
Laurie Metcalf, in the role of Juliana, won wide acclaim and an Obie award, as well as garnering a Tony nomination when the show went to Broadway. Hanna says that the VSC's Juliana, Julie Fishell is "fabulous," and every bit as compelling as Metcalf was.
Fishell, who as a student of Hanna's at Juilliard, garnered local praise when she played the lead role in of Lizzie Curry in the VSC's 1990 production of The Rainmaker. ("Wonderful" was one adjective applied to her performance by David Nicholson of the The Daily-Press.)
She is joined in the cast by two out of town pros, new to the VSC, and by a local veteran of the Wells Theatre Stage.
Hanna called his time in New York casting the play "a fabulous dream time." That is to say, he's really pleased with the results. For one thing, he points out, these roles are so conspicuously well written that actors are eager to play them
Kevyn Morrow is cast as Ian, Leah Walsh as The Woman and David Meadows as The Man. Those last two play multiple roles; Ian is Juliana's husband.
Walsh is a recent Juilliard grad and Meadows was most recently seen at VSC in The Great Gatsby and The Death of a Salesman.
Craftsmanship of impeccable quality is the hallmark of the script, Hanna says.
The Other Place, by Sharr White
Virginia Stage Company
Jan 20-Feb 8
Wells Theatre
110 E. Tazewell St.
(Tazewell St. & Monticello Ave.)
757-627-1234