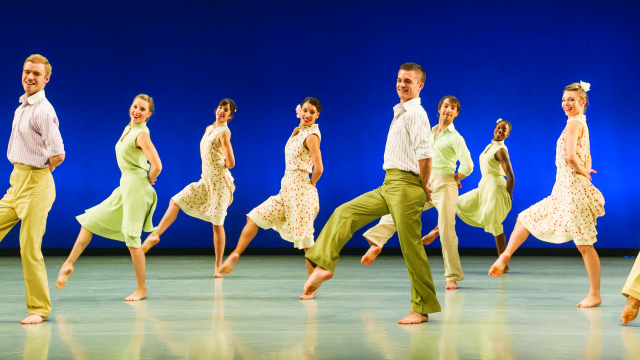 By Leona Baker
It would seem a no-brainer for a choreographer to be described as musical. After all, dance, in the most basic sense, is human movement set to music—be that "music" classical, contemporary, avant-garde or something as elemental and spare as the sounds of a dancer's breath.
Yet there are certain choreographers who are often noted for their musicality. Modern dance paragon Mark Morris, known to choreograph with a score in his hand, is one. Perhaps it's no surprise, then, that comparisons have been made between Morris and London-based choreographer Richard Alston, whose critically acclaimed eponymous company will be making its Virginia Arts Festival debut May 21 and 23.
Originally from Sussex, England, Alston found a passion for music "listening to Bach and Billie Holiday, or blasting Wagner's Ring at the cows grazing outside" when he was a student. That passion has been a driving force behind Alston's four decades as a successful international choreographer creating original work for his own company as well as for celebrated ballet and contemporary companies around the world.
As publicity materials for the company note, "Richard Alston hears music and sees dance." In his down time, Alston relaxes in part by listening to music he knows he doesn't want to choreograph to.
Comparisons can easily be drawn as well, between Alston's crisp, clean kinetic movement style—with its super-charged energy and eye-pleasing balletic lines—and that of American icon Paul Taylor. Dance writer Marina Harss calls Alston a "master builder" who "creates islands of order in a chaotic world."
Richard Alston Dance Company's performances at the TCC Roper Performing Arts Center and Phi Beta Kappa Hall will feature live music and represent the company's Hampton Roads debut and only U.S. appearances this spring.
"I was invited to see Richard Alston Dance Company two seasons ago in New York," notes Rob Cross, Director of the Virginia Arts Festival. "I was totally blown away. The dancing has such energy and lightness. It is always a special privilege for us, as well, to present an international company to our community for the first time."
There are three works on the company's program for these regional performances: "The Devil in the Detail," set to the "sun-drenched music of Ravel" and featuring jewel-encrusted costumes that resemble body-hugging, ethereal spider webs; "Shimmer," a lively interpretation of composer Scott Joplin's classic ragtime selections; and "Illuminations," based on the poetry and life of French prodigy Arthur Rimbaud.