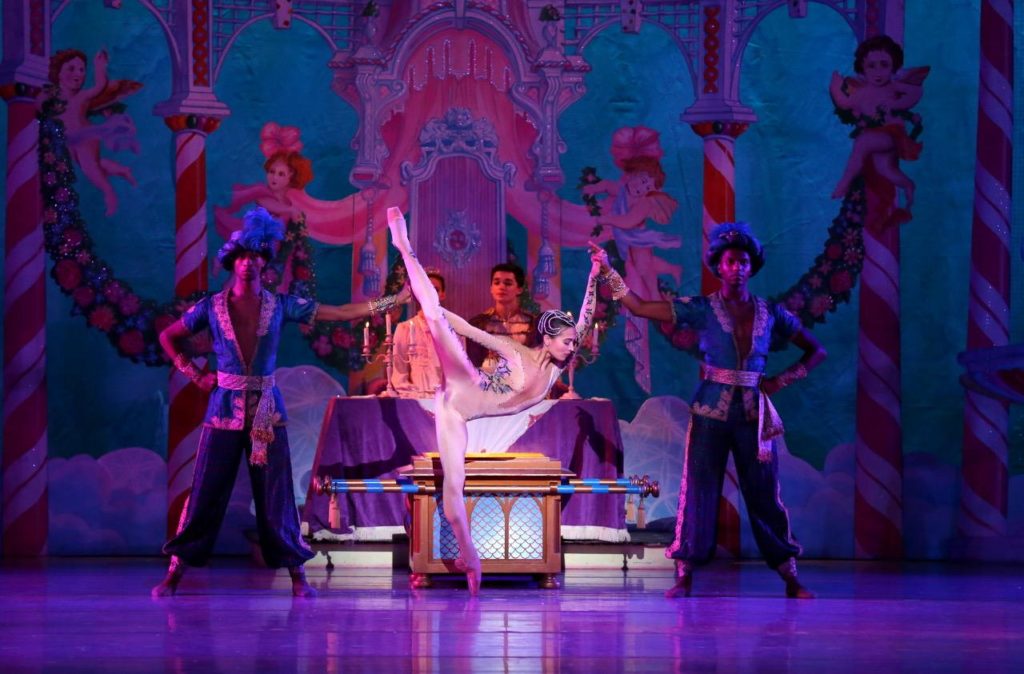 Great Russian Nutcracker 
Moscow Ballet
November 27-28, 7 PM
Sandler Center
Christmas is coming and so is the one and only Moscow Ballet's Great Russian Nutcracker. Presenting world class Russian artists, hand-painted sets, Russian Snow Maidens, and jubilant Nesting Dolls – Great Russian Nutcracker brings the Christmas spirit to life for all ages. "Kids wide-eyed with delight!" says the New York Times. 
Black Nativity
November 28 through December 2
Norfolk Statue University Theatre
This award-winning, roof-raising, gospel infused, soulful musical recounts the birth of Christ and is NSU Theatre Company's holiday gift to Hampton Roads. Ring in the holiday right with this amazing cast of actors, singers, dancers and more.
A Christmas Carol
Presented by Virginia Stage Company
November 30 through December 23
Wells Theatre
For various show times visit www.vastage.org 
It wouldn't be the holidays without Dickens' A Christmas Carol at the Wells Theatre. Experience the childlike wonder of this heartwarming story that follows the Ghosts of Christmas Past, Present, and Future as they take Ebenezer Scrooge on a journey of redemption where he learns the power of kindness and compassion.
K'Bana Blaq's "Oh Where, Oh Where is My Christmas Tree 2018"
December 1, 7 PM
Downing-Gross Cultural Arts Center
Mr. Devin Leehart  is devastated about the loss of his mother. The huge benefit concert at the church to keep the orphanage running is a couple of days away. Visits to the Montgomery Nursing Home with the children are also approaching to collect extra money for the kids' Christmas presents. All of that can be in danger if the children and the rest of the family doesn't figure out a way to mend Mr. Leehart's broken heart.
The Santaland Diaries
Presented by Virginia Stage Company
December 6-16
Wells Theatre
For various show times visit www.vastage.org
Based on the memoir of award-winning comedic author David Sedaris, this hilarious one-man-show takes us back to ye olden days when he was one of Santa's Elves at Macy's Department Store. In this one-act play the struggling writer, who chooses the elf name "Crumpet," weaves an unbelievable tale of drunken Santas, lascivious actors, and combative parents. Attend to laugh, drink and be merry with your friends at the Wells Theatre. This late night holiday treat for adults is sure to make your spirits bright.
The Nutcracker
Presented by Richmond Ballet
December 7, 7 PM
December 8, 2 PM & 7 PM
December 9, 2 PM
Chrysler Hall
Tchaikovsky's brilliant ballet score comes to life for this magical collaboration between Richmond Ballet, The State Ballet of Virginia, and the Virginia Symphony Orchestra. Heralded as "perfect" by The New York Times, Stoner Winslett's The Nutcracker returns to Chrysler Hall for the 6th consecutive year. From a battle beneath the branches of a mystical Christmas tree, to a winter white forest, and then off to a far-off kingdom of delectable sweets, this dazzling production is sure to bring joy to everyone's December.
Hurrah for the Holidays
Presented by Hurrah Players
December 7-9
TCC Roper Center
Guaranteed to get you in the holiday spirit is the annual production of HURRAH FOR THE HOLIDAYS; a joyful celebration featuring all the best music of the season – from your favorite classic standards to popular modern day hits. With the renowned Lisa Wallace kick-line dancers, a 6 foot dancing snowman, and a few festive surprises – it's an event for the entire family.
Best Christmas Pageant Ever
December 8, 7 PM
TCC Roper Center
Based on the popular book by Barbara Robinson, THE BEST CHRISTMAS PAGEANT EVER is the funny, heartwarming, and mildly irreverent story of what happens when a church play is hijacked by six of the 'absolutely worst kids in the history of the world'. A holiday tradition for 27 years, this event is presented with Happy Hanukkah, My Friend; a short program celebrating the Festival of Lights.
The Nutcracker
Presented by Ballet Virginia International
December 14, 7:30 PM
December 15, 2 PM & 7:30 PM
December 16, 2 PM
Sandler Center
Enjoy nationally recognized guest artists and our region's finest dancers along with imaginative choreography and staging. Live orchestra from Symphonicity, with Daniel W. Boothe conducting, will add the final touch to a delightful experience.
Escape with Clara and her Nutcracker as he comes to life and saves her from the evil Rat King and his menacing troop. Witness Dr. Drosselmeyer's magical snow as it transforms Clara and her beloved Nutcracker into a beautiful princess and a handsome prince. Waltzing flowers, tiny mice and a delightful Sugar Plum Fairy will make treasured memories and send you away with joy in your heart.