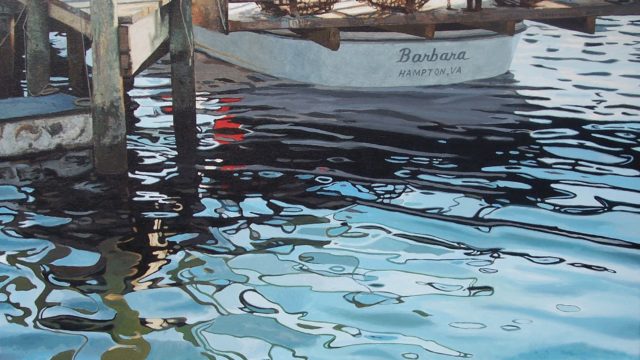 By Michael Curry
With a gentle smile, James Warwick Jones likes to say that he has three jobs — painter, teacher and gallery manager. He is a thoughtful, reflective and wise creator and mentor to many – with an amazing eye for detail and technique to back it up.
Any kind of praise makes Jim chuckle.
"It is a real pleasure to come to work every day," he says convincingly. And come to work every day Jim continues to do even as a septuagenarian.  He guides and manages The Charles H. Taylor Arts Center, teaches three classes a week and is a prolific painter.
THE ARTIST
As is the case with all visionary artists, Jim has become a revered teacher, passing on a legacy from his teachers who were leaders and innovators in the Hampton Roads arts scene – they were the legendary Jack Whitney Clifton, Allan and Jean Craig Jones and Jim's first inspirational art teacher, Ms. Libbie Wilson who, as Jim fondly recalls "had a real knack for understanding and encouraging talent. It was she who convinced my parents to enroll me in some painting classes."
Renowned journalist/art critic and history writer Mark St. John Erickson of The Daily Press says: "Rarely do you find such an accomplished artist – and Jim is a genuinely fine and interesting painter – who is also so talented as a curator. His range of interests and knowledge is truly catholic."
As a teenager, James excelled under the tutelage of the renowned Jack Clifton. He was accepted into two of the most prestigious art schools in the Nation – The Pratt Institute in New York and The Pennsylvania Academy of Fine Arts. He chose Pennsylvania where he developed a unique, unmistakable style than he continues to perfect. Some call it photo realism, others just realism but it is impeccable – it is James Warwick Jones.
Working and teaching in oils, acrylics or watercolors, Jim reflects: "My paintings have always been inspired by something I see in my environment; it could be nature, the manmade world or a combination of the two. Quite often the subjects I choose to paint are not what most people would necessarily consider picturesque or beautiful."
For more than a half a century James Warwick Jones has been winning accolades and awards. Indeed, there is probably not one prize in the Commonwealth or on the Eastern Seaboard that he has not won!
He has been featured in more than 250 exhibitions and has taken home more than 150 awards, for the record! Most recently, he was awarded First Prize at the very First Juried Regional Art Exhibition at the Williamsburg Contemporary Arts Center.
Jim's works are included in such prestigious institutions as The Virginian Museum of Fine Arts, and such leading corporate collections as those of Philip Morris, CSX Corporation, the Virginia Beach Public Library, the City of Williamsburg, Portsmouth Museums, Old Point National Bank and, of course, the Charles H. Taylor Arts Center – to name just a few.
THE TEACHER
When he graduated from the Pennsylvania Academy, even though he was already a successful budding artist, having completed several commissions, he made the wise decision to become a teacher. He then graduated magna cum laude from Old Dominion University, recalling with that gentle smile: "I graduated from ODU on Friday and started work as an art teacher at Thorpe Junior High School (my alma mater) in Hampton the following Monday."
Interestingly enough, Thorpe Junior High School was just down Victoria Boulevard in Hampton from Jim's elementary school and just down the road from the Charles H. Taylor Library, which was built in 1925. That handsome building is now The Charles H. Taylor Arts Center which Jim directs Willis School was pulled down and the current Hampton Library built in its place. Thorpe Junior High closed and Jim took up private teaching. Then he landed a position at the just opening Peninsula Fine Arts Center – where he ended up working for almost a quarter of a century in various senior positions, including a stint as Executive Director. At PFAC, Jim served under six different directors and was largely responsible for the creation of the education and exhibition programs. He took an active role in the development of the galleries when the building was first donated by Newport News Shipbuilding to the fledgling Arts Center.  After a year at The Mariners' Museum, Jim was appointed Gallery Manager of The Charles H. Taylor Arts Center where he has been ever since.
"The shows he has mounted include not only some of Hampton Roads' most reliable annual exhibitions but also many of its memorable one-offs," said Mark St. John Erickson.
You might well call James Warwick Jones the painter's painter. Over the course of his more than 50-year career as a teacher, he has mentored, tutored and encouraged thousands of students. And he is still teaching three classes a week.
Noted regional watercolorist Sharon Judkins is one of Jim's many "long term" student. She reflects:
"James really taught me to see like an artist. He showed me how to see what others may miss. Then I had my own voice and now I have an endless supply of inspiration.
"He allows you to be the painter you were meant to be, even if you didn't know it"…she adds with a laugh.
Always the one to encourage and push his students, Jim urged Sharon to enter some competitive shows. She did and she is now a Signature member of the Virginia Watercolor Society.
In addition to his six years as a teacher in the public schools, he has also taught courses at The Bay School for the Arts, The Chrysler Museum, Christopher Newport University. Twentieth Century Gallery and the Yorktown Creative Arts Center.
THE CURATOR
As Gallery Manager of the Charles H. Taylor Arts Center, Jim curates and oversees the annual series of exhibitions in the arts center. Several of them are recurring annual shows but he has made his mark on them all and has been very instrumental in raiding standards. These include the Hampton Arts League open members exhibition, the increasingly prestigious Virginia Artists Exhibition, the Virginian Glass Guild, Artists who Teach and the popular Small Works Exhibition which challenges artists to create miniatures.
During his career Jim has curated hundreds of award winning and critically acclaimed exhibitions and has been featured himself in countless solo and group shows.
When asked what his most favorite or memorable installations might be he cited the Dia de los Muertos (Day of the Dead – which included, among many other items, a skeleton playing chess and a pet altar; That's Funny – Art with a Sense of Humor, especially when several artists came dressed as chickens for the opening reception and The Artist's Studio which paired of photograph of the artist's studio with a piece of art inspired by it.
"I think," says Jim, "the most contemporary or unusual of exhibitions was a show we did in 2009 featuring Ken Daley, Rosa Gema Doughty, Taylor Maida, Tracy Maida and Virginia van Horn. It was a show that included more conceptual and participatory works and was very well received.
Jim has also served as a Judge for more than 100 different shows throughout his career.
Just like any "master," James Warwick Jones has perfected his art and is perfecting the art of passing it on and he enthusiastically adds:
"I plan on teaching as long as I am able – teaching is thing I love most about my work."
And as he says humbly, "My paintings often evoke a quiet, tranquil, solitary or serene mood which I think is part of their attraction."
Working full time and teaching take up most of Jim's time but he always finds a few hours for painting even though it might not be on a routine basis. "I might paint several hours after work during the week and several hours on a Saturday or Sunday, but some weeks go by when I might not do any painting".
Given that he has such an impressive ongoing career, his commitment to teaching is paramount. Of all of his accomplishments, James Warwick Jones is most proud of his success and influence as a teacher. But he remembers and celebrates the partnerships he has nurtured and enjoyed with fellow professionals and volunteers over the years.
For the past few years Jim and his son, Mason (a computer engineer) have taken great adventures too far away locales including Japan, Costa Rica, the American Southwest, etc.  Naturally these trips have provided great inspiration and subject matter for his paintings.
And looking to the future, James wants to travel some more, see more great museums and "do what I do -continue to paint and to teach."
Michael Curry was the Founding Director of Hampton Arts where he served for 25 years. Now a freelance writer contributing regularly to this publication, he published his first book, Dining Among the Stars, in 2016.