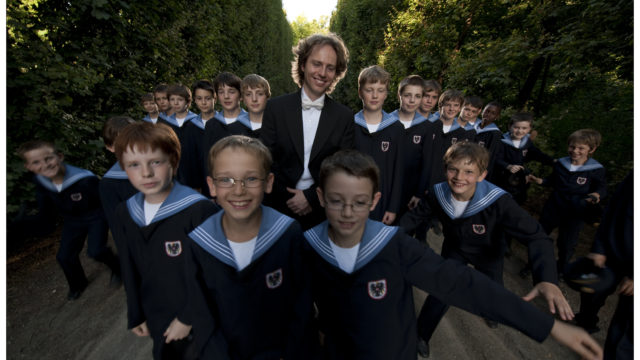 By Jeff Maisey
The Virginia Arts Festival will present the Vienna Boys Choir's programmed called "Christmas in Vienna" December 20 at St. Bede Catholic Church in Williamsburg and December 21 at Virginia Beach's Sandler Center.
There are four touring groups under the Vienna Boys Choir name. While based in Vienna, Austria and trained 10 months out of the year at the Boys Choir School, the members hail from all over."
"They audition kids worldwide when they're on tour," said Virginia Arts Festival Executive Director Rob Cross. "The Festival usually presents them every second or third year. People love them. Their music making is just at such a high level. It's such a great way to go into Christmas."
Vienna Boys Choir conductor Manolo Cagnin provided additional insight.
"They possess character and spirit," Cagnin said. "This is reflected in the way they make music. The children learn from me, and I learn from them."
Cagnin also said the boys must be willing to travel far away from home during the holiday season, often going city to city by bus, train or plane.
"Now we're traveling for five hours," Cagnin said by phone while on the tour bus. "We'll get lunch, then sleep, and then perform. Tomorrow will be exactly the same. It's wonderful, but can be a hard life."
Cagnin said the Boys Choir members are allowed to stay in touch with their parents via cell phones and i-Pads, but also notes the choir itself is like family.
"I have 25 children (on tour) and they're like brothers," said Cagnin.
The Vienna Boys Choir repertoire is chosen to match the boys' voices and personalities.
"Usually the first half of the performance is traditional, sacred music that a lot of will recognize; a lot of Bach, some Mozart, probably some Mendelssohn," said Cross. "The second half they do more modern stuff like 'Silent Night.'"
Cagnin added: "We have songs from Italy, from America, and, of course, Vienna."
Born in Treviso, Italy, Manolo Cagnin embraced music early in life, studying violin as a child. In later
work at the Conservatory of Venice and in Milan, he pursued choral conducting and composition,
completing his studies under Kurt Masur and Fabio Luisi in Leipzig. In 2008, Cagnin was named
conductor of one of the four touring choirs of the Vienna Boys Choir. He prepares the boys for masses
with the Vienna Hofmusikkapelle, for appearances with the Vienna State Opera, for sound and video
recordings, and for concerts both in Vienna and abroad. The spirited choirmaster enjoys touring, and has traveled with the choir to Vietnam, China, Singapore, Ireland, Italy, Spain, Germany, Australia, New Zealand, North and South America.
According to Cagnin, Vienna Boys Choir receives a standing ovation at the conclusion of every performance no matter what continent they're on, but the enthusiasm from one country is most notable.
"I think the American audience is the best in the world," said Cagnin.
WANT TO GO?
Vienna Boys Choir
December 20, St. Bede Catholic Church, Williamsburg (SOLD OUT)
December 21, Sandler Center, Virginia Beach