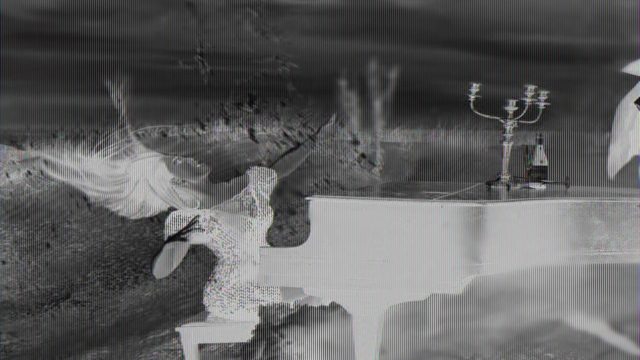 By Montague Gammon III
Even if it's true that there is no free lunch, there is a free ride for folks in South Hampton Roads who want to immerse themselves – or dabble their toes – in the cutting edge internationally regarded Art Soaked Weekends of Experimental Film Virginia in Cape Charles.
Two round trip rides in fact, which, since Cape Charles is across the Chesapeake Bay Bridge Tunnel, makes "Art in a Barn" (July 8) and "Reel and Raw" (July 15) way more accessible, especially to students and other young arts aficionados.
Buses supplied by Venture Tours of Virginia Beach, with the co-sponosorship of the Hilltop Northstudio of Marcus Holman Photography, leave from the southern terminus of the Bridge Tunnel both evenings and return later those nights. Details are available at www.eventbrite.com and www.artsoakedweekends.org.
Fans of Hampton Roads performing arts will get to see several dozen local performers in one of the fifteen films slated to premiere during "Reel and Raw." That as yet untitled piece was shot in a 4 hour whirl on July 6, in Norfolk's NEON Arts District, at the Main in Downtown Norfolk and on the Schooner Virginia.
"Art in a Barn" is a multi-art-form event which this year offers up Virginia Opera and Balletto Teatro di Torino performers, visual artist Stefano Giorgi, Italian harpist Federica Magliano and a bevy of other international artists, in a historic barn turned performance space.
EFV founder and Artistic Director, prime mover and impresario Renata Sheppard calls the July 8 event "an easy evening …a chance to meet the artists and see them perform in an informal relaxed setting."
The Barn sited evening will also feature a cash bar and food, all with a Bay view "backdrop of a preserved wildlife refuge."
The highlight July 8 could be a multi-media piece called "Truck," which takes place inside the 17 foot long box of a rental truck. Guggenheim choreography fellows Art Bridgman and Myrna Packer have been developing "Truck" for the past two years in a series of workshops across the world; this is its planned premiere.
Sheppard calls them "masters of illusion and playfulness," saying that "Truck" offers up "An incredible illusion and play of video projections, [of]  real and projected bodies. You begin to lose your ability to distinguish" between the real and the illusionary."
The 15 films of Reel and Raw, July 15, will be screened outdoors at the Cape Charles Yacht Center.
These "short films [born of] a very hybridized creative process …borrow from different disciplines." Sheppard makes the point that many of the directors are visual and musical artists, branching out into film work. "Some [pieces] are closer to video art and music videos and experimental films," says Sheppard. "The short film format makes the experimental nature of the work less intimidating. We are not asking anyone to commit to a 3 hour opera or a 2 hour ballet."
As with "Art in a Barn," food and drink are part of "Reel & Raw." Admission to either event includes a free drink ticket, and meals and more bar drinks will be available for purchase.
Experimental Film Virginia events "for all ages" take place every Friday, Saturday and Sunday throughout July. It's a unique mix of high and accessible art, down home and gourmet cooking, dance and dancing, that has for five years brought visitors from all over the region, and artists from all over the world, to its "pARTies" and performances in the "Small Town Big Art" locale of Cape Charles.
And this year, travel to two of the main events is "toll free"!
Experimental Film Virginia
www.experimentalfilmvirginia.com
"Art in a Barn"
July 8
Live music, performances
6-10 p.m.
Bill Parr's Seaview Creek Farm
24021 Seaside Road, Cape Charles
"Reel & Raw"
July 15
Film screening, live music, dancing
7 p.m.-12 midnight (film screening at 8 p.m.)
Cape Charles Yacht Center at 1101 Bayshore Road, Cape Charles
Tickets at www.eventbrite.com
757-331-GEAR
Info  at www.artsoakedweekends.org