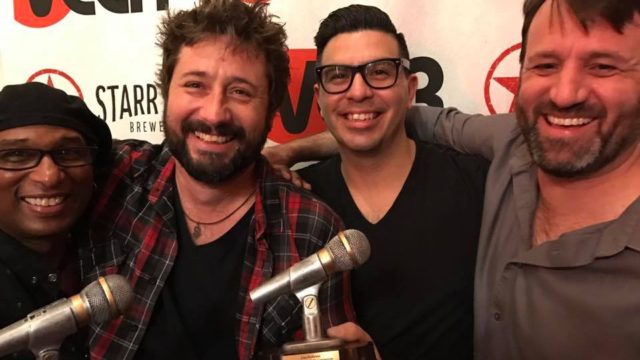 By Jeff Maisey
Indie-pop group Feral Conservatives took home three trophies in Veer Magazine's annual Music Awards program held at the Naro Expanded Cinema in Norfolk. The band's "Here's to Almost" was named Album of the Year, while their hooky, melodic "Last Light" earned "Song of the Year" honors. They were also top choice in the Indie Pop genre category.
Winners were selected as a result of a 50/50 mix of popular vote conducted online and a panel of judges that included an impressive array of local music industry professionals: Paul Shugrue (Host of WHRV-FM's "Out of the Box"), Kyle Bloom (Producer of Fox 43's "Hampton Roads Show), Crizti Walsh (Host of 96X's "The 757 on 96X"), Dr. Barry Graham (Host, WHRV-FM's "Acoustic Highway"), Jerome Langston (Veer Magazine pop culture writer), Jim Newsom (Veer Magazine music writer/musician), Jeff Maisey (Veer Magazine), Shannon Jay (Veer Magazine pop culture writer), Cristin Pond (Norfolk Festevents, Director of Programming/Entertainment), Josh Coplon (LAVA Music Festival), Tyler Warnalis (Musician/TBA Productions), Josh Whitener (Veer Magazine urban music writer), Mitch Kirsner (Owner, Fantasy), Bobby Philips (Electroganic) and Mike Hotzclaw (Reporter, The Daily Press).
A bonus to this year's winners: Festevents will be producing an outdoor festival/concert on Thursday, May 11 at Town Point Park featuring 20-minute sets from Veer Magazine Local Music Awards category winners. It'll be a live sampler of some of the region's finest bands and musicians.
Following is the list of this year's winners by category.
Album of the Year
Feral Conservatives, "Here's to Almost"
EP of the Year
Roosterfoot, "Roosterfoot"
Song of the Year
Feral Conservatives, "Last Light"
Music Video of the Year
K'bana Blaq, "Black Trash"
Producer of the Year (2016)  
Jacki Paolella
IndiePop
Feral Conservatives
Metal/Industrial
Heretics in the Lab
Rock 
Demons
Garage/Punk
Flax & The Heart Attacks
Psychedelic
Galaxy Dynamite
Jazz
Russell Scarborough Trio
R&B
The Fuzz Band
Hip Hop
Masego
Americana
Brackish Water Jamboree
Country
Gina Dalmas and The Cow Tippin' Playboys
Acoustic/Folk 
Dustin Furlow
Blues
Anthony & the Conqueroos
Electronic
DJP & MrT
Experimental
Night Shark
Cover Band
The Deloreans
World Music
Buddha Council
Gospel
The Chosen Few
Open Mic Night 
Cozzy's w/Vaughn Deel
Live Performer 
Anthony Rosano & the Conqueroos
DJ/MC
CanRock
Online Source
Altdaily.com
Media Program (TV/Radio)
Out of the Box, WHRV-FM
Local Music Venue
Shaka's Live
Outdoor Festival featuring Local Music
Stockley Gardens Arts Festival
Local Music Series
Sunsets on the River @ Hermitage Museum
Music Instrument Retailer 
Russell's Music World
Local Music Photographer
Beth Austin