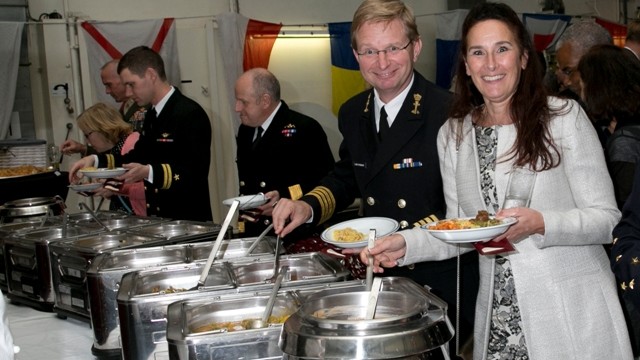 By Jeff Maisey
Think of food from Holland and what comes to mind? Typically, Gouda cheese, pancakes with powdered sugar, pickled herring and fried potatoes (pomme frites) served with mayonnaise, right?  While the answer is a resounding "yes" for traditional Dutch food, an equally important selection is Indonesian cuisine.
In the Dutch colonial times of the early 19th and 20th centuries, a popular dish was the Rijsttafel, translated as "rice table," which was a sprawling feast of as many as 40 side dishes prepared with varieties of rice. The Dutch East Indies as they were known were rich in spicy, healthy foods.
When Indonesia abruptly gained its independence from The Netherlands in 1958, many native Indonesian people loyal to Holland fled to the European capital of The Hague.
Maarten Lutje Schipholt, a captain in The Netherlands Royal Navy and who also serves as the country's National Liaison Representative to NATO ACT headquarters in Norfolk, also call The Hague home.
"There are a lot of Indonesian restaurants there, "he said, "so it is a close link to Indonesia. The Dutch were particularly fond of Indonesian food."
The Rijsttafel, of course, doesn't have to include 40 side dishes. It can be organized as small as you want. The choice of spices and ingredients, whether vegetables or meats, can also be augmented.
"There's something for every taste and that's what makes it so popular for a lot of Dutch people," said Schipholt.
Typical foods that can be found on a traditional rice table include duck roasted in banana leaves, pork bellies braised in soy sauce, meat and potato patties, veggies with peanut sauce, chicken coconut curry, spicy chili paste, fried rice, Indonesian yellow rice, shrimp crackers, spring rolls, spicy caramelized beef, tufu and  vegetable stew in coconut milk.
Spices, as history tells us, were the oil of the Colonial powers. In the 1600s, the Dutch engaged in what are known as the Spice Wars against Portugal on the open seas stretching from the coasts of Brazil to Africa, India to China.
"The Dutch were always a seagoing nation so we tried to explore the world," said Schipholt. "The background was always trade. The Dutch are known for being a trading country. We're always trying to trade and get the best deals. Part of that was trying to get the spices and import them into Europe. In the past it was a big competition between the countries in Europe between Portugal, Spain and the Dutch."
Today, it is tradition to serve Indonesian cuisine on Dutch naval vessels every Wednesday.
At NATO ACT headquarters in Norfolk, when The Netherlands celebrate the King's birthday, they invite the personnel of all 28 member nations stationed in Norfolk as well as other guests and can you imagine what food is served?
Indonesian, of course.