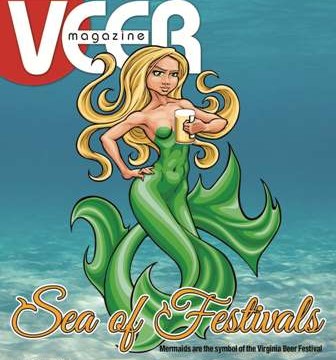 The Hampton Roads region is in full bloom during the spring and summer with an array of colorful festivals ranging from the two-day Virginia Beer Festival to the wacky Hermit Crab Challenge, kite festivals in Portsmouth and at the Oceanfront to music fests featuring everything from jazz, funk, country, pop, and rock.
We are truly an international port of call, and that too is reflected in our festivals, whether the Norfolk NATO Festival, Virginia Arts Festival, various Latino fests, and a celebration of Cajun culture known as the Bayou Boogaloo. We have a plethora of arts festivals, a surfing festival, and even an ode to strawberries.
Mark your calendars and get out and enjoy as many as you can. Here are our recommendations!
Australia's Strange Fruit
April 14-19
Festival Green Space, Norfolk
This internationally acclaimed Australian troupe fuses theater, dance and circus, performing in mid-air perched atop 5-meter-high flexible poles — "Like living statues soaring between heaven and earth, their heads in the sky, hearts close to the sun, producing brilliantly eclectic images that pay tribute to Michelangelo, Mary Poppins, and Margritte" (Nord Éclair, France). Don't miss Strange Fruit's performance, Spheres, their dizzy, daring look at love, set to a soundtrack that romps from Mozart to swing.
Aerodrome Wine Classic
April 18
Military Aviation Museum
Classic airplanes and car dazzle as regional wines are served safely on the ground.
Colley Avenue Music and Arts Festival
April 18, 11am-10:30pm
41st & Colley Avenue
Free and open to the public w/ The Fuzz Band, Galaxy Dynamite, The Dahus, Sharkophagus, Nature's Child, Last Fair Deal, The Charltones, Lena Klett, Esbern Snare, Bended Light and more. More info at our Facebook page: Colley Avenue Music and Arts Festival.
Virginia International Tattoo Hullabaloo
April 23-26
Scope Plaza, Norfolk
Three hours prior to each Tattoo performance, enjoy a variety of tasty foods and craft beers, music, dance and drill performances, photo-ops with performers and even an audience judged piping competition.
Norfolk NATO Festival
April 25
Town Point Park, Norfolk
Norfolk celebrates its NATO community with a 10 AM parade immediately followed by a family-friendly cultural fest in downtown Norfolk's Town Point Park. Free.
Virginia Beach Spring Art Fair
April 25-26
Virginia Beach Town Center
The fair promises a wide selection of works with something for everyone to fall in love with!  From handmade jewelry to life-size sculptures, expect to discover an expansive array of art for purchase.
First Friday Downtown Norfolk
May 1
MacArthur Green
The Guava Jam Band brings its classic '70s rock to downtown.
Muscarelle Wine Run for the Roses
May 2
On the grounds of the Muscarelle Museum of Art in Colonial Williamsburg
Fine and rare wines are auctioned as patrons watch the Kentucky Derby on the big screen. Great food, wine and a hat contest are part of the festivities.
Town Center Craft Beer Festival
May 2, 1-6 PM
Virginia Beach Town Center
Over 50 craft beers from 25 breweries will be available for sampling at the Town Center Craft Beer Festival.  Tickets include sampling and live entertainment.
Blues, Brews, & BBQ
May 2, Noon-6pm
Yorktown Riverwalk
Enjoy down home blues, microbrews, and BBQ.
Atlantic Coast Kite Festival
May 2
16th to 18th Street @ Oceanfront
Kite fliers and spectators of all ages will experience a visual feast at the 11th Annual Atlantic Coast Kite Festival.  Held in two locations, this popular event features a variety of activities appropriate for all ages and all levels of kite aficionados.  "Colors in the Sky" is the theme that participants will explore in the Atlantic Coast Kite Festival's "Best Kite Contest."
9th Annual Town Point Virginia Wine Festival
May 2-3
Town Point Park, Norfolk
Enjoy some of Virginia's finest wines on the beautiful banks of the Elizabeth River in downtown Norfolk.
Mariners Museum Craft Beer Festival
May 3, 12-5 PM
Mariners Museum
Weave through the inner grounds and courtyards of Mariners Museum where beer tasting stations are scattered throughout. Food and live music add to the fun.
Portsmouth Kite Festival
May 3, 10 AM – 4 PM
Portsmouth City Park
Features the Best Kite Contest.  In addition, families are invited to participate in kite building workshops led by Archie Stewart of Chestnut Hill, Massachusetts.  These workshops include kite materials and cover the aerodynamics of kite flying and kite safety.  American Kite Association members from throughout the Southeast will present kite demonstrations, perform kite routines to music, and fly giant kites (up to 80 feet long) that include an octopus kite!  Kite vendors will be on site to sell various kinds of kites.
Virginia International PAN Festival
May 8-9
24th Street Stage @ Oceanfront, Virginia Beach
Join world-class performers for a spectacular celebration of Caribbean music on the waterfront in beautiful Virginia Beach! At Virginia Arts Festival's 13th Annual Virginia International PAN Fest, you will have the opportunity to learn from Steelpan virtuosos, compete with up and coming U.S. and international steelbands, and bask in the sun and ocean breezes.
Monsters on the Beach
May 8-10
5th Street @ Oceanfront
This wildly-popular event brings thrills and chills to the Virginia Beach oceanfront as monster trucks battle for ultimate sand domination! This family-targeted event is loud, fast, and exciting. A course is built right on the beach at 6th Street, with bleachers overlooking from the boardwalk.  Sand dunes and junk cars combine to make the race course fast and fun for drivers and spectators alike. This is a ticketed event, with prices designed to fit the family budget.  Each of the four shows is approximately two hours in length.
Half-Birthday Spring Street Party
May 9
Smartmouth Brewing Company, Norfolk
There will be live music, food trucks, the Maibock beer release, new spring merchandise, a commemorative cup, brewery tours and more! 12 – 7 PM
Chicks Beach Festival
May 9
Grounds of HK on the Bay
Local music, food and craft beer will flow on the tiny inlet behind HK on the Bay. Fun neighborhood event.
Gosport Arts Festival
May 9-10
High St/Waterfront/Olde Towne Portsmouth
Gosport consists of approximately 100 juried artists and craftsmen displaying two- and three-dimensional work.
Norfolk Greek Festival
May 14-17
Annunciation Greek Orthodox Cathedral
Traditional music, dancing and Greek food are showcased under the big tent. Great cultural event enjoyed by all.
Chesapeake Jubilee
May 14-17
Chesapeake City Park
Music, food and plenty of amusement park rides for kids of all ages.
Beach Music Cruise-In
May 15-17
30th Street @ Oceanfront
Beach Music Cruise-In, combining bands on the beach and cars on the boardwalk, blends the best of the "oldies" with dancing under the stars in a jam-packed blast to the past!  Settle into the sand as the top Beach Music bands from up and down the East Coast descend on the Virginia Beach oceanfront in a nostalgic salute to the "good old days" of cool cars and hot tunes.  Stroll the boardwalk to view classic cars, hot rods, antiques, and more.
Town Center Corvette & Porsche Classic Car Show
May 16, 10 AM – 4 PM
Virginia Beach Town Center
A premier classic car show featuring one of the most impressive collections of Corvettes and Porsches – of yesterday and today – ever assembled.
Neptune Festival's International Spring Wine Festival
May 16
31st Street Park @ Oceanfront
The Atlantic Ocean provides the beautiful backdrop for sampling vintages from around the globe. Featured countries include Argentina, Australia, Chile, France, Germany, Italy, New Zealand, Spain and the United States. Three Virginia wineries will also be featured including Chatham Vineyards, General's Ridge Winery and Mermaid Winery. Back by popular demand will be "Sangria Station" and new this year, "Mimosa Mountain" with sangria and mimosas offerings.
Stockley Gardens Arts Festival
May 16-17
Stockley Gardens, Norfolk
Local and regional artists fill the park in the scenic Ghent neighborhood. Live local music, food vendors and a fun awards program Saturday at 5:00 PM. Benefits Hope House Foundation.
Virginia Beer Festival
May 16-17
Town Point Park, Norfolk
This spring, the two-day festival returns for your tasting pleasure, with the finest beers from dozens of breweries from around the world. Named one of the best beer festivals by USA Today (2013), this event takes place in Town Point Park on the beautiful downtown Norfolk waterfront featuring 65 breweries with more than 125 beers to sample.
Pirate Party on the Beach
May 16-17
17th Street @ Oceanfront
This family-friendly event features activities designed to bring out the "pirate" in everyone.  Costume contests, games, a treasure hunt, pirate re-enactors, and movie on the beach all combine to celebrate those scallywags we all wish we could be: pirates.
Chesapeake Bay Reggae Festival
May 16-17
Mill Point Park, Hampton
Formerly known as the Buckroe Reggae Fest, the event has moved to downtown Hampton and features non-stop reggae from United Souls, Nature's Child and headliners from the Caribbean.
Pungo Strawberry Festival
May 23-24
Pungo, Virginia Beach
While strawberries are featured, there are tons of vendors and amusements for family. Don't miss the Saturday morning parade to kickoff the fest.
World Arts Celebration
May 30
City Center at Oyster Point, Newport News
Set in the beautiful Fountain Park, the first annual World Arts Celebration will allow patrons to explore heritage far and near. Experience a day of free family fun with music from around the world, international food, an artisan village and hands-on cultural craft activities. Music by Bio Ritmo.
Hampton Black Beard Festival
May 30-31
Downtown Hampton
Adults and kids alike dress like pirates for a swashbuckling weekend of fun.
39th Annual Norfolk Harborfest
June 5-7
Town Point Park, Norfolk
The Downtown Norfolk Waterfront transforms into an exciting playground for people of all ages. The historic waterfront festival offers a weekend packed with exciting activities on land and sea! Harborfest includes tall ships and the Parade of Sail, the largest fireworks show (Saturday night) on the East Coast, local, regional and national entertainment, family activities, unique and unusual performances, water activities and much more.
Portsmouth Seawall Music Festival
June 5-6
Olde Towne Portsmouth/Waterfront
Downtown Portsmouth joins in the celebration with music and more. Enjoy fireworks on Saturday 9:15 PM.
Chelsea Summer Solstice Block Party
June 12, 5 PM
Corner of Redgate/Orapax St., Norfolk
The businesses of Chelsea, including Smartmouth Brewing, Birch Bar, Tortilla West, New Leaf and Muse Writing Center, throw a sidewalk party full of music, beer, food and fun.
Sandstock – A Tribute to Rock 'n' Roll
June 12-14
24th Street @ Oceanfront
Sandstock – A Tribute to Rock & Roll, is a beach-inspired variation on "Woodstock."  National and regional tribute artists who cover performers from The Who and Grateful Dead to the Allman Brothers and Led Zeppelin crank out hit after hit on the beach at the Virginia Beach oceanfront!
Boardwalk Art Show
June 18-21
Virginia Beach Oceanfront
Celebrating 60 years, artists from all over the nation participate, displaying their works along the scenic Boardwalk.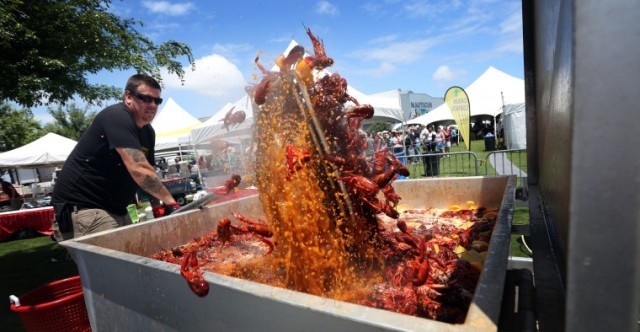 Bayou Boogaloo & Cajun Food Festival
June 19-21
Town Point Park
This award-winning event showcases Cajun culture by bringing in some of the best visual artists and food vendors from New Orleans and Lafayette, and an all-star musical lineup that includes The Iguanas, Hot 8 Brass Band, Preservation Hall Jazz Band and Hurray for the Riff Raff.
Bronze Door Society's Wine Classic
June 20
Mariners Museum
International and domestic wines and jazz music by Jae Sinnett.
Hardee's Latin Festival
June 26-27
24th Street @ Oceanfront
For two days, Virginia Beach celebrates the sights and sounds of the Latin experience. Hardee's Latin Fest displays the key ingredients of good food, family participation, and first-rate Latin music.
Hampton Jazz Festival
June 26-28
Hampton Coliseum
Hampton comes alive each year with great jazz and R&B. Headliners this year include Jill Scott, Jennifer Hudson, and Maze.
Hampton Roads Pride Fest 2015
June 27, Noon-7 PM
Town Point Park, Norfolk
A full day celebrating equality and the region's LGBT community. Plus a boat parade.
AT&T Summer Brewfest
July 10, 5-9pm
Town Point Park
Sample a wide variety of summer beers from a selection of local, regional, national, and international breweries.
My Big Fat Greek Party
July 10-12
24th Street @ Oceanfront
My Big Fat Greek Party is a three-day Greek-American party featuring world famous Greek cuisine, music, and festivities.  Greek dancers of all ages will be dancing the night away for your entertainment!  Learn Greek dances yourself. Authentic Greek items will be for sale, and prizes will be given away. This weekend promises to be FUN for the entire family. A large variety of Greek dishes, desserts, and pastries will be available, as well as beer and wine.
Bastille Day in Ghent
July 11, 3-7 PM
Colley Avenue, Norfolk
A celebration of French culture with strolling entertainers and other festivities are planned.
Norfolk Waterfront Jazz Festival
July 17-18
Town Point Park
Hot jazz on a steamy night on the scene Elizabeth River in downtown Norfolk. Live music by Earl Klugh, Generation Next, Musiq Soulchild and others.
Mid-Summer Fantasy Festival
July 22-26
Town Point Park
Performance art and theater come together in the evening for a unique experience.
Mid-Atlantic Hermit Crab Challenge
July 25
30th Street @ Oceanfront
Labelled one of the wackiest festivals in the world, preliminary hermit crab races lead to the Crustacean 500, where the winner is awarded the "Order of the Mercury Claw" trophy.  Crabs race on a specially-designed circular track, where all the "crabtestants" are placed in the center.  At the sound of the starting horn, crabs scurry to the outer ring of the track.  Whichever claw crosses the line first wins.  It's the survival of the "crabbiest!"
Dog Street Pub Craft Beer Festival
Aug. 2, 12-5pm
Merchants Square, Williamsburg
Virginia beer & food tastings, live music, and raffle prizes.
East Coast Surfing Championships (ECSC)
August 16-23
Virginia Beach Oceanfront, 1st thru 5th Street
Surfers compete in various age groups, plus live music and a swimsuit contest.
Norfolk Latino Music Festival
August 22
Town Point Park
Latin culture is celebrated through music, art, dance and food.
Funk Fest
August 28-30
24rh Street @ Oceanfront
Live music from the glory days of '70s funk. Headliners include Zapp Band.
American Music Festival
September 4-6
Virginia Beach Oceanfront
Three days of regional and national rock, country and pop music acts.