Ebony G. Patterson, Untitled IV (Khani + di Krew) from the Disciplez Series, 2009. Courtesy of the artist and Monique Meloche Gallery, Chicago.
By Betsy DiJulio
They didn't see it coming.  But it is almost as though they did.  Not Covid-19 and the global pandemic, but the global protests for racial justice that have roiled in the wake of George Floyd's death.
No, MOCA had slotted Shifting Gaze: Reconstruction of the Black and Hispanic Body in Contemporary Art into its 2020 exhibition roster in early 2019.  The Covid closures meant that the exhibition schedule was pushed back with Shifting Gaze seemingly materializing in response to the most recent Black Lives Matter (BLM) protests.  
But, MOCA staff had begun conversations with exhibition curator, Shannon Fitzgerald, in 2017.  After all, it is not as though topics of racial justice haven't always been shifting undercurrents in American society, erupting onto the national stage at intervals, particularly in 2013 with the creation of the BLM movement.   
Says Alison Byrne, Director of Exhibitions and Education, "We've been really focusing on civic engagement and exhibitions and public programs that highlight relevant and important issues to our community as well as fitting in with what's happening in the country."  
Now about that "shifting gaze."  Gaze Theory is a thing.  So is "Male Gaze Theory" and "Oppositional Gaze Theory," among others.  What began—just three years after John Berger wrote his seminal Ways of Seeing—as a feminist cinematography theory in Laura Mulvey's 1975 essay "Visual Pleasure and Narrative Cinema" evolved into a theory about race and a kind of "looking relation" in Bell Hooks' 1992 essay, "Black Looks: Race and Representation." 
The largely figurative exhibition currently on view at MOCA, which is about race, representation, and much more, was organized by the Mennello Museum of American Art in Orlando, FL.  Curated by Fitzgerald, the museum's executive director, it draws from the collection of Dr. Robert B. Feldman who states in a Q & A with Katherine Navarro that "Artists who work in their own game with their own rules, that's what excites me."  
Taking a chance on younger artists and giving a boost to their careers are driving forces of Feldman's collecting trajectory. About the 27 artists in this exhibition, he says, "The art world has vividly woken up to diversity and is open to narratives beyond White and European.  Today, the art world is open to work by African-American artists, African, Hispanic and Caribbean Diaspora artists who for long were excluded."
One of the most arresting pieces in the exhibition may also be the most deceptively simple.  Cuban artist, Yoan Capote's "New Man" from 2014 hangs like an anatomical model of a spine in a chiropractor's office or an artist's studio.  But here what is harsh and manufactured collides with what is sinuous and organic, for this spine is assembled from handcuffs that alternate with bronze cast human vertebra.  The strength of this backbone—whether individual or societal—appears to have been built on a foundation of arrest, restraint, and subjugation.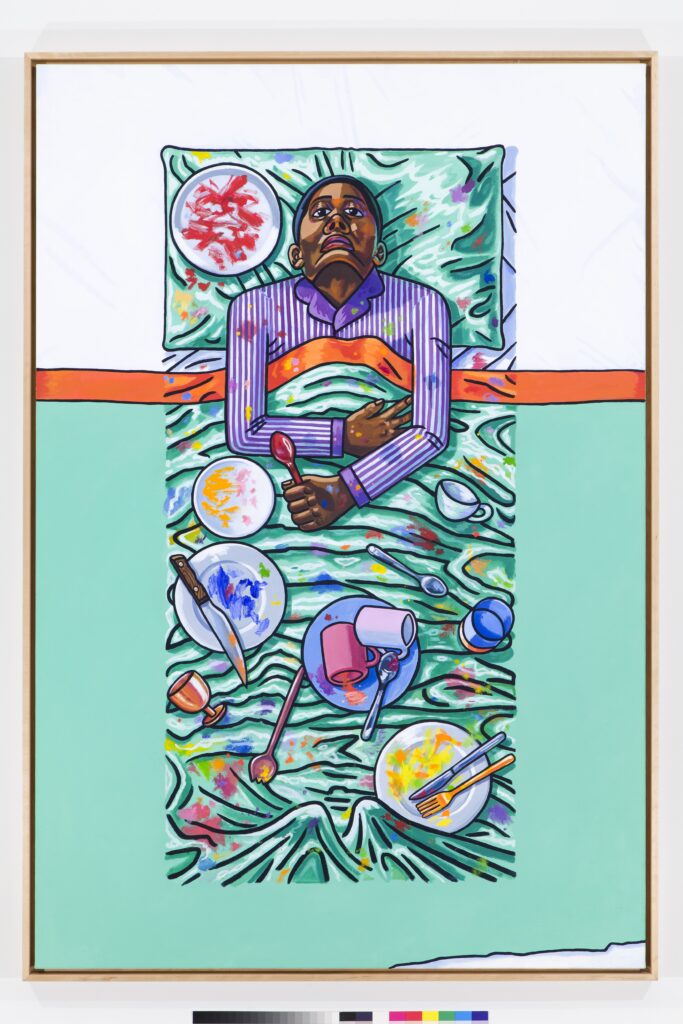 (ABOVE: Lamar Peterson, Satin Sheets, 2014)
Perhaps one of the best-known artist in the exhibition is Titus Kaphar (CT).  He examines the history of representation of people of color throughout the history of art—how the grand narratives of America and Europe are told—reconfiguring and transforming images of the marginalized, enslaved, and displaced through strategies involving erasure or translucent whitewashing, dipping in black tar, tearing, shredding, folding, cutting out, and wrapping as in "Columbus Day Painting," 2014.  A redux of the American neoclassical painting by John Vanderlyn entitled "Landing of Columbus," which was commissioned for and still hangs in the US Capitol, Kaphar's version wraps and binds Columbus and his crew—who triumphantly bear European banners as they stand on the shore of San Salvador Island—rendering them unrecognizable and inert.  In so doing, he focuses our attention on the presence of the native people in the background.  
Nate Lewis's (NY) "Axe" from 2018 is a stunning black-and-white image of a large-scale male figure composed of inkjet print and hand-sculpted paper.  A critical care nurse whose first pieces were made using a scalpel knife on EKG paper, Lewis's understanding of the body in all its many layers is revealed in a way that is simultaneously celebratory and reverential.  Through portrait photography and elemental impulses like mark-making, cutting, patterning, and staining, Lewis's depictions of men of color are intricate and intimate, emanating strength and grace.
In the last decade, Toyin Ojih Odutola (NY) has become a familiar name in the American art world, having immigrated from Nigeria.  Exploring the identities of her subjects, she sometimes situates them in elaborate colorful settings.  The pieces in Shifting Gaze are all fairly small portraits, one an etching and the other two drawings created in her signature style of layered mark-making using pen, ink, and marker on paper.  In the latter two in particular, she luxuriates in the way light reflects off black skin, creating fine, threadlike marks that rhythmically undulate across the surface, drawing attention to the eyes and mouths of her subjects. Paradoxically, by emphasizing surface, she simultaneously emphasizes what lies beneath.
The work of Ebony G. Patterson ( who splits her time between Kingston, Jamaica and Chicago) dazzles with its beads, appliques, embellishments, broaches, plastic, and glitter on paper or, as in "He," 2016, on hand-cut jacquard woven photo tapestry.  The origins of this encrustation can be traced, in part, to women's craft, but also to the "bling funeral," in which working class people in Kingston, Jamaica, ensure that those who may have been overlooked in life are noticed in death.  Patterson's content explores notions of masculinity within highly ornamented and, what Fitzgerald and Navarro call, "heightened feminized" space.  Avoid being distracted by all of the color, shimmer, and shine, along with the flowers, animals, and childhood toys: the large circular "He" is riddled with bullet holes.  The empty shoes on the floor are a clue to the memorial function of this montage.  Directly above them, a young boy's sullen and almost accusatory face stares out, camouflaged and dislocated amidst violence and beauty.
With a debt of gratitude to the Black Power movement of the 1970s, Mickalene Thomas (NY) has become known for her brilliantly colored, patterned, and jeweled—though not to the extent of Patterson's—figurative portraits.  In "I'm Not the Woman You Think I Am" from 2010, she reimagines the classical reclining nude from the history of art through the lens of black feminine power and sexuality, though here the woman is alluringly clothed.  Strong independent, the subject gazes out confidently, meeting head-on the gaze of the viewer.
When you go to Shifting Gaze, take your cell phone and turn on the flash when you reach the remarkable work entitled "Turbulence (White Strokes),"2018, by Hank Willis Thomas (NY).  At first glance, this screen-print on reflective vinyl mounted on dibond appears to be a non-objective black-and-white image of diagonal directional force.  Its vibe is dynamic and aggressive, but ambiguous.  However, stand back, aim, and shoot a picture of it—with your flash turned on—and a fleeting vintage photo of police brutality during a segregation-era civil rights protest flashes in front of you.  Like much contemporary art, the medium and the process is metaphorical, for the memory is initially hidden and disguised before being momentarily "brought to light" by the camera's flash, calling to mind the role of the media—and, now, participants and bystanders with cell phone cameras—in the long fight for justice.
New Waves, MOCA's annual juried exhibition for Virginia-based artists, turns 25 this year.  Curated by Susan Thompson, Associate Curator, Guggenheim Museum, the show, coincidentally but not surprisingly, continues many of the themes of Shifting Gaze with artists who have never before been included in the show to some perennial favorites. Artists include Agnes Grochuiska as well as Kyrae Dawaun whose painting "House" is on the cover of Veer Magazine this month.
Hampton Boyer: There's No Place Like Here features the work of this self-taught Hampton Roads-based artist.  Collaged from flat geometric shapes cut out of paper brightly painted in acrylic and gouache, Boyer's joyful compositions celebrate his life experience, and pivotal moments within it: personal, yet universal.  Among his influences are music—another of his passions—graphic novels, street art, and other forms of visual art, both past and present.
WANT TO VIEW?
Shifting Gaze
Plus New Waves 2020 & Hampton Boyer
Through January 3
Virginia MOCA
virginiamoca.org