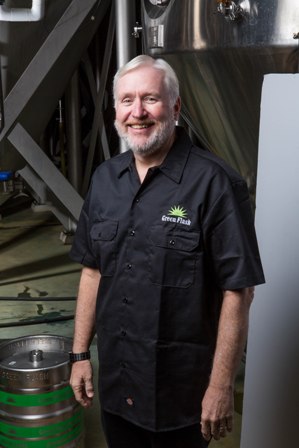 Sea to Sea Lager will inaugurate the Virginia Beach brewery
By Jeff Maisey
Nearly three years after announcing it would operate a brewery in Virginia Beach, San Diego-based Green Flash will open its tasting room doors to consumers on Memorial Day weekend.
To inaugurate the event, the hop-forward craft brewery will unveil Sea to Sea Lager, which will be marketed nationwide.
Green Flash Brewing Company began in 2002 with co-founders Mike and Lisa Hinkley joined by brewmaster Chuck Silva. Together they created a successful brand specializing in IPAs featuring aromatic West Coast hops.
The brewery in San Diego is operating a near capacity, producing some 100,000 barrels by the fourth quarter of 2015. In 2014, it was listed as the 48th largest brewery in America.
The addition of the Virginia Beach location will double its nationwide supply of beer, but most importantly will solve the brewery's issue of getting fresh product to East Coast markets in a more efficient and cost effective manner.
In aid this expansion, Green Flash named Chris Ross as Chief Operating Officer (COO) in September 2015. Ross had spent 25 years in executive positions of tech firms such as Intrinsyc Technologies Corp., Novatel Wireless Inc., Ericsson Wireless Communications and Qualcomm Inc.
Green Flash CEO Mike Hinkley told a San Diego newspaper, "Chris will be joining us as COO at a crucial time for Green Flash."
As residents of Virginia Beach have noticed, the construction of the 58,000-square-foot brewery is in full swing along General Booth Boulevard.
I recently called Chris Ross to get the latest.
How are things progressing with construction in Virginia Beach?
They are progressing really well. What we're really hoping for right now is a very mild winter in Virginia so construction doesn't get impacted.
Drivers on General Booth Blvd. can see the building finally going vertical. Are things still on schedule for the tasting room to open in late spring?
We're pushing really hard to get the tasting room open in time for summer. We're looking for a Memorial Day weekend opening of the tasting room for the summer crowds.
Then the brewery will fall behind that because we have to bring the brewery up to speed and get the equipment installed. That will probably be late in the summer. Our plan is to have that up and running by August.
Have there been any changes to the original blueprint since construction began last year?
From the time of starting construction – no. What was impactful to us was getting the land closed with the city of Virginia Beach. Once the transaction closed and we had the ability to get to the site then we were rockin' and rollin'.
There had to be some infrastructure improvements made to the property before construction could begin. There had to be a traffic light installed on General Booth in order to access a new road that's being put in called Craft Lane. That road had to be built.
There had to be a lake – a retention pond – created on an adjacent property. These infrastructure improvements really unrelated to the brewery that had to be done in order for the city to be able to sell the land to the Miller Group, who are doing the development of the brewery for us.
Please remind me, will the land be owned by Green Flash or the developer?
It's being owned by the developer. The Miller Group owns the property. They are doing a build-to-suit for our brewery. We have an agreement to lease the brewery and an option to buy it. We could go either way depending on how are finances are and what we want to do long term.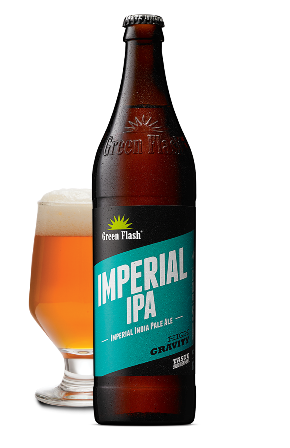 As COO, I imagine this seems like a good arrangement for Green Flash, right?
Yeah, it's a very flexible deal. It gives us a buy option. That's something that's really pretty sweet. It gives us some options on how we utilize our assets internally.
Since the actual brewing won't be done onsite until August, will the primary beers being served be in the form of your flagships when the tasting room initially opens in late May? I know special tasting-room-only, one-off experimental beers will be available once the brewery is up and running.
Great question. First of all, let me explain what our incentive is for putting the brewery in place.  Right now, we sell beer in all 50 states. It's all brewed in San Diego, California. The east coast, over all, is a big market for us. The economic problem we're trying to solve is how to make the beer on the east coast cheaper for consumers.
Our beer – to keep it fresh – ships in refrigerated trucks cross country. That adds several dollars per case depending on how far it goes. Beer that goes to New York or Virginia or Florida is pretty far from San Diego. The purpose for putting the brewery on the east coast is to solve a transportation cost issue, and also to get fresher beer delivered more cheaply to the markets we serve.
The secondary objective is to expand the capacity of our brewery because we're running out of capacity in San Diego. It makes sense for us rather than add capacity in San Diego to add capacity to somewhere on the east coast so we can solve the other problem.
The Virginia Beach brewery is going to be a duplicate of what we have in San Diego. It will produce the same beers; it'll have the same equipment. It will be operated almost as a clone of San Diego.
Our vision is that our entire product portfolio will be produced in Virginia.
One of the features that Green Flash does is that we have a Genius Lab in which we allow anyone in the company to collaborate with our brewers and come up with some creative brews. We also do collaborations with other companies and local brewers.  The end products are served in our tasting room. So we will have a Genius Lab and collaborations that are only done in Virginia and served only in the tasting room. Sometimes those beers go national when they're successful in the tasting room.
We are doing one special beer this summer to inaugurate the Virginia Beach brewery called Sea to Sea Lager. It will be introduced mid-year. It's going to be a national beer but it's going to be the two seas – the Pacific and Atlantic. This is a commemorative beer for the opening.
Green Flash recently acquired Alpine Brewing Company. Will you produce Alpine beers at the Virginia Beach brewery?
Great question. The answer is probably. We're just beginning to move Alpine beer on the east coast.
As you remember, the reason for opening in Virginia Beach is to brew beers for the east coast. And Alpine is now starting to gain traction on the east coast. As the traction increases, yes, we will brew the beer there.
I should mention one thing about Alpine, though. Alpine is still running pretty independently in alpine, California. It's a really cool small brewery that does some fantastic beers. The problem is they have very limited capacity. Every month there's a great new creation coming out of these guys. What we're doing is that when something extra special comes and we want to mass produce it we'll take that recipe and produce it at Green Flash and go national with it. Alpine will continue to do special beers only available at the brewery. The ones that do go national will be made in both breweries.
When the announcement was made Green Flash would open a brewery In Virginia Beach, the regional craft beer scene in Virginia saw a lot of brewmaster Chuck Silva. How has departure from Green Flash impacted the company?
Yeah, it's a good question. We obviously miss Chuck. Chuck was a critical guy in the early stages of the company, but over the last four of five years Chuck had moved more into the role of being a company spokesman and the face of the company in certain outside markets.
Before he left he put together a really good team with Erik Jensen as head brewer. He was groomed to take over as brewmaster. When Chuck decided to go off and do his own thing, which we knew was coming, there was a plan in place for others to take that over.
Our relationship with Chuck is we love the guy to death. He wants to do his own thing in his hometown.
You came from the tech world before being named COO of Green Flash. How has that transition been for you?
It's probably the best fun of any job I've ever had. Even though I'm new to Green Flash as an employee and officer of the company, I've been part of Green Flash for awhile as an investor. I have been friends with the founders since before they started the brewery. I know the whole history of the company.
For me the cool part of it is being in an industry that is completely new and different. What I'm trying to do now is help the company scale. The fact that we'll be operating on both coasts and that we have a company, Alpine, that we acquired, and that we intend to remain an independent craft brewer, this requires so things we need internally for scaling and management, and that's what I'm bringing to it.
I've been through a lot in the high tech arena with very rapidly growing companies, and I get to apply some of those skills to the beer world. It's kind of fun.