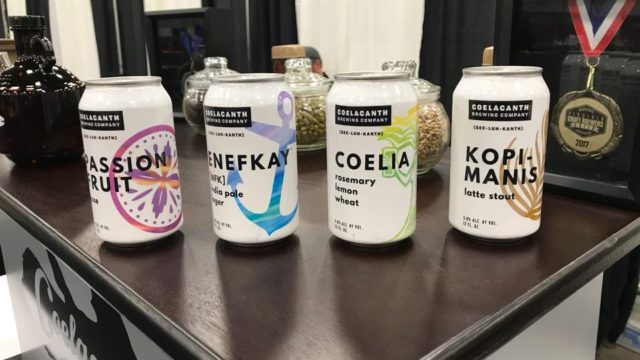 By Jeff Maisey
Norfolk-based Coelacanth Brewing is expanding its distribution of draft and packaged craft beers into the Richmond mark with its core brands such as Passion Fruit Gose, ENEFKAY (India Pale Lager), and CBPB (British Pub beer). The brewery will also send specials edition and seasonal beers.
The Richmond expansion is a coming home of sorts for Coelacanth owner Kevin Erskine.
"This is especially exciting for me, since I lived in Richmond for about 13 years before moving to the Hampton Roads area. I have a lot of friends there, and I'd love to be able to get our beer into their hands," he said.
Erskine selected Virginia Craft Distribution to ship his product to Richmond.
"We clicked with these guys," he said. "We liked the portfolio of quality breweries they were putting together. I just knew this was the right move for us to move into the Richmond market."
Virginia Craft Distribution is located in Chester, Virginia. Since forming as a company in 2017, the independent distributor has a small but notable client list: Isley Brewing, Castleburg Brewing, Twisted Ales, James River Brewery, and Norfolk's Bold Mariner Brewing Company.
"We are stoked to be representing Coelacanth Brewing and bringing their fine beverages to many new areas in Virginia," said Lee Huss of Virginia Craft Distribution. "It is an honor for us to be working with a company with such a great reputation for quality and consistency."
Coelacanth has won the Virginia Green Travel Alliance "Green Travel Leader" Award two years in a row (2016 & 2017). The Hampton Roads Chamber of Commerce recently named Coelacanth a "Top Company to Watch."
Erskine has test-marketed a few of his beers in RVA.
"We've been to a few events in Richmond in the past two years, and Enefkay, India Pale Lager was a big seller. But we've seen that Passion Fruit Gose and our Belgian Quadrupel (QUAD) have already sold out."
Coelacanth is planning a launch event in Richmond in the next few weeks. They'll also be spending some time in Richmond at tap takeovers and other events, introducing their beer to RVA.
Erskine said the brewery will also expand distribution to the Outer Banks of North Carolina.
"We just filed paperwork to start distro in OBX. We hope to be the OBX before the summer."