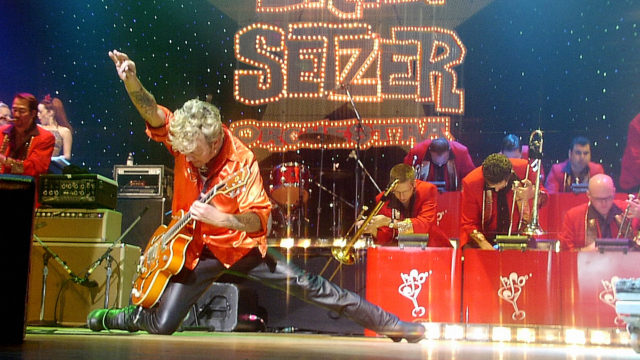 By Jeff Maisey
The Brian Setzer Orchestra has embarked upon its 13th annual Christmas Rocks tour while also touting a new DVD called "Rockabilly Riot: Osaka Rocka – Live in Japan 2016."
Fans of the neo-rockabilly/big band singer/guitarist/arranger will get a full evening of Setzer's recorded holiday classics like "Jingle Bells," "Rockin' Around the Christmas Tree" and "Yabba-Dabba Yuletide" when he and his 19-piece orchestra perform December 2 at the Ferguson Center in Newport News.
Setzer will be backed by his 19-piece swingin' orchestra.
The 3-time Grammy winner, of course, is known for his band Stray Cats whose 1980s hits included "Rock This Town" and "Stray Cat Strut."
There will be a sizeable Stray Cats and pure rockabilly interlude on this tour as a musical promotion for the exceptional live DVD. Included are gems like "Rumble in Brighton."
Following is an excerpt of a phone interview I did with Setzer.
What was Christmas like for you as a kid growing up in New York?
It was pretty much like everybody else's. It was family. We'd bother our folks to get up and get the presents open. Then we ran to church, came back, ate early and then ran off to grandma's house. And then off to the other side of the family. It was a good warm Christmas – a good family vibe.
Gene Vincent and His Blue Caps are from our Norfolk/Portsmouth area. Drummer Dickie Harrell and backup singer Tommy Facenda still live here. I know you're a fan of their 1950s rockabilly. Were record albums a part of your Christmas wish list as a kid?
 A record back then was like getting a piece of gold. I remember a record cost five bucks. I'd save up to get a record. Somehow I managed to pick out some incredible records that really affected me for the rest of my life. It might not be the ones you think. But getting a record back then was something you cherished.
What were some of those record albums that made a lasting impression of you?
I remember one of the first records I got was Miles Davis' "Greatest Hits." I don't know why I bought that. You really can't do much better.
Another record I bought was a Dan Hicks record – Dan Hicks and the Hot Licks. I don't know why I bought that either.
Again it was just kind of hit and miss what I'd get as a kid.
Later on, of course, when I discovered what I liked, then I could really narrow it down. But in the early days it was some odd, one-off records like that.
In American pop culture we have a long tradition of recording artists producing Christmas albums, whether Perry Cumo, Elvis Presley, Ella Fitzgerald or Chicago, 38 Special, the Reverend Horton Heat. What appealed to you about doing Christmas albums yourself?
Originally I wasn't intending to make a Christmas career. It happened because there was a radio station in California called KROQ. I had done "Jingle Bells" at their Christmas Ball. For me I have to arrange it for a whole big band, and stuff.
They just fell in love with it and they started playing it on the radio. Playing and playing and playing it. I guess word got out, and the (Arnold) Schwarzenegger movie, "Jingle All the Way," they were making it and called me. They said, "Hey, we'd like to use 'Jingle Bells,' but we'd like to know if you could do another song like that – rockin' style.
There was a real gap. There was no rock-n-roll Christmas. There was the Elvis Christmas record, right.
So they asked me to arrange some songs. I did one for Lou Rawls; I did one for Darlene Love.
Then word kept spreadin': "How about a little rock-n-roll Christmas tour?"
I said, "I guess I can give that a shot."
And now here we are. That's how that started out.
This is your 13th annual Christmas Rocks tour. How do you keep things fresh for those fans who come to see you each year?
That's a good question. For one I change the setlist up. This year I have a new stage. I have new bandstands, new outfits. I'm doing a whole rockabilly set in the middle.
What is it about classic jazz and rockabilly that seems to stand the test of time and not sound dated?
It's real. The blues does that for a lot of people. For me it was rockabilly. I remember the first time I heard "Be-Bop-A-Lula" come out of the jukebox. It grabbed me. I said, "That's what I want to do."
WANT TO GO?
Brian Setzer Orchestra
December 2
Ferguson Center