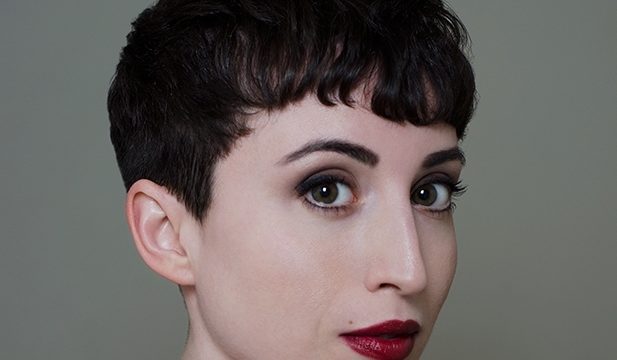 By Montague Gammon III
Virginia Opera's "bold and different" – even daring or courageous – pairing of the gallopingly familiar Pagliacci with the much less well known Kurt Weill / Bertolt Brecht Seven Deadly Sins opens its current four show mainstage Season with a double bill of heart and head, sentiment and intellect.
The Brecht/Weill one act piece, which is the first of the two pieces on the program, follows a young Louisiana-born woman named Anna as she travels across the US and encounters, in each of seven cities, one of those titular sins. Brecht always set out to appeal to the mind, and to make his audiences think; Pagliacci's tale of a famously jealous and murderously passionate clown reaches out from and to the heart.
Seven Deadly Sins was originally termed a "sung ballet." The person of Anna is split into Anna 1 and Anna 2, and played by two performers. Four more singers take the parts of Anna's family hearing news of her visits to Memphis, San Francisco, Los Angeles and points between.
Composer Ruggero Leoncavallo's Pagliacci puts on the stage a play-within-a-play about adultery and murder in an Italian touring troupe of commedia players. One hallmark of the work, says Keturah Stickann, stage director of both pieces, is that it is so well known.
Stickann, a dance-trained veteran of choreographing and assistant directing VA Opera productions reaching back to 2007, has set both pieces in the Great Depression of the 1930's. (That's when Sins was written – Pagliacci dates back to 1892, but has a timeless quality that easily closes the 40-year gap.)
Though the stories happen in "Two very different locales," that "time was desperate in both countries. Money was king, money was all and money was absent," Stickann says.
Anna, whom the director describes as having "major wanderlust," is looking for a career "in the entertainment business," The characters in Pagliacci are well established, if low level, touring pros.
Stickan herself "got into" dance when 5 years old. In her words she "took to it very easily" and "caught the bug," soon becoming "somewhat obsessed" with dance and performing.
"In elementary school I had no interest in anything but dancing," she adds.
As an adult she danced with San Diego and New York City Operas and since retiring from being a performing dancer has worked to stage and choreograph pieces with companies across the globe, from Japan to the US to Europe.
Virginia Opera's 2007 production of Agrippina, 2008's Il Trovatore, and La Boheme in 2009 are on her resumé as Assistant Director; for the company she choreographed 2010's Don Giovanni and the memorably graceful La Traviata of 2015.
She describes Seven Deadly Sins as " a song cycle with dance in it."
"We're not looking at naturalism here. It's very stylized and devoid of sentiment…[whereas] Pagliacci is all sentiment…about the woes of man… visceral."
"They talk about similar themes but … one is so much about style and one about feeling. [They show] two sides of the same coin – two sides of the mirror. The nature of the entertainer and the struggle of these people in very different forms."
"That is the delicious connection!"
Next up on the Opera's schedule is another audience favorite, Gioachino Rossini's beloved and often parodied comedy, The Barber of Seville (Nov. 11-15). It will star Will Liverman, a Governor School of the Arts grad from Virginia Beach, in a production helmed by Michael Shell, who directed The Magic Flute here in 20123.
The New Year brings, for the first time to the Virginia Opera, Carl Maria von Weber's Der Freischütz, here translated as The Magic Marksman, with a long time friend, bass-baritone Jake Gardner, in two roles. In Virginia Opera's first full length production, La Traviata in 1975, Gardner played Germont Père. Since then he has come back to perform in everything from Sondheim's Sweeney Todd to Gilbert and Sullivan's Pinafore over his long and still vibrant career.
Turandot, with its ever appealing last act tenor aria "Nessun dorma," close this Season with three of Virginia Opera' audiences special favorites behind the scenes and onstage. Lillian Groag of numerous innovative stagings directs Kelly Cae Hogan (2015's Salome) and Derek Taylor (La Boheme in 2009) in Giacomo Puccini's tale of romance and royalty in the Orient.
Virginia Opera 2016-17 Season Schedule
Seven Deadly Sins
Kurt Weill and Bertolt Brecht
Pagliacci
Ruggero Leoncavallo
Sept. 30, Oct. 2 & 4
Harrison Opera House
160 W Virginia Beach Blvd. (Olney and Va. Beach Blvd. at Llewellyn),
Norfolk
The Barber of Seville
Gioachino Rossini
Nov 11, 13, & 15
Harrison Opera House
Der Freischütz
Carl Maria von Weber
Jan. 27, 29 & 31
Harrison Opera House
Turandot
Giacomo Puccini
Mar. 17, 19 & 21
Harrison Opera House
Productions also play at George Mason University in Fairfax and Richmond's Carpenter Center
www.vaopera.org
1-866-673-7282