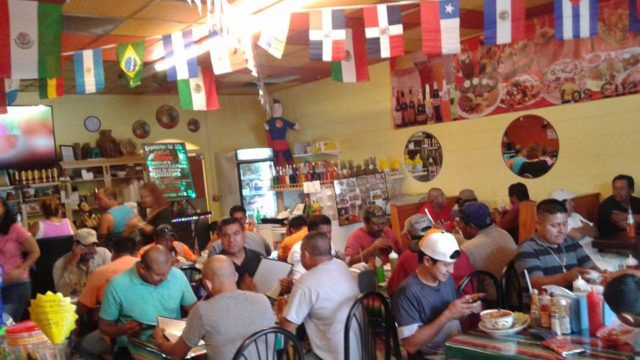 By Joe Lowrey
Luis Sanchez is an energetic fellow. He scurries through the aisles at Los Cuates Taqueria, head on a swivel, soaking in every detail and checking out the action at the tables. From across the crowded room he sees the kitchen door swing open and catches a glimpse of his reason for being, the plates of food emerging in the hands of his trusted servers. His wife Nancy is at the cash register offering delightful Mexican candies, trinkets, simple costume jewelry and soliciting opinions from departing customers. There's laughter and Latin music. Spanish is prominent in the chatter. Luis listens attentively to a diner's question about the colorful piñatas, all available for purchase and posed prominently on a wall in this bustling little restaurant. Los Cuates is so authentic Donald Trump may build a wall around it if he prevails in November.
I observed Luis on my first visit to Los Cuates. It was a Saturday night. I was solo and hungry when I joined about 25 other people in the near capacity crowd of diners. The scents were intoxicating, the vibe very casual and the food superb.  My pal, VEER Music Award winner and well known Mexican food aficionado Russell Scarborough told me about Los Cuates and I'm glad I listened to him. I made arrangements with Luis and Nancy, called Russell and met him there several days later to gather what I needed for this story.
I had the Tamales Tejanos on my solo Saturday visit. Tamales are a traditional Mesoamerican dish made with masa, a delicate corn flour wrapped around seasoned meat and steamed in a corn husk. I discovered the joys of tamales while living in Southern Arizona for about 3 years. I've sampled them at Mexican restaurants all across Hampton Roads and in other cities and these are among the best. At Los Cuates the tamales are filled with your choice of pork or chicken and served with a limed lettuce/fresh tomato garnish. The sauce, a slightly sweet pureed delight with the subtle zing of spicy heat, is served on the side. Luis tells me he cooks all meats with a bouquet of spices first concocted by family members who owned restaurants in Mexico for about 50 years.
The highlight of the return visit was the Coctel Compechana. If you've never tried seviche Los Cuates is the place to experience it. Seviche lovers will appreciate this variation of the traditional dish of raw seafood marinated in lime and lemon juice with spices. Luis and Nancy's Coctel Compechana features octopus, large shrimp and tiny oysters bathing in a thick, chilled sweet/spicy tomato broth chock full of onions, with avocado and fresh tomato chunks. Heavenly!
Russell and I also ordered the Enchiladas Rolladas Verdes (green chile sauce) and the Enchiladas Rolladas Rojas (red chile sauce). We sampled both chicken and beef versions. The portions are generous with three large enchiladas per plate. The taste buds are teased by the distinct flavors of the meat, masa and sauce. The individual components in the mix retain their own flavor and come together with near perfection. Unlike those so common at some Mexican places these are complimented by, not smothered in sauce. Of course, we just had to sample the tacos. You'll find a variety of meats to choose from including beef, marinated pork, pork rinds, chorizo sausage, chicken, beef head meat and even pork stomach.  I also dipped my fingers in a small bowl of mole just to get an idea of the Los Cuates variant of this chocolate/chile Mexican staple sauce.
Fajitas, burritos, tostados and breakfast also adorn the rather large menu. Several Mexican and domestic beers are available too including micheladas, a Mexican beverage made with beer, lime juice, sauces, spices, and peppers. You'll find a few versions of this, something I've never seen on any Mexican menu in the region.
My plan: return again and again and eat my through that menu! Entrée prices range from $8.99. Los Cuates shares a strip shopping center with Tony's Hot Dogs at 416 Newtown Road, near Virginia Beach Blvd. Open every day, 11am-9pm.  They're also on Facebook.