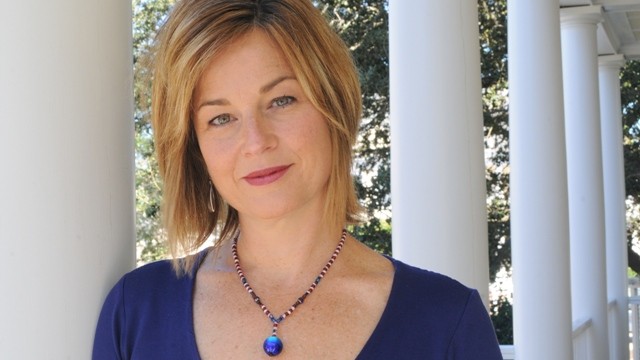 By Larry Bonko
Do you miss Kerri Furey? Are your mornings less sunny since she left "WAVY News 10 Today" and "The Hampton Roads Show" three years ago?
Well, then, rejoice in the news that she has returned to local television. Furey appears on WHRO's pledge drives.
It was 2013 when she first joined the Channel 15 telethons, which at last count had encouraged 19,250 people in Hampton Roads to become WHRO members or Sustaining Partners. They give to public media at rates that start at $4 a month – $25 a year for seniors and students.
"I hope to be part of this December's pledge drive as long as it doesn't interfere with me watching one of my kids' basketball games," she said.
In those words, dear readers, is the essence of why Furey left a darn good job with, no doubt, a darn good salary at Channel 10 after 15 years with the NBC affiliate. The needs of her two children became her priority.
"I really don't want to miss this time with my kids. I'm taking a break," she said in 2012.
Furey talks of returning to television full time in the not too distant future. She's 44.
"In another three years my children will be out of elementary school and that will be a good time to re-evaluate their needs and mine. The three years since my last broadcast on WAVY have flown by. I expect the next three to be gone in a flash. My priority now is to spend every moment of the present with my family. But I also have my eye on the long game. I really hope to get back to TV in about three more years."
For however long she lends her talents to public media in Hampton Roads, WHRO president and CEO Bert Schmidt is happy to have her. Furey also does radio for Schmidt, pinch-hitting for Cathy Lewis on "HearSay," which is heard Monday through Thursday at noon on WHRV-FM (89.5).
"Kerri is great as an on-air volunteer during pledge drives. She's a contract worker as a back-up for Cathy on 'HearSay.' We're thrilled to have her in both capacities," Schmidt said.
"Kerri is just one of the many wonderful people in the Hampton Roads community who understand the importance of public media and volunteer their time to support WHRO. We are especially proud that so many of our friends in commercial media give their time to support this community asset. They place a spotlight on a different kind of media company, one that focuses on the needs of community stake-holders rather than corporate shareholders."
Schmidt's volunteers number 650.
(WHRO is owned in collaboration with 19 school districts serving 286,000 students through TV, radio and online).
Should Furey be able to attend her kid's basketball games and pitch in during the December pledge drive, she'll have attractive new programming to present to the Channel 15 viewers. It starts with the return of "Downton Abbey" for a sixth and final season on Jan. 3.
"As 'Downton Abbey' became the highest rated PBS series ever, even beating the beloved 'Upstairs Downstairs,' it brought WHRO and PBS new and returning viewers. The ratings for the 'Masterpiece' series are at an all-time high," said Schmidt.
Last month, he led a band of Channel 15 viewers on a second trip to the United Kingdom. The visit included a stop at the 1,000-acre Highclere Castle estate – the principal setting for "Downton Abbey" – where they had lunch and lifted tea cups in the 19th century splendor of a regal the dining room.
The Virginia visitors viewed the first episode of the series' final season, which ITV in the UK aired last month. Yep. The Brits get to see "Downton Abbey" five months before we do.
During last winter's pledge drive, WHRO viewers were shown filmed highlights of the local group's first trek to Highclere in 2014. Don't be surprised if those pictures pop up again on Channel 15 this December.
New to the PBS schedule this season is "Mercy Street," a Civil War drama that was filmed in part in Richmond and Petersburg. It traces the lives of two volunteer nurses who were on opposing sides. A luxury hotel is transformed into a Union army hospital.
The six-part series starts Jan. 17.
Also debuting this season on PBS is "Indian Summers," a drama set in India during British colonial rule in the 1930s. The "Masterpiece" series, which premiered on Sept. 27, runs for 10 episodes. Politics and romance mix in New Delhi.
Schmidt this year introduced a Channel 15 afternoon lineup of dramas that he calls "Matinee."
It has included the old ("The Jewel in the Crown,") the fairly new ("Doc Martin") and the really new ("Call the Midwife"). "The feedback we get on e-mail tells us that this afternoon lineup has proved to be popular with our viewers," said Schmidt.
Did you notice this summer that Martin Clunes, who had the title role in the wildly popular (beloved?) "Doc Martin," returned to PBS in "Arthur & George," in which he played Arthur Conan Doyle in full moustache? Smashing!
Into this atmosphere of TV excellence at WHRO came Furey in 2013 to participate in her first pledge drive. She recalled, "It felt good to be in the studio, meeting with the directors, camera operators and producers at WHRO. They're great. They made me feel pretty comfortable."
What about the difference between anchoring a newscast and asking viewers of Channel 15 to open their wallets? How easy is it to shift gears?
"I don't know how to be anything else but me on television. A little spontaneous."
Of substituting for Lewis on "HearSay," Furey said, "I average doing a show or two a month which is perfect. Cathy needs the freedom once in a while to honor her other commitments. I need to get on the air once in a while to fill the void and not get rusty. One of my favorite things about doing radio is that unlike being on television, people don't criticize my hair or outfit I'm wearing."
Furey feels at home on the radio.
"As a Navy journalist with the Armed Forces Radio and Television Service I did radio before I ever did television. I'm comfortable with the format. 'HearSay' has an excellent staff which allows me to focus completely on my conversation with listeners. Producer Morgan Chase and audio engineer Victor Bowen do the heavy lifting so I don't have to multi-task. It says a lot about the priorities at WHRV that the role of the host is free of the distractions of doing three jobs at once."
Furey is also involved with public media online at WHRO.org.
Last year she worked on the "Veterans Coming Home" series which featured Navy captain Nancy Stewart Lacore doing the Valor Run in honor of the women in uniform who have died in the fighting in Iraq and Afghanistan. Lacore ran the 160 miles from Chesapeake to the Women in Military Service for America Memorial at the National Cemetery in Arlington.
Elsewhere, Furey does voice-overs, on-camera work and marketing for her clients.
"I've had some success at comedy writing and hope to do more creative writing," she said.
Last year she competed in the "story slam" competition that helps raise money for an organization that helps homeless families, ForKids.
"Professors, writers, media personalities, Navy big wigs, and you name it, compete in a story telling contest. I was emcee for the event. The theme was 'It's all funny eventually." I was a contestant, too. I told the story of my son and I getting stuck in a tree in the Adventure Park at the Virginia Aquarium," Furey said.
She finished in third place.
Furey continues to volunteer for organizations she supported during her time with WAVY.
That includes acting as mistress of ceremonies at the  Diamonds in the Sky Gala for the We Promise Foundation. It's the charitable arm of the Chartway Federal Credit Union which helps dreams come true for children with debilitating illness and other hardships.
She'll be on hand Nov.6 for the People in Need (PIN) comedy night to aid Virginia Beach's homeless.
With all of that going on in her life, Furey still finds time to keep an eye on the local TV news.
What's her opinion of the young reporters she sees on WAVY, WVEC and WTKR? It seems like a fresh face pops up every other week on their newscasts.
"When I watch, I try not to evaluate the people I see. I was also a totally green reporter once who eventually turned into an old salt." she said.
"This television market continues to be blessed with the energy of new young reporters and the experience of the older folks who could have moved on but stayed because they like living here."
Got a question or comment about local TV or radio? Contact Larry at lbonko@cox.net.