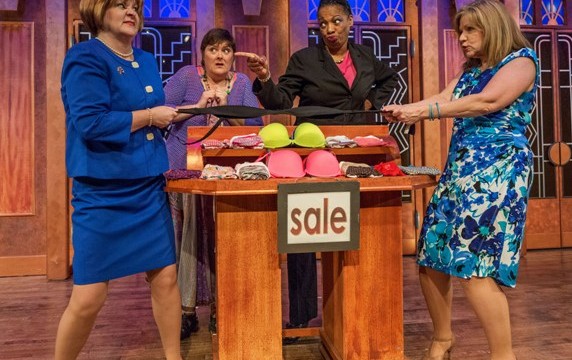 By Jeff Maisey
Three of the four cast members of Menopause the Musical are breast cancer survivors.  The disease is duly noted when the popular musical comes to the Sandler Center on November 3 and 5.
Terri Adams – a survivor – has played the part of a Baby Boomer housewife from Iowa since 2006.
On advance of the performance I had an opportunity to speak with Adams about her role in the musical and how the theatrical work connects with women of her generation.
How do you keeps things fresh and exciting as a touring cast member who is going on 10 years with the musical?
I think I try to find something new in every performance, whether a line reading or by playing little games with myself to try to keep myself growing and learning and discovering this character even after nine years.
Have you seen your character evolve and are you allowed to have artistic input in that process?
Yeah, we have a little bit of artistic input. It is a show in which they pull from a company of women. It is four very distinct characters. There are 20 actresses in the company ready and willing to work, so you are constantly having to work with different people. Based on that the interpretation kind of changes when getting your rhythm to match your other cast mates. That's another way to keep it fresh and exciting.
For my character I play an Iowa housewife. She has the greatest arch of all the characters throughout the story. That helps me as well. My interpretation of the character has evolved wildly from 2006 when I started.
When I started the show I was not in menopause, but because of my breast cancer the chemo pushed me into early menopause. Now I definitely know what I'm singing and dancing about. On that level I understand the character a whole lot more.
The musical is written to make women laugh about going through menopause, but there are things such as cancer that impact women of that age that are more serious. How do you tackle that on stage?
As far as menopause goes this show tries to empower women to take charge of their life now instead of feeling like the best part of their life is behind them. It is tackling the subject that was once taboo with a lot of heart, singing and dancing. It is a 90-minute party every night. We want the show to be enlightening and empowering at the same time.
What year were you diagnosed with cancer?
I was diagnosed in 2008.
How did that impact your ability to be on the road?
I was diagnosed in early June and ended up having a bilateral mastectomy. I had 12 surgeries in total over the next five years.
I was getting ready to do another production of Menopause the Musical in my hometown of Kansas City and had to bow out of that one. That was hard for me because I had never had any such health crisis keeping me from working. Over the next few years at different stages through my treatment was able to go out and tour. Different costumes helped because my body was shaped differently. I had lost both breasts and was going through the reconstruction phase and had some problems with that. At times I had one breast, which is not a good look for anybody. So it's hard, but that's one thing I love about this company is that they are doing a show where women over 40 can get out on the road and do what we do for a living and make people laugh. This particular tour is called the Survivor Tour because three of the four of us are breast cancer survivors.
Menopause The Musical
November 3 & 5
Sandler Center