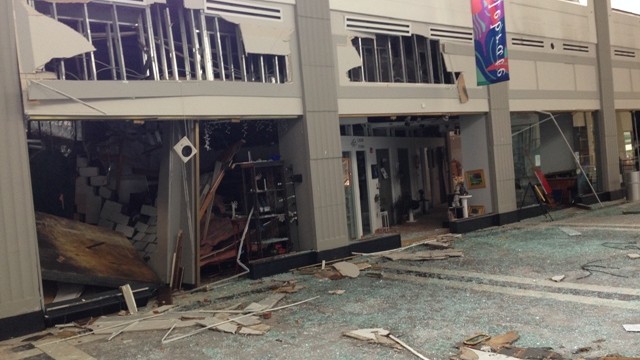 By Jeff Maisey
Several visual artists' resident galleries appeared heavily damaged Saturday morning following an overnight explosion in downtown Norfolk's Selden Arcade. The Arcade is home to d'Egg Diner, a Starbucks coffee shop, and dozens of local artists who have gallery space on either side of the common area walk-through corridor.
Shattered glass and debris covered the floor.  The damage was primarily visible on the interior side of the Arcade closest to the construction site of The Main, the multi-million dollar hotel and convention center under construction.
An electrical odor has been detected. Water on the floor in artists space indicates the sprinkler system may have activated automatically, but has not been confirmed.
Two artists said lights had flickered numerous times in recent days.
All businesses within Selden Arcade will remain closed until an official investigation and inspection of the structure in complete.