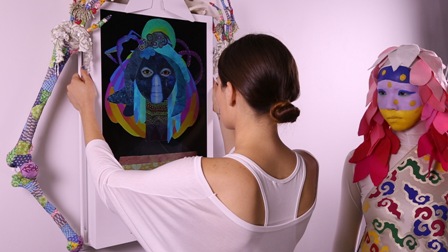 By Jerome Langston
Exploring the multi-discipline, multi-media work of Saya Woolfalk, the buzz-heavy, highly imaginative New York City based visual artist, whose work challenges assumed notions of race, gender, and science itself, is at times both confusing and clarifying. The acclaimed artist's work, replete with its literary allusions and dizzying array of visual stimuli, raises way more questions than it purports to answer about the very nature of humanity. It is exhaustingly remarkable to experience.
As also is the artist herself, a striking young woman of multi-ethnic descent, who is married to an actual anthropologist, and speaks like one. As a matter of fact, it is late in our conversation on a Saturday morning, when she jokingly apologizes about her charmingly precise, layered speaking pattern, while implying that her husband is not just influential in the way she thinks, but also the way she chooses to articulate those thoughts. At the time of our phone conversation, he'd just taken their daughter to soccer practice. I start out by asking Saya what excites her about her upcoming brand-new art installation at the Chrysler Museum of Art.
"This is the first exhibition where I have the opportunity to show a number of pieces from my new ChimaTEK series in one place," she cheerily answers. "So that's very exciting to me." Woolfalk studied at Brown and earned her M.F.A. in Sculpture from the School of the Art Institute of Chicago. Still just in her thirties, the conceptual artist has been exhibited in major art cities like New York and Chicago, while earning some impressive reviews published by The New York Times, along with various awards and grants.
In The Box: Saya Woolfalk is an art installation in three parts; featuring a video that serves as "a pharmaceutical ad for ChimaTEK," a Combustion Chamber that utilizes remixing vapors, and a Hybridization Machine which can be used at home by customers to transform themselves into chimera. The museum's highly regarded Glass Studio, actually helped to create the Chamber.
ChimaTEK is the new, for-profit company, of a group of mythological women known as the Empathics, who are a hybrid species of humans and plants. For years, these women have been happily spreading the gospel of chimera, for the purpose of advancing its higher state of consciousness throughout humanity. Their Institute of Empathy, a non-profit entity that allowed for the study of chimera, made all of that possible. Now however, at the time of their virtual trade show, the Empathics are selling their hybridization products for at home use.
"And as they attempt to distribute their utopian idea to a general public, it slips into a kind of capitalist dystopia of hybridity with these ChimaTEK products," explains Woolfalk, who acknowledges being a big science fiction fan. "It's no longer about difference; it's more about lulling consumers into a pleasurable dream like state."
Octavia Butler, the late great African-American science fiction writer, whose classic novels including Kindred, explored race, slavery and religion, was an early influence upon Saya. "When I read her books, that really just blew my mind," she admits. "I was deeply inspired by her writing." The musical iconoclast, Bjork, whom I tell Woolfalk that her work often reminds me of, was an early influence upon the Brooklyn resident's initial aesthetic.
"Thinking of her work in the context of contemporary art, also definitely helped me conceptualize how I was going to approach my work." She then goes on to mention Nick Cave, Matthew Barney and Louise Bourgeois, as artists who also impacted her early work.
"When I was in college, I focused very much on thinking about how I could incorporate representations of race and gender that I didn't generally see in the popular culture imaginary…and so for the last 15 years, I've been working to try and build a narrative, and also a visual iconography that could encapsulate a kind of complex relationship to race, gender and technology," she explains. "You know, even at the very beginning, at the inception of my work, I wanted it to be an interdisciplinary practice."
Woolfalk has earned impressive raves from art critics and audiences alike, due to the often brilliant ways that she incorporates multiple disciplines, from video, to music, to performance art itself, along with her often mixed-media, soft fabric, sculptural pieces. Of her piece that was included in 2009's PERFORMA, art critic Nicole J. Caruth correctly notes, "her works are characterized by plush multicolored costumes and toy-like forms, and a coloring book aesthetic marked by fruit punctuated landscapes, sharp-toothed creatures and a palette pink aplenty. But taking her inspiration from ethnographic, feminist, and psychoanalytic theory, Woolfalks's worlds of whimsy are for your more sophisticated inner child."
Saya will be joined by musician Paul Miller a.k.a. DJ Spooky, during her opening day talk in the Kaufman Theater of the Chrysler. Miller is an acclaimed hip-hop musician, producer and artist himself, who has provided a soundtrack to one of the ChimaTEK videos. The actual installation will be housed in the Chrysler's new gallery space for new media works called "The Box."
"The thing that I've been attempting to address with my work is that it's utopian and dystopian," she concludes. "It's beautiful and problematic."
Saya Woolfalk
ChimaTEK Life Products
Nov. 20 Through May 31, 2015
Chrysler Museum of Art
Chrysler.org