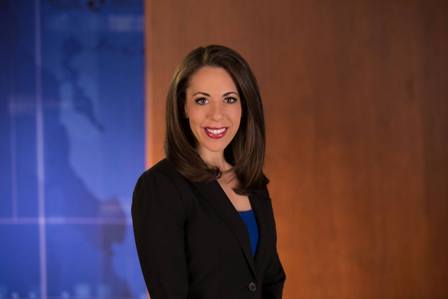 By Larry Bonko
They pop up on our television screens – and then they vanish.
We scarcely have time to learn their names before they disappear from the local TV newscasts.
Remember Emily Rau, Anjali Hemphill, Alize Proisy, Patrick Terpstra, Ali Lucia, Jummy Olbanji, Sagay Galindo. Shannon Sims, Eric Harryman, Cleve Bryan, Wayne Carter, Oren Liebermann and Cheryl Nelson?
They have come and gone.
And so have many more like them.
Ever wonder what's become of the men and women, mostly young and universally eager, who once reported for WAVY, WVEC and WTKR from flooded streets and behind yellow crime-scene tape?
In some cases, we know why they departed. For instance:
WAVY told us last year that anchorwoman Alveta Ewell was leaving because she was retiring after a couple of decades in local TV news. Channel 10 also lost anchorwoman/reporter Lori Crouch. She left to be the City of Norfolk's manager of public relations. It was no mystery why anchorwoman/reporter Juliet Bickford resigned from WTKR. Channel 3's competitors told us all about her part in a scandal the revolved around tax returns and money laundering.
But by and large, the departure of local TV news talent goes unexplained by the stations that once employed them.
Who knew that weather reporter Vanessa Murdock quit Channel 3 to accept a similar position with the CBS flagship station in New York City?
Or that Sula Kim, who anchored Channel 13's weekend news, accepted a job offer in New Orleans?
Or that anchorwoman Anne McNamara left the WAVY/WVBT weekend newscasts for Denver where she's the host of NOW, a show syndicated by E.W. Scripps? She said nothing about that on her last WAVY/WVBT broadcasts.
Enough of the unknown.
Let's do some catching up.
Your humble columnist this month updates the career of a reporter who left behind the tunnels, tolls, tourists and tides of Hampton Roads in 2012.
Remember Melanie Woodrow?
Her star has been ascending ever since Woodrow left WAVY to join "The Doctors" during the fifth season of a syndicated show seen on U.S. stations coast to coast as well as in Canada and Puerto Rico. "I traveled around the country to conduct interviews while doing my investigations. It was an amazing experience," she said when I caught up with her in California.
On "The Doctors" she did a report on toys that may be dangerous to small children, cautioning every parent that they should know about such toys. She was calm and confident while looking great on a show that averages 1.5-million viewers.
The producers of "The Doctors" liked what they saw of Woodrow when she was at WAVY. They ran some of her pieces on their show. While still at Channel 10, Woodrow was invited by "The Doctors" to come aboard as an investigative reporter.
Her big break.
Prior to that she spent five years at WAVY, reporting in that clean, crisp style of hers on dozens of stories including the potential for flooding in downtown Norfolk during Hurricane Irene, the lives lost when a tornado touched down in Bertie County, N.C., and the death of a homeless man at the Virginia Beach Oceanfront when he was run over by one of the city's trash pick-up trucks.
Woodrow, who graduated from Cornell in 2001, covered the military beat when she first joined WAVY. Later she anchored the station's Sunday morning newscast. She eventually became an investigative reporter as WAVY slipped into the "10 On Your Side" mode.
"I don't remember the first story I covered at WAVY. But I fondly remember the last. Chief photographer Jeff Myers said I could cover anything I wanted on my last day. I chose a story on the 35th anniversary of the Naro Expanded Cinema in Ghent.  It was one of my favorite places along Colley Avenue," said Woodrow in an interview done by e-mail.
When "The Doctors" took a break from taping in Los Angeles – it's called a hiatus in TVspeak – Woodrow saw it as an opportunity to sharpen her skills as an investigative reporter. She freelanced for CBS Newspath, which supplies content to CBS-owned stations and the network's affiliates.
Woodrow reported on wildfires and a plane crash for CBS Newspath, often sending live reports to CBS stations nationwide. She was also a freelancer for  the KCBS/KCAL duopoly in Los Angeles.
From market No. 42 in Hampton Roads (718,930 TV households), Woodrow smoothly made the leap to TV market No. 2 (5.6-million households). Such energy.
Among the stories she did for KCBS/KCAL was a sensational one – human trafficking, "A modern day equivalent of slavery," said Woodrow in her report during which she interviewed  teen prostitutes. Sex for sale is a big business online.
Dig. Dig. Dig. That's the Woodrow way.
In Southern California she dug and dug and discovered that thousands of parking tickets were wiped off the books because parking enforcement agents allegedly made errors in issuing the tickets – costly errors. Last year, writing parking tickets in Los Angeles was a $157-million business.
Woodrow is grateful for the time she worked in Los Angeles. "One opportunity led to the next, all of which helped me hone my skills as an investigative reporter," she said.
Today she is using those skills at Fox affiliate KTVU in the San Francisco-Oakland market, the sixth largest in the U.S. with 2.5-million TV households. Woodrow is where young reporters working in Boise and Bangor, Missoula and Macon, Paducah and Portsmouth want to be – at a station in a Top Ten market.
"I am thrilled to be a full-time investigative reporter at KTVU. We have an incredible team. It's an honor to be working alongside so many respected journalists in the Bay area. I've learned much from my colleagues about making requests for records, building news sources and the art of storytelling," she said.
And what has she investigated? Much.
Woodrow found thieves among people who prepare tax refunds. They pocketed their clients' refunds.
She investigated used car dealers who were selling vehicles that were never repaired after being included in factory safety recalls.
She rode with police on the look-out for Californians driving after their licenses were suspended for taking the wheel while under the influence.
Woodrow also reported on slackers among the union painters who work on the Golden Gate Bridge. They come to work late, leave early, take long lunch breaks and engage in horseplay. Woodrow reminded KTVU viewers that the painters with the casual work habits are paid by motorists who shell out something like $106-million in tolls every year.
Melanie's question: Are the drivers using the Golden Gate Bridge getting their money's worth? It was a neat piece of reporting.
She likes to Tweet after her stories break. "In the live Tweets we get great conversations going," said Woodrow.
Without sounding preachy, Woodrow said of her work as an investigative reporter, "My long-term goal in this business has always been to make a difference in viewers' lives.
"I've had the opportunity to work alongside people who have inspired me and helped me to grow. That includes the dozens of award-winning photographers at WAVY, CBS Newspath, KCBS, KCAL and now KTVU who helped me become the reporter I am today." She applied for and won the job at KTVU last April.
When asked about working in a Top 10 market compared to working in No. 42 Hampton Roads, she said, "In some ways a bigger newsroom is different than one in a smaller market. In many ways the newsrooms are the same. Television journalists strive to be fair and accurate regardless of the size of the newsroom."
Her life in TV news began with MSNBC, where she was a production assistant. Then it was on to WHAG in Hagerstown, Md., where Woodrow was producer, reporter and anchor for the morning news. WAVY then brought her to Hampton Roads.
And here she is in 2014, working in one of the great TV markets in the U.S., just seven years after taking the job at WAVY.
No need for Channel 10 viewers to ask, "Whatever became of Melanie Woodrow?" Now you know.
Have a comment or question about local TV news or radio? Contact Larry at lbonko@cox.net.