San Diego-based brewery to host Treasure Chest fundraiser, break ground in October
By Jeff Maisey
San Diego-based Green Flash Brewing Company is set to officially break ground for its East Coast brewery in Virginia Beach on Monday, October 13. The ceremony will take place the day after a fundraising event called Treasure Chest on the site of the future brewery.
Green Flash and city of Virginia Beach officials have been working through the permitting process.
"We have not had any delays, and have been going through the process, step by step," said Green Flash co-founder and CEO Mike Hinkley.  "We had to determine where the brewery would be situated on the large lot and now we are working toward determining some important details from where we will drain the rainwater and what turn lanes and sidewalks will be needed to how we can protect some of the bigger shade trees in the beer garden.  We have completed most of the design phase from an architectural standpoint, but there are still some engineering matters to resolve.  We are moving forward steadily."
Hinkley said he expects the brewery to open in 2016, "brewing beer and hosting guests in the tasting room and beer garden."
Green Flash Brewing Company was established in 2002 by husband and wife Mike and Lisa Hinkley. Head brewer Chuck Silva has made numerous visits to Virginia and has collaborated with several breweries such as Smartmouth in Norfolk. Silva is perhaps best known for his West Coast IPA, but the full array of its libation arsenal, including special one-off brews and favorites such as Black IPA, Cedar Plank Pale and Symposium IPA, will be available to Virginians at the new brewery.
Green Flash will operate a 58,000 square-foot brewery in Virginia Beach with a 100,000 barrel capacity. It will be nearly identical to its West Coast facility with the "same state-of-the-art equipment and brewery footprint, onsite lab for beer analysis, brewery tours, tasting room and vast outdoor beer garden, space for private events and educational experiences, offices for staff and ample parking for guests."
Hinkley said he chose Virginia Beach because of its similarities to San Diego: a beach town with plenty of tourists and a strong military presence.
Where other West Coast breweries such as Sierra Nevada and Colorado-based New Belgium have sought out locations in North Carolina to serve markets east of the Mississippi, both Green Flash and Stone Brewing have favored Virginia. Mike Hinkley is supportive of Stone's eastward expansion.
"I think that Stone would be a welcome addition to the craft beer scene in Virginia or any community for that matter," Hinkley said.  "They make great beer, are community minded and collaborate.  Stone has always been a good neighbor to us here in San Diego."
Speaking of neighborly, Green Flash is presenting one of its 30 Treasure Chest events this year in Virginia Beach. The event is designed to raise money for breast cancer charities from coast to coast.  The cause is near and dear to Lisa Hickley, a breast cancer survivor, now four years free of the disease.
"Over the past four years, each fest in San Diego raises an increasing amount of money for the San Diego chapter of Komen," explain Liz Bradshaw, Green Flash's special events coordinator. "Over the past 4 years, we have raised $90,000 for breast cancer charities in key cities nationally – most of this has been via the Festival in San Diego (and has remained in San Diego). Last year is the first time we have taken the Treasure Chest program to other cities, including Virginia Beach – where we hosted events around town. We also have Team Treasure Chest entered in the Susan G Komen Race for the Cure in each of our home markets (San Diego and VA Beach) and we are a race day sponsor for the second year in a row in Virginia Beach. We look forward to raising more money than ever with this year's program."
Each year the brewery unveils an official Green Flash Treasure Chest beer. The 2014 beer is a Barrel-aged Belgian Style Saison with Plum. The description reads, "This specialty beer is fermented in red wine barrels with house Brettanomyces, then conditioned with plums for six months. This enticing blend emerges with an appropriately pink hue, delicate notes of plum and almond, and is balanced by subtle tannins drawn from the barrel and wild yeast. A mouthwatering and tart rosé-like finish rounds out Treasure Chest 2014, an exceptional barrel-aged offering."
The Virginia Beach Treasure Chest will include 12 guest breweries, including Blue Mountain, Devils Backbone, Terrapin, Smartmouth and Hardywood Park. A large tent with open sides will feature live music, food, beer, and with abundant tables and benches. A commemorative glass will be give to each guest.
Treasure Chest Fest VA Beach (Sunday, October 12) tickets are available via Green Flash's website with 100 percent of the profits from ticket sales being donated to support Susan G Komen, Tidewater.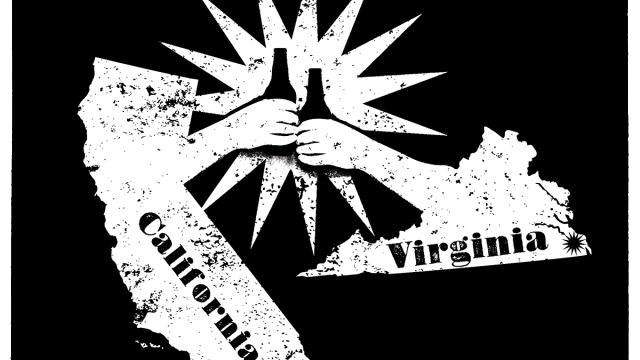 Green Flash Treasure Chest Fest
Sunday, October 12
(Corporate Landing/General Booth BLVD)
Virginia Beach
12pm – 5pm
Tickets:
In advance via website – $40 (includes beer tastings, food and commemorative glass)
http://www.greenflashbrew.com/event/treasure-chest-fest-virginia-beach/
At the Door – $50
$30 to members of the military plus one (with valid ID presented at entrance)