By Jeff Maisey
Fall is sure to be a busy season for multi-medium visual artist Clay McGlamory. In addition to his work as an adjunct professor at Old Dominion University and an instructor of public art, installation, printmaking, papermaking and book arts at the Governor's School for the Arts, the Norfolk-based artist has solo exhibitions at the Charles H. Taylor Art Center (Fluid Variations: Recent Works in Glass, December 13 through January 25) and Selden Gallery (Variations in Print: Recent & Revisioned Works by Clay McGlamory, Now through October 10).
I recently caught up with Clay to learn more about his work. Here is our conversation.
You are both a print maker and glass artist. Conceptually, how do you develop a work in each of these mediums? 
As an artist who uses printmaking techniques, especially screenprinting, for many of my pieces, I work on a variety of materials including paper, acrylic, and glass. The way I conceptually develop a work or series has to do with different things depending on the ideas and imagery. Optical art, kaleidoscopes, and a strong sense of formal design inform most of my works in every medium. Many of my works start out with my photographs, which I manipulate in Photoshop prior to making films for creating screens. After that the process often becomes intuitive and fluid as I work with and respond to the process and development of each project.
Where do you seek/receive inspiration for your glass art? 
The same concern for optical design, use of color, and the desire to activate viewers' optic nerves influence my projects in glass. A big inspiration for my glass art comes from Ali Rogan, owner of Cristallo Art Center in Newport News. She got me interested in glass art and has helped assist, nurture, and support my work in glass from the beginning. My boss and mentor, Professor Ken Daley, got me interested in luminous tubing, or neon, as it is commonly called, decades ago by employing me to assist him in installing his works. I have only been working with glass for a fraction of the time I have been working in printmaking.
What do you want to communicate through glass?
One of the properties of glass that interested me as a medium is its transparency. I had already been working with transparent and colored acrylic sheets, so the move into glass was natural and logical. I like the ability to portray visual and physical depth in acrylic and glass. This pushes the optical elements of my work in a positive direction. In printmaking on paper you are limited to the one surface or plane of the sheet. Any of the depth you create is quite minimal and based on the use of multiple layers of transparent inks. There is never real, physical depth on paper. In glass and acrylic, there is the potential for a lot more depth.
Are the sources of inspiration different for your print works?
As I have previously mentioned, the inspiration for my work in print and glass comes from very similar places and sources. I would say my main source of inspiration is the desire to create and push the boundaries of any medium I am working in. For this exhibition, that means printing 66, 20 plus color monoprints to cover large areas of space like More Wallpaper for the Playroom II, or printing a series of reverse vitreous enamel screenprinted glass panels using fine halftones, a process which is uncommon in glass art. I also like to work in large formats so I employ a modular grid system in many of my installations to help facilitate that.
Variations in Print: Did you create work specifically for this show?
I did create works specifically for Variations in Print. The second work in my series of wallpaper installations, More Wallpaper for the Playroom II, took almost three years of printing on and off due to the number of colors and the nature of the process; it has never been shown before. After I got this exhibition I knew I wanted to show this work here for the first time. ON I and NO:ON I are completely new monoprints printed during last winter and early spring of this year. BAL-GS II is a combination of two different sets of images that I reprinted multiple colors on this summer in preparation for this show. This work is the first time I have used the perpendicular wall hanging brackets to install pieces, and am really happy with the results and the inherent possibilities of these fasteners. Many of the other pieces have been layered with panels from other works and reframed to create new juxtapositions and mixtures of imagery. So in a way, all the work in Variations in Print is new to the viewer, except the editioned pieces and monoprints based on the images I used for the Fort Norfolk/Medical center Light Rail Station, which I showed three years ago in Baltimore, Maryland at the Open Space Gallery.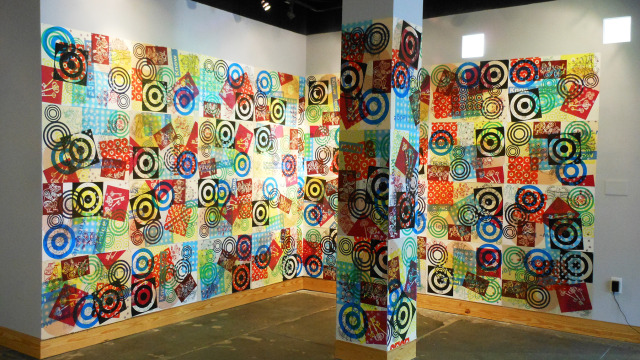 Do the works have a common theme?
I think I have elaborated on the theme of many of my pieces in other questions fairly well. Certainly optical and design concerns, use of vibrant color, pushing boundaries, layering of information and activating the viewers' optic nerves are all elements that I constantly work and wrestle with consciously and unconsciously during the creation of all my work.
Which specific works were "revisioned" and how did you alter them from the original?
The works that were revisioned include every piece in the show except the Wallpaper installation, ON I, NO:ON I. This show also includes works that had been completed for other projects but have not been shown in our area including the Light Rail prints on acrylic and the artist books in the glass case outside the gallery. All the larger works on acrylic were unframed; the panels reshuffled or removed and replaced to create new images, except Parking Lot Quadrants B/W. Blueprints for a BC I and II were cut down, reorganized, bolted together and hung using the perpendicular hanging system to help push the transparency. The framed More Wallpaper for the Playroom pieces were cut down from larger monoprints to accentuate certain areas and offer smaller pieces for viewers to purchase, they have never been exhibited before.
How do you determine which works make the show?
When planning an exhibition I always use a schematic of the gallery space to determine which pieces will go where and how they will be grouped together. This helps me determine what works I will show. Quality is always a major influence on what works will make it in the show. For this exhibition, I knew I couldn't include glass work, because I am reserving them for a solo glass show titled Fluid Variations, on exhibit at The Charles H. Taylor Arts Center during the 27th Annual Peninsula Glass Guild Juried Exhibition this December.
Are the works displayed in a particular sequence/order and why?
The work in this exhibition is displayed and ordered in a few different ways. Because of the fact that some of the works were started over ten years ago and then finished, or modified this year, I decided chronological order was not an option this exhibition. Some of the pieces were hung according to how they fit in the gallery space based on wall size, like the wallpaper installation and the small prints. I liked the idea of keeping all the 2′ square works together on one wall and really just placed things that were left where they seemed to visually fit. I did intentionally put the new prints on paper and the perpendicularly installed works on acrylic in close proximity to each other because they are all new works.
How did you first become interested in print making?
When I was in undergraduate school, I was a BFA student with a concentration in Photography. I took a course in Lithography to satisfy a print course requirement and I fell in love with ink on paper as well as the whole printmaking process. Photo was on one side of the Visual Arts Building and printmaking was on the other side; my photography professor, David Johnson, quipped that I went across the hall and never came back. I often use photo-based images in my work in all media. My background in photography and love for the printmaking process has informed and directed my work in the past, continuing into the present and foreseeable future.
Variations in Print: Recent & Revisioned Works by Clay McGlamory
Through October 10
Selden Gallery
664-6880