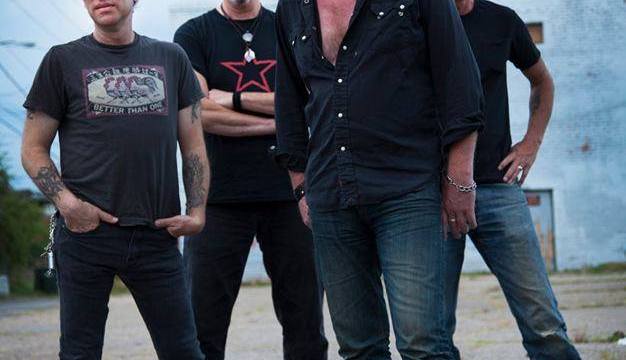 By Mr. Malcontent
Ladies and gentlemen, fasten your seat belts and prepare for a descent into a rock n roll "Lost Weekend," Mudd Helmut is back and they are better than ever. What is that, you say? Who is Mudd Helmut? Do you mean to say you missed out back in the day, that you were not present at their legendary booze-soaked shows attended by legions of howling rock n roll lunatics and barely clad women? As anyone who witnessed them at the time will tell you, a Mudd Helmut show was one of the loudest, most ribald and downright Dionysian rock n roll experiences there was to be had. Not only could they blow away almost any one of their regional peers, they more than held their own sharing the stage with the likes of Iggy Pop, Johnny Thunders, Ramones and scores of others. Even Cheetah Chrome, legendary guitar player for the Dead Boys, was so impressed with them that he wanted to join the band. And the after-gig parties with Mudd Helmut would take the starch out Caligula's toga.
So if you missed all this way back in the mists of the crazy, hazy '80s and early '90s, fear not. Mudd Helmut is gonna be playing the Chelsea West Fest, a celebration of bikes, cars, tattoos, and rock n roll, along with Southern Culture on the Skids and others, on Oct 4th to benefit the Hope House Foundation.
And now for a little history: Mudd Helmut was formed circa 1985 after the demise of the legendary Richmond, VA hardcore band White Cross. Former White Cross guitarist Mikey Rodriguez and drummer Rob Mosby joined with other Richmond musicians Steve Douglas from Death Piggy (Dave Brockie's pre-Gwar band), Ben Lawes and Wes Freed to create a loose and loud band that expressed their love of rock n roll, British motorcycles, alcohol, scantily-clad women, and general mayhem and stupefaction.
Mudd Helmut's current lineup consists of Dan-O Deckelman on guitar, Wes Freed on vocals, Ben Lawes on bass, and Scott Schuppert on drums. Dan-O played with Mudd Helmut from 1988 to when they called it quits in the early 90's. Currently, Dan-O runs Snake Oil Recording Studios in RVA. Singer Wes Freed has been with the band since its inception; subsequently he fronted the alt-country combos Dirtball and The Shiners and is probably best known for his current role creating the cover art and gig posters for the internationally acclaimed the Drive By Truckers. It was Freed who created the poster art for Mudd Helmut gigs, always featuring the Black Label swilling, motorcycle riding skeletal figure of Muddy. These posters so intrigued me that I went to see the band based simply on them. Bass player Ben Lawes is a founding member of Mudd Helmut and has played in a number of RVA bands including Rocket 69. Scott Shuppert is currently playing in 117 bands including Mudd Helmut, Beex and Octane Saints.
So here's the deal: polish the chrome on your bike, fortify yourself with the appropriate beverage, and drag your ass down to the Chelsea West Fest on October 4 in Norfolk to experience what will undoubtedly be one of the highlights in rock n roll for 2014.
Mudd Helmut
October 4
Chelsea West Fest