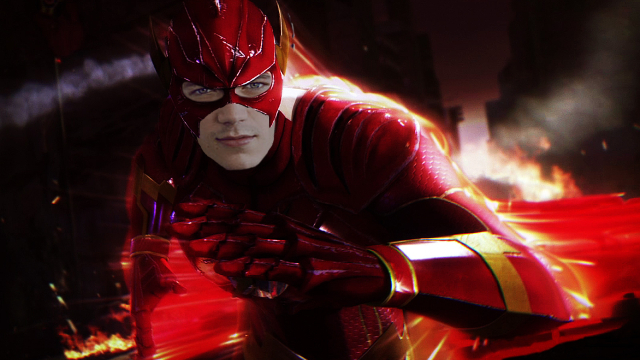 By Larry Bonko
CBS this fall gives us Tea Leoni as a University of Virginia history professor who forsakes Charlottesville's bucolic life to become Secretary of State. The CW introduces Virginia-born Grant Gustin as a masked superhero. NBC brings Katherine Heigl back to primetime as a CIA analyst in the agency's Virginia headquarters.
The Virginia connection. Look for it in the new television season.
Heigl, the golden girl of "Grey's Anatomy," who left the series four years ago to pursue movie stardom, makes NBC's Monday night lineup in "State of Affairs." Leoni, who had a fling on television in the 1990s in a comedy, "The Naked Truth," gets a cozy CBS timeslot Sundays at 8 p.m. between "60 Minutes" and "The Good Wife." Her show is "Madam Secretary."
The TV gods have smiled on Gustin. The 24-year-old Norfolk native won the title role in "The Flash" after a relatively brief acquaintance with primetime television – primarily in a guest role on "Glee."
In the premiere of "The Flash" on Oct. 7 at 8 p.m., a bolt from out of the blue sends Gustin's character, Barry Allen, into a nine-month coma while infusing him with extraordinary powers.
The sky goes black. And then . . . . . BOOM!
When a dazed Barry awakens, he asks, "What's happened to me?"
A medic tells him. "You were hit by lightning, dude."
And thus a TV star is born.
At the Comic-Con International 2014 in San Diego this summer, Gustin told devotees of The Flash, "I might never play a cooler character."
How cool? The Flash is the fastest man on the planet. That cool. SWOOSH!
While Gustin brings a fresh face to primetime in "The Flash," the 2014-2015 season will prove once again that, like aluminum cans, TV stars are recyclable.
Heigl is back in the weekly grind. So is Debra Messing ("Will & Grace"), who plays a homicide detective and mother of twins on NBC in "The Mysteries of Laura." Dylan McDermott, seen last season in "Hostages" on CBS, returns to the network in "Stalkers." He favors one-word titles.
Scott Bakula ("Quantum Leap") puts on a fake Lou-ee-zee-an-nuh accent in "NCIS: New Orleans" on CBS. "NCIS" has given birth to two spinoffs – "NCIS: Los Angeles," and this season you get the Bakula drama set in New-awlins. Also in the CBS pipeline is a third "CSI" spinoff, "CSI: Cyber," starring Patricia Arquette as a cyber psychologist who works in the FBI's Cyber Crime Division.
Cyber overload?
Spinoffs. They are among the significant happenings this season. The others:
* CBS, holding to the belief that there is no such thing as too much professional football on television, made a deal with the NFL estimated at $300-million to air eight Thursday night games beginning on Sept. 11 with the Pittsburgh Steelers and Baltimore Ravens. The Washington Redskins play the New York Giants on Sept. 25. Jim Nantz and Phil Simms will call the games. CBS returns "The Big Bang Theory," The Millers" and "Two and a Half Men" to Thursday night on Oct. 30 after football departs for the NFL Network on cable.
* "The Flash," the star-making vehicle for Granby High grad Gustin – he has a tattoo of Virginia on the left side of his rib cage – is one of five new dramas from DC Entertainment that feature comic book characters. The others include "Gotham," which Fox describes as prequel to the Batman legend. See Bruce Wayne as a youngster. Then there's  NBC's "Constantine,"  the CW's "iZombie" and "Agent Carter" from ABC.
The genre is already well represented in primetime with "Marvel's Agents on S.H.I.E.L.D." on ABC and "Arrow" on the CW from which "The Flash" has sprung.
* Tis the season of farewells. Departing will be "Parks and Recreation" and "Parenthood" from NBC, "Glee" from Fox as well as "Two and a Half Men" from CBS. Cable will see the last roundup of "The Newsroom" and "Boardwalk Empire" on HBO, "Mad Men" on AMC, and "Justified" and "Sons of Anarchy" on FX as well as "Cougar Town" on TBS.
* Who says specials are a thing of the past? NBC is back in the TV event business, scheduling "Peter Pan Live" for Dec. 4 after generating big ratings (18.5-million viewers) last year with "Sound of Music Live." Allison Williams and Christopher Walken co-star in "Peter Pan." Fox will do a three-hour "Grease Live" next year.
The networks are promising (threatening?) to revive the miniseries format.
* If you watch ABC, producer Shonda Rhimes entered your consciousness with two series on the alphabet network. And now comes a third. Joining her "Scandal" and "Grey's Anatomy" on Sept. 25 is "How to Get Away With Murder" in which Viola Davis stars. ABC's Thursday night lineup will be wall to wall Shonda Television from 8 until 11 p.m..
* David Letterman is conceding his 11:35 p.m. timeslot on CBS to Stephen Colbert next year. But when? CBS Entertainment president Nina Tassler didn't announce the date of transition when appearing on the Television Critics Associaton press tour in July. As to what the new "Late Show" will be about, Tassler was equally vague.
"We're aware that Stephen doesn't want an interview format. Will he have a band? Will he not have a band?  We're in discussions," she said. Replacing Scot Craig Ferguson, who leaves as host of the "Late Late Show" in  December, is a Brit. He is actor-comedian James Corden, who is as unknown to U.S. late, late night viewers as was Ferguson when he got the job in 2005, succeeding Craig Kilborn. Remember him?
* The PBS blockbuster this season comes from Ken Burns – no surprise there – who produced a 14-hour, seven-night study of a political dynasty responsible for Social Security, the Panama Canal and the national parks. "The Roosevelts: An Intimate History" signs on Sept.14. Trivia: Franklin Delano Roosevelt was the fifth cousin of Teddy Roosevelt.
"Downton Abbey" returns to PBS for season No.5 on Jan. 4. Season No. 4 was a letdown. Loosen up, Lady Mary.
After considering more than 200 scripts and ordering something like 80 pilots at a cost of between $2 and $5-million each, the networks will air only 27 new shows. A waste of money and resources?
The New York Times refers to assembling the new fall schedules as "a creative slaughter."
Of the pilots which survived this "slaughter," and made it to air, which are the most watchable of the 2014-2015 crop?
From among the dramas, I recommend Fox's nicely offbeat "Red Band Society" produced by Steven Spielberg's Amlin Television. It asks the question, "Can you smell pizza when you're in a coma"?
The series is set in the pediatric ward of a Los Angeles hospital where teens, while coping with eating and sleep disorders, cystic fibrosis and amputations, are pleased to learn that "the place is crawling with medical marijuana."
The youngsters give 16-year-old cancer patient Kordi a say-goodbye-to-your-leg party before his surgery.
Depressing? Actually, "Red Band Society" is uplifting. It has a good "Glee" vibe.
There's humor. It's a "dramedy." Laugh with Leo, who while enjoying one of Nurse Brittany's sponge baths, tells her, "I'm afraid I may die a virgin."
Charlie is a 12-year-old in a coma. That doesn't stop him from communicating with viewers. "This is me talking to you from a coma." He hears everything. But can't respond.
Academy Award winner Octavia Spencer rules the ward with the subtlety of a drill sergeant as Nurse Jackson. She believes that life is full of black holes one of which you can fall into at any time. She's a hoot.
For most un-watchable drama, I nominate the creepy "Stalkers" on CBS. The opening scene in the pilot, in which a stalker sets a woman on fire as she sits helplessly in her car, which he disabled, is hellish. You do not want to spend a minute much less a primetime hour with what the police call these "specific whack-jobs."
CBS has a cop show waiting in the wings – "Battle Creek" – that I tolerated far better than "Stalkers."
On to the sitcoms.
The comedy that caught my fancy is "Black-ish" from ABC in which Anthony Anderson plays a husband, father and successful businessman who realizes that in chasing the American dream his family paid a price. "We've lost touch with our cultural identity. We've dropped a little of our culture. I need my family to be black. Not black-ish."
His son likes field hockey. Not basketball.
The boy isn't Jewish. But he wants a bar mitzvah.
No way, says Dad. "I'll throw you a hip-hop bro mitzvah."
The show reflects the times, said executive producer Kenya Barris when meeting with the TV press in Los Angeles in July. "We are living in a post-racial Obama society where race and culture are talked about less than ever."
As blacks relate to the Jewish, Latin and Asian cultures, whites relate to the African-American culture, he believes. Take singers Miley Cyrus and Justin Bieber. They're black-ish, said Barris.
If "Black-ish" is a must-see comedy, then NBC's "Marry Me" is a must-flee comedy.
It deals with a six-year courtship between un-loveable characters played by Casey Wilson and Len Marino – a festival of botched marriage proposals. To borrow a line from the review in Esquire Magazine, who would want to marry that woman? One. Two. Three. Yawn.
The golden age of comedy is long past. CBS for the first time since the 1940s has no sitcom on Monday at 9 p.m. Nine new sitcoms failed last year including two with the star power of Michael J. Fox and the late Robin Williams. Where are you, Ray Romano, when we really need you?
Q&A with GRANT GUSTIN
Grant Gustin takes a break from working on "The Flash" in Vancouver to do Questions and Answers for the readers of Veer:
The Flash wears a heat-resistant, burgundy-colored body suit and masked helmet with gold accents including a lightning bolt on his chest. It was created by Academy Award designer Colleen Atwood. How does it fit?
The suit is as comfortable as it looks. You won' t hear me complaining about having to wear what a superhero wears. Doesn't the suit look pretty bad-ass?  I really feel like The Flash when I'm in it. That's for sure. (Gustin, who says his new suit is 10 pounds lighter than the one he wore in the pilot, recently spent 13 hours filming while in the costume).
To us in Hampton Roads, you're still the kid winning applause with Hugh Copeland's Hurrah Players. And here you are in 2014 in your 20s with your own show in primetime. Are you feeling any pressure?
At first I was nervous and I did feel pressure to get this role right. However, since we started filming I have forgotten about all of that and just let myself slip into the role and have as much fun as possible in doing it. At this point, I'm relaxed in the role and I am having fun. It's the only way I could do the character justice. (In an online chat with followers of The Flash, Gustin said he can't wait for his friends in Virginia, his family and fans to see the CW series).
How hard is it to play The Flash?
Doing this show is physically demanding of me. Absolutely. The filming schedule is insanely intense. In doing the special effects, I spend a lot of time running on a treadmill in front what is known as a "green screen." I'm not complaining. The work makes me feel like a kid again, running around playing a superhero. (Gustin has been quoted saying that the special effects on "The Flash" are "unprecedented and unlike anything even seen before on television.")
How does doing a costume show like "The Flash" compare to appearing in "Glee," in which you played Sebastian Smythe of the Dalton Academy Warblers?
"Glee" was no walk in the park. The cast of that show works harder that most of the other casts in television.(Gustin is a triple threat as actor, dancer and singer).
To get back to being a kid, were you an athlete in school? The Flash is the ultimate runner. Do you like to run?
I hated running when I was a kid. How ironic is that? Now I'm playing the fastest man alive. There were no athletics for me when I was in school but I played sports recreationally outside of school. I was pretty consumed by theater when I was growing up. By the time I got to high school, the theater was my life.
You co-star with Jesse L. Martin on "The Flash." Like you, he has roots in Virginia. Unlike you, he's a veteran of primetime television with nine years on "Law & Order" as Det. Ed Green. Has he been a mentor to you?
Jesse is a fountain of advice and lessons on doing television. I am most grateful to have him as a cast mate and friend. We both grew up in Virginia and both have mothers named Tina and both got started performing through tap dancing. (Martin is a native of Rocky Mount where he grew up with four brothers).