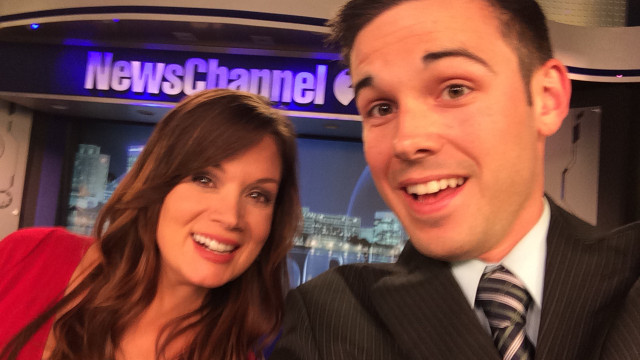 By Larry Bonko
Let's welcome Beverly Kidd back to Hampton Roads television with a tune immortalized by Louis Armstrong.
Hello, Beverly. Well, hello, Beverly.

It's so nice to have you back where you belong.

You're lookin' swell, Beverly. I can tell, Beverly.

You're still reportin'. You're still anchorin'.

I feel WTKR swayin' while your old gang keeps on playin' one of your favorite newscasts from way back when.

Welcome her home, viewers. Bevery'll never go away again.
The return of the 45-year old Kidd to Channel 3 – she doesn't look a day over 30 – is one of several quakes that shook local television in recent weeks. Also registering high on the TV news Richter scale were these rumbles:
* Just hours after WTKR announced the return of Kidd from Arizona, the station revealed that anchorwoman Bianca Martinez was leaving the 6 and 11 p.m. newscasts after more than a decade with the CBS affiliate. Without missing a beat, Channel handed her job to Kidd.
* Cheryl Tan, who reported on traffic and anchored WAVY's early-morning newscast from time to time, departed the NBC affiliate after 10 years. Channel 10 reporter and weekend anchor Anne McNamra followed Tan out the door in June without telling viewers that she's headed for Denver.
* Also at WAVY, the newsy weekday magazine, "The Hampton Roads Show," changed co-hosts with Aubrey Aquino replacing Ariane Aramburo as Chris Reckling's partner. Aramburo moved to a station in Anchorage.
* WVEC hired Larry Printz to cover the automobile business – a first for TV news in Hampton Roads. He's fresh from doing the same job for The Virginian-Pilot. Printz has dabbled in television, joining Vanessa Coria on "In the Driver's Seat," seen weekly on Channel 13.
* WGNT earlier this month launched a 30-minute local weekday newscast at 7 p.m. "An alternative to sitcoms and entertainment shows," said Jeff Hoffman, general manager of the WTKR/WGNT duopoly. The Channel 3 newsroom supplied the co-anchors – Les Smith and Laila Muhammad.
Kidd, a Virginia Beach native and graduate of Old Dominion U., departed WTKR 13 years ago for independent KTVK in Phoenix where she anchored a 9 p.m. newscast which she helped to launch. She also covered matters of health and fitness in the 12th largest market in the U.S. with 1.8-million television households. Viewers loved her "Weight Loss Wednesdays" feature.
And then, one day in 2011, it all went away. Kidd left KTVK.
"To spend more time with my kids," said the divorced mother of two boys in an e-mail interview after rejoining the WTKR newsroom.
The Channel 3 staff at 720 Boush Street in Norfolk celebrated her return with a raft of selfies. Say "cheese," Beverly.
"Working the television news evening schedule can be tough on family life," said Kidd in explaining why she left the Phoenix station after ingratiating herself with Phoenix viewers.
She won the Edward R. Murrow Award, which honors outstanding achievements in electronic journalism. Also, Kidd was named TV news personality of the year by Arizona Foothills Magazine, a high-end publication of "style, substance and sophistication."
A blogger in Phoenix described her as having "the girl next door good looks, a wholesome sense of humor and a delightful personality that has endeared her to many male viewers while placing her near the top of the 'best local news anchor' polls in Arizona."
When she departed KTVK, news director, Brad Remington sounded sincere when he told her, "We will miss you."
Kidd left those good vibes behind three years ago to be a stay-at-home mom.
"I took some time off when my children were still young enough to benefit from me being at home with them. As it turned out, I got as much if not more out of my break from TV news than they did. The break gave me a much healthier perspective on life. The sad stories that we in the business are obligated to report can be hard on the spirit. I've always cautioned my family, friends and viewers to watch television news judiciously.
"You should stay informed but you shouldn't let yourself be pulled into the negativity out there in the mass media," she said.  "Some of the gut wrenching stories that we as journalists report are hard on viewers and they can be hard on the hearts of journalists as well. It is impossible not to be affected by sad stories. To say anything different, would suggest we are robots."
For Beverly Kidd, ODU Class of 1991, her break from the anchor desk is over.
She is born again as an anchorwoman, re-connecting with WTKR here in the 45th largest market (718,930 TV homes).
Kidd returns to the pressure-filled, breaking-news, ratings-chasing profession which Kidd said she "lived and breathed for 20 years." She shares WTKR's 4 p.m. newscast with Barbara Ciara, the 5:30 newscast with Les Smith and the 6 and 11 p.m. shows with Kurt Williams.
That's practically wall to wall Beverly Kidd on Channel 3. The WTKR brass is to happy to have all that Beverly. "She is a pro. She has a built-in fan base here," said Tina Luque, the station's news director.
"It seems serendipitous that the position at WTKR opened up at the exact time in my life that I had decided to get back into the news business," said Kidd.  "I had planned to focus my job search on the east coast, hoping to get something that would be a short flight or drive from Hampton Roads. How lucky for me that not only was there a position open in Hampton Roads, it was at my old station!"
Now her boys, 14 and 15, get the chance to be surfer dudes.
Of returning to what was called Tidewater when Kidd was as young her sons, she said, "I came home to be near my family. I could have stayed in Arizona, which I love, and resumed my career in TV news in Phoenix, but I had no family support structure there. My family is here. And I thought it would be a good thing for my boys to experience what it's like to live near the ocean, the beaches."
Kidd's mom, dad, a brother as well as aunts, uncles and cousins live in Hampton Roads.
From Carolyn Stubbs, Kidd's mother: "I had hoped that she'd come back home one day. Now I don't have to make the long trek to Phoenix to see Beverly and my grandsons." Brother Bill chimed in with, "Bev has always been good at what she does – good enough to work in television anywhere in the country. I was happy to hear she was taking a job at home and I'm happy that she and her boys are closer to the rest of us."
WTKR's catchy slogan – "taking action, getting results" – resonated with Kidd. "The station's management puts a premium on the station being a community leader, highlighting the good things happening here. It's nice to be partnered with a station that affects positive changes in a community."
Great-grandmother Ciara recalls the time "many moons ago" when she worked at WAVY and Kidd interned there in her senior year at ODU. "I had the pleasure of watching Beverly grow up in this business," said Ciara.
Ciara believes there was instant chemistry between her and Kidd when they paired up on Channel 3 early in June. Kidd is delighted to be working with Ciara. "I've always admired her style of anchoring – friendly, personable and easy to watch."
Ciara returns the compliment, referring to Kidd as a real pro. "I was sad that Bianca left us but at the same time it was wonderful to be able to welcome back a home grown talent. My good friend, and former WTKR news director, Barbara Hamm Lee, groomed Beverly as a reporter and anchor."
It was a tearful on-air moment when Martinez gave up the anchor desk at Channel 3. In 2008, Luque teamed her with Williams, who said of Martinez during a "Farewell Bianca" segment, "She's tough. She's game for anything."
He showed clips of her derring-do assignments on "Do My Military Job." There she was, jumping out of a  helicopter, swimming with Navy SEALs, acting as a "culinary specialist" in an Army chow hall, flying high with the Blue Angels and training to fight fires at Ft. Eustis. "Real flames, real water, heavy hoses . . . ."
Martinez expects to miss all of that – "it's hard to leave the viewers behind" – but at 36 she is yielding to an urge to change careers.
Memories. Memories.
Who can forget the day when just 15 minutes before Martinez was to begin the evening newscast, her baby decided to come then and there. "Her water broke and then she was rolled right out of the studio and into the hospital," said Ciara during the "Farewell Bianca" send-off.
This year, loyal employee Martinez stayed through the May sweeps, helping WTKR win the ratings' war at 4 p.m. WVEC was first at 5, 5:30 and 6 p.m.
Martinez said she's joining First Data, a company with a presence in North and South America, Europe, the Middle East, Africa and Asia. First Data's website says its vision is "to shape the future of global commerce by delivering the world's most secure and innovative payment solutions." Will that be as much fun as flying with the Blue Angels?
Luque said the WTKR viewers have not seen the last of Martinez. "We are pleased to say she will still be part of our team." Martinez is expected to contribute reports on the military "as needed," the station said.
(A closing note: Regarding my "Hello, Beverly" parody at the top of this column, I offer my thanks and apologies to the fans of Jerry Herman, who wrote "Hello Dolly," Louis Armstrong, who sang it so well, and to AZLyrics.com for providing the original lyrics. If you have any questions or comments about local radio and TV, send them to me at lbonko@cox.net).